Entering into some playoff pools this spring? My only advice to you is: Good luck.
Seriously, good luck, because you'll need it and that'll likely be the deciding factor in most playoff leagues.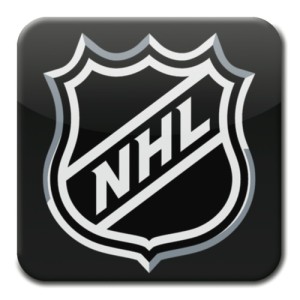 The NHL post-season is shaping up to be a total crapshoot, with plenty of upset potential. The biggest point spread between first-round opponents is 15 based on regular-season standings, but that series pits the New York Rangers as favourites over the Pittsburgh Penguins. Talk about a live underdog there. Lest we forget that Sidney Crosby and the Pens had the Blueshirts on the ropes last spring, leading their second-round series 3-1 before Henrik Lundqvist rallied the Rangers by only allowing three total goals over three straight victories. Crosby surely hasn't forgotten and Lundqvist might not be in top form coming off a scary injury, so it wouldn't be overly shocking to see Pittsburgh prevail in this year's rematch.
Could you even call that an upset? Sure, the Rangers won the Presidents' Trophy, but the Penguins are perennial contenders and have more Cup rings in their locker room.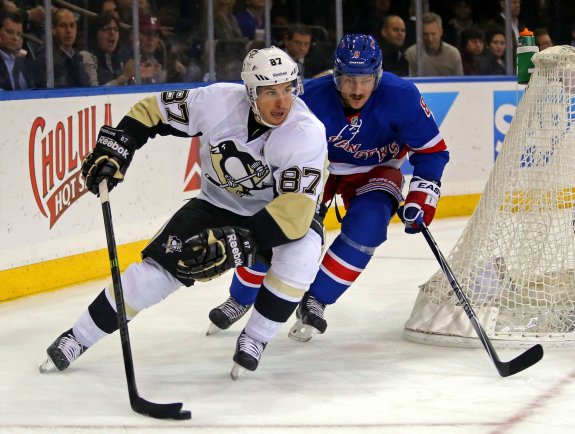 Other series, in both conferences, are literally too close to call. In a year where 96- and 95-point campaigns failed to qualify for the post-season — eliminating the defending Stanley Cup and Presidents' Trophy champions — several matchups are essentially pick 'ems and even the bookies are struggling to set odds.
Washington has home-ice advantage thanks to ROW — regulation and overtime wins — but the Capitals finished with the exact same point total (101) as the New York Islanders. Flip a coin for that one.
Likewise, Nashville only edged Chicago by two points. And although Vancouver finished four points up on Calgary, home-ice advantage was still at stake on the final day of the regular season when Vancouver beat Edmonton in overtime and Calgary lost to Winnipeg.
My Picks
I could go on and on, but you get the drift — that each and every series could, realistically, go either way. Amen to league-wide parity, but that made filling out NHL.com's Bracket Challenge all the more difficult in comparison to years past when at least a few first-round matchups appeared obvious.
My buddy runs a round-by-round pool based on the same concept — picking the series winner and the number of games. This is the sixth annual edition and allows for multiple entries, so it's become tradition for my household to submit two teams — my "expert" predictions based on stats and history, then the wife-to-be's predictions based on gut "feelings" from somebody who doesn't follow the sport closely. It makes for a fun experience and the results have been, in all honesty, pretty even over the years. This year I even got the future father-in-law, another casual observer, into the game with his own picks.
For the record, in the first round (and also in my bracket challenge), I took St. Louis in 7, Chicago in 6, Anaheim in 5, Vancouver in 6, Montreal in 5, Tampa Bay in 5, the Rangers in 7 and Washington in 5. I also have the Blackhawks beating the Rangers in the Stanley Cup final. She countered with St. Louis in 7, Nashville in 6, Anaheim in 5, Calgary in 7, Montreal in 5, Tampa Bay in 4, Rangers in 5 and Washington in 6, with the Rangers winning the Cup over the Ducks.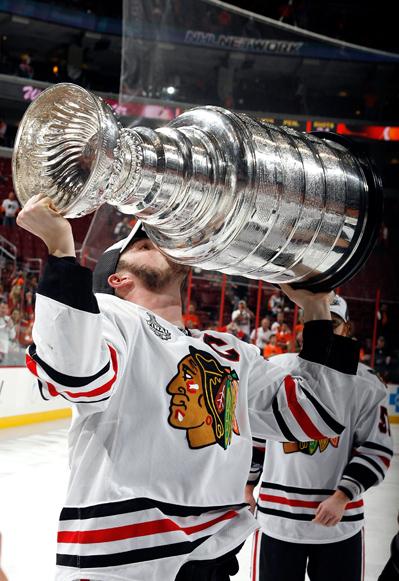 My Reasoning
I went with St. Louis over Minnesota because I think the Blues are a deeper team and I give the coaching advantage to Ken Hitchcock. The wild-card is Devan Dubnyk and whether he can outplay Brian Elliott and/or Jake Allen to steal that series for the Wild, which isn't out of the realm of possibility.
I'm obviously high on the Blackhawks to pick them as my Cup winner, but I think the Predators will give them a stiff challenge in the first round. With Patrick Kane back in the fold and with the Kings out of the playoff picture, Chicago should roll through the West.
I believe Anaheim is just too strong overall for Winnipeg despite the Jets riding a wave of momentum into the playoffs. I think Ryan Getzlaf, Corey Perry and even Ryan Kesler have another gear that they have been saving for the playoffs, which will be too much for Ondrej Pavelec to stop.
That Vancouver-Calgary series is probably going to go back and forth, but I like the Canucks to eventually take control and advance. They have an older, more experienced group but will be equally hungry after missing the playoffs last season.
In the East, I truly enjoyed Ottawa's improbable run to the playoffs, but I just can't see the Senators upsetting the Canadiens. I foresee a low-scoring series, but Carey Price will allow fewer goals than Andrew Hammond and be the difference for Montreal.
I like Tampa Bay as a team on the rise and a team ready to make some noise in the playoffs, to take the words from the mouth of Lightning captain Steven Stamkos. Detroit is going with Petr Mrazek over Jimmy Howard in goal, which signals a changing of the guard for the Red Wings, but time will tell whether that's a wise decision by Mike Babcock. My money would be on Steve Yzerman getting the upper hand against his former franchise.
The Rangers have been one of the best teams over the second half of the season, while the Penguins have been one of the worst. Playoffs are a new season with a clean slate, but I'm siding with recent history in this one. However, if the Penguins steal Game 1 in Madison Square Garden, then all bets are off.
That Islanders-Capitals series might be flying under the radar a bit, but it has the potential to steal the spotlight. I prefer Braden Holtby to Jaroslav Halak in the goaltending matchup, and I think Alex Ovechkin has made strides in the leadership department this season under Barry Trotz. I also like Washington's defence and think that group will be able to contain John Tavares and company.
With the 1st overall pick . . .
Unfortunately, my work commitments prevented me from joining any player drafts for the playoffs. But several friends have asked me: who would you take first overall?
Typically, I'd have an answer on the tip of my tongue — probably Crosby — but this year is much more difficult. I've heard everybody from Stamkos to the Rangers' Rick Nash going No. 1 in various leagues and I can't really disagree with those options. Then again, if I was confident the Penguins could get past the Rangers, I wouldn't hesitate to take Crosby, but that seems like a big risk right now.
The best way to approach player drafts, through my past experience, is to pick as many guys as possible from the four teams you see reaching the conference final. If your team picks are correct, your players should produce enough to put you in contention. So based on my bracket, I'd be picking plenty of Hawks, Ducks, Habs and Rangers.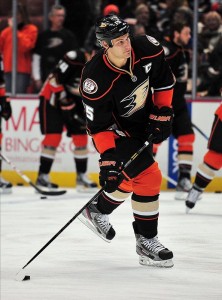 I'd be tempted to take Getzlaf first overall just because of those four teams, I feel most confident about the Ducks getting through the opening two rounds. Chicago captain Jonathan Toews would also be high on my list — likely second — because he always seems to bring it in the big games. I'd probably go heavier on the West teams — Ducks and Hawks — because I see them scoring more goals in general. I've always liked Patty Kane and feel he'll be refreshed rather than rusty for the playoffs, so I'd grab him shortly thereafter and probably take the Rangers' Martin St. Louis fairly early on too.
Every year there are young guys who enjoy breakout performances in the playoffs, so I look to Chicago's Teuvo Teravainen — if he has a regular role — and Montreal's Alex Galchenyuk to become household names for next season.
If you're picking defencemen, you can't go wrong with Montreal's P.K. Subban or Ryan McDonagh of the Rangers. Their power-play partners — Andrei Markov and Keith Yandle — are solid selections too. When it comes to goalies, three of my final four teams offer no-brainers in Price, Lundqvist and Chicago's Corey Crawford. Anaheim will likely start Frederik Andersen but could change to John Gibson at any time, so I'd shy away from them. But that's just me and there truly are no right or wrong picks at this point, especially not this year.
Larry Fisher is a sports reporter for The Daily Courier in Kelowna, British Columbia, Canada. Follow him on Twitter: @LarryFisher_KDC.
Larry Fisher is a senior writer and head scout for The Hockey Writers, having been an at-large contributor for THW since August 2014. Fisher covers both the NHL and the WHL, specializing in prospects and NHL draft content, including his annual mock drafts that date back to 2012. Fisher has also been a beat writer for the WHL's Kelowna Rockets since 2008, formerly working as a sports reporter/editor for The Daily Courier in Kelowna, British Columbia, Canada from 2008-2019. Follow him on Twitter: @LarryFisher_KDC.