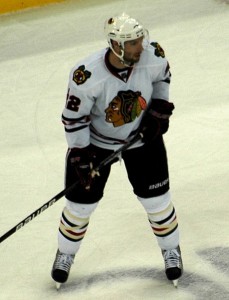 When one looks at a list of fan favorites in the NHL, they'll often find the team's enforcer on that list. Unfortunately, that's about as useful as they get. While enforcers generally contribute nothing to the stat sheet, the do generate excitement in other ways, albeit briefly.
"Enforcer" is just a hockey term for body guard, essentially. They contribute little to nothing offensively, fight, taunt, and spend most of their eight minutes per in the sin bin. Many of them can't even skate (looking at you, Dan Carcillo).
A perfect example of an enforcer is the Blackhawks' John Scott. He is completely useless until those 45 seconds or so that he's involved in a scrap. Why is this guy taking up a roster spot, rather than having a guy like Jake Dowell, who can actually help the team, on the ice?
This begs the question: are enforcers really necessary? After all, the word enforcer is just a way of shortening "big guy, who can't skate, but hits and fights a lot". Is it possible to have an enforcer that can actually contribute to something statistically other than penalty minutes?
The answers to these questions are no and yes, respectively.
If you look closely, there are already enforcers contributing to their squads. We don't notice because since they're not completely useless, they're actually putting up numbers on a consistent basis.
A pair of these types of guys went head to head in last year's Stanley Cup Finals: Chris Pronger and Dustin Byfuglien. Pronger rendered Chicago's top line of Jonathan Toews and Patrick Kane useless early on in the finals. Despite his sour reputation, you'd be hard pressed to find a more intimidating figure along the blue line.
Byfuglien essentially served as Chicago's enforcer last year. His 6'4" frame, 200+ hits, and willingness to throw down struck fear into teams opposing Chicago all season in 2009-2010. Just ask Vancouver. With 71 hits, Buff has proved to be a force with Atlanta, but is also tops in points for d-men, with 41 proving that he's the total package.
If there's an enforcer without a label on the current Blackhawks roster, then the answer might surprise you. Troy Brouwer has overcome a miserable start and has been one of Chicago's better players of late. Much of that is due to his increase in physical play. His 135 hits are near the top of the league, but he's also served just 16 penalty minutes.
Not only are these enforcers appearing as a waste of space on the roster, they're clogging a spot on a bottom line that could be used for a productive player. In Chicago's case, scratching guys like Dowell and Jack Skille instead of Scott become a bigger question each day.
I propose we change the defnition of enforcer. Given that John Scott's mug is sitting next to the word "waste" in the dictionary, enforcer needs to mean something different.
Paul Bissonnette. Dan Carcillo. Kevin Westgarth. These are some of the worst hockey players to skate the earth. They contribute nothing besides that brief spark from a tilt.
Chris Pronger, Dustin Byfuglien, and Troy Brouwer, on the other hand, are examples of guys that actually mean something to their team. They make the game more exciting. Two of them wear A's for their team. You could mention more names in there as well. Shane Doan. Mike Richards. Their style of physical play makes the game more exciting to watch.
Enough of seeing Westgarth try and keep up with Patrick Kane. Let Dustin Brown go after him. It will be more fun to watch.