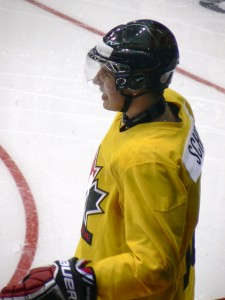 In light of a huge World Junior performance, there have been nhl rumours circulating that Brian Burke wants to acquire center Brayden Schenn from the Kings, possibly for Kris Versteeg and others.
Although Dean Lombardi has stated he wants nothing to do with moving Schenn at this time, let's play around with the "what-if" of this trade rumor.
It is clear that what the Toronto Maple Leafs lack is a No. 1 center, and after tying Gretzky and Lindros' World Junior record and being arguably Canada's best player throughout this year's tournament, Schenn could be just what the blue and white need.
Couple that with the fact his older brother and World Junior gold medalist Luke Schenn is on the team, as well as the knowledge that Burke wanted to draft Brayden but instead ended up with Nazem Kadri Eklund might not be far off on this rumour.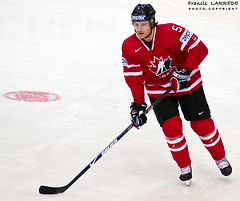 Although Schenn has the size, hands and incredible playmaking ability that we saw throughout the 2011 tournament in Buffalo, it wouldn't be surprising if the younger Schenn came to the Leafs — the expectations would be set much too high for the rookie center.
In my opinion, it is not unreasonable to slate Schenn as a first-line center, judging by his play with the Brandon Wheat Kings and his World Junior experience; but as is evident with Kadri, jumping the gun and prematurely putting these young players into the spotlight is never a good thing.
If the Leafs did in fact have to give up Versteeg and possibly Beauchemin, they are losing two players with Stanley Cup rings and a whole pocket of experience, while also having no choice but to put Schenn right into the lineup.
Although I thought his play in Buffalo was concrete enough to dub him as NHL-ready, having the weight of setting up Kessel and playing top-line minutes right away in one of the biggest, most critical hockey markets in North America can sometimes mess with a young player's development.
Let's not forget that these kids are still exactly that — kids. Entering the league at age 18 or 19 is not meant for everyone, and as we've seen in the past, Toronto can get the worst of people.
Loving NHL Rumours…Will Burke pull the trigger on this one? Only time will tell, but first he needs to bring something to the table that will benefit the Kings and send them on a cup run; otherwise it's just not worth the risk for L.A.
That being said, should they acquire Schenn, things might not be so great for Kadri as Schenn is without a reasonable doubt far more developed and adequate that Kadri; and although I wouldn't expect him to pull the Leafs out of a losing record, he could make an immediate impact.
*Brayden Schenn photo courtesy Leafschik1967 on Flicker, Luke Schenn photo courtesy Francis Larrede, both under creative commons.
Let's not forget this video: Brayden Schenn a Future Leaf?