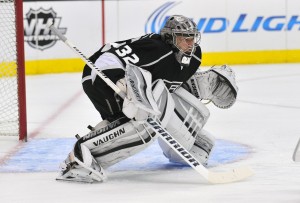 This first-ever playoff encounter between the Los Angeles Kings and Anaheim Ducks has been exhausting — in the best possible way.
Game one saw the Kings win in overtime, thanks to a perfect Kopitar-to-Gaborik tip drill play in overtime. Game two was close on the scoreboard, but not in actual game play as the Ducks threw everything they had at Jonathan Quick, who stopped 36 of 37 shots en route to a 3-1 Kings victory. Game three was the reverse of game two, with Los Angeles dominating in everything except the score sheet, losing 3-2. Game four was the start of the Josh Gibson show, who proceeded to shut out the Kings 2-0. Game five was Jonathan Quick's worst of the series, as the Ducks went up early and held on late to win 4-3. Finally, the scrambling, desperate finish to game six was epic and intense, as the Kings evened the series by winning 2-1.
Whew.
So it comes down to another Southern California first: a freeway series game seven. The game will be played at the Honda Center in Anaheim, but given that the two teams play about 30 miles apart, it's almost as if it's a home game for both clubs.
What are the keys to a game seven victory for Los Angeles? Read on, McDuff:
The big three must be at the top of their games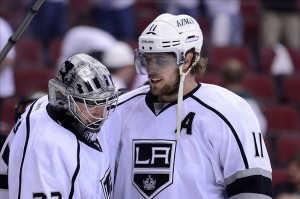 It goes without saying, but Anze Kopitar, Marian Gaborik and Jeff Carter are far and away the three best scorers on the Kings roster. Scoring is at a premium for L.A., especially with the tight defenses (not to mention tightly-gripped sticks) of a typical game seven. Although a little-known unsung hero often rises to the top in games like this (witness Trevor Lewis and his game-winning goal during game six), that can't be counted on. Their big guns need to come to play.
It wouldn't be a game seven without Justin Williams heroics
It's true. Williams is the first player in NHL history to score at least one goal in each of his first four previous game sevens.
This is his fifth game seven. Williams needs to continue his magic carpet ride.
Los Angeles should hit everything that moves
The Kings are a big, strong, physical club, and with the bad blood and rising tensions of a game seven punctuating an intense series against a bitter rival, the surest way to get under mallard feathers is to play with ferocity, even by Kings' standards. That being said, they need to make sure not to draw unnecessary penalties, as the Ducks are terrific on the power play.
The defense must continue to play with discipline and structure
In some ways it's remarkable that Drew Doughty has developed into the best overall Kings' defenseman, considering the splash he made early in his career was almost entirely due to his offense. He's always an essential cog on the blue line, not only as a minutes-eater but as a threat to score as well as his defense, which even includes a few well-timed hip checks.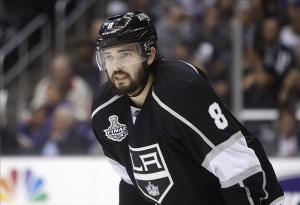 The single most important player in tonight's game seven for Los Angeles could be Drew Doughty. I say 'could' because there is one man that surpasses even Doughty.
Jonathan Quick must be Jonathan Quick
Statistically there are superior goaltenders, but when the game — not to mention the series — is on the line, there isn't a better person on planet Earth to face the pressures of a game seven than Jonathan Quick. As of this writing, he's unbeaten in them, having gone 3-0 so far in his career.
When on his game, Quick is simply unbeatable. Josh Gibson has had a nice run and may eventually become an elite netminder, but he's still a rookie and has never faced this type of game, at least in his short NHL career. Quick has seen it all, and as long as he's in the zone, is likely to keep L.A. in the game all by himself. As long as he gets just a little help from a few guys named Kopitar, Gaborik, Carter, Williams and Doughty, he can steal a game all by himself.
For the Kings' sake, let's hope he doesn't have to do that. I've heard Duck is a dish best served very, very cold.
Walter McLaughlin is a Los Angeles Kings correspondent for The Hockey Writers. He is an avid sports fan, having followed the Kings since living in L.A. in the mid-1970's, as well as suffering through Seattle sports teams' general futility. He has a Bachelor's degree in Finance and has worked in community banking for over 25 years, specializing in SBA loans. He is married and has two daughters.