The Boston Bruins are having a slower start to the offseason than many had hoped.
Missing the playoffs for the first time in eight years was expected to bring sweeping changes to the organization. Peter Chiarelli was fired as the team's general manager, and Don Sweeney was promoted to fill his position. Since then, day-to-day operations have slowed a bit.
The fate of coach Claude Julien is still up in the air, Dougie Hamilton is still awaiting a new contract and much of the roster, minus Gregory Campbell and Daniel Paille, is still intact.
#NHL Commissioner Gary Bettman said that the 2015-16 salary cap number will be closer to $71.5 million.

— Bryan Yates (@BryanYates24) May 22, 2015
To top it all off, free agency begins in less than a month. Commissioner Gary Bettman projected next season's salary cap to rise to $71.5 million, a slight increase from $69 million this year. That leaves the Bruins with just over $7 million of cap space to work with on July 1.
Boston may not have the resources to improve their club during the bidding war that is the free agent frenzy, but there are some notable names the Bruins should do some homework on. The club has needs at every position and will dip their toe in the free agent pool to fill one of their available positions.
Justin Williams
Perhaps one of the "bigger" names available this summer is a player who has a knack for scoring big goals.
Justin Williams may not be the same player that put up back-to-back 30-goal seasons in Carolina from 2005-07, but he is a proven winner. The 33-year-old has three Stanley Cup rings and shares an affinity with the number seven, playing in seven Game 7's in his 14-year career. Williams has scored seven goals in those games, and his teams have a perfect 7-0 record.
Williams could find himself in a top-six role, playing alongside either David Krejci or Patrice Bergeron if the Bruins were to sign him. A fifth 20-goal season would not be out of the question.
The former first-rounder in 2000 may be overpaid this summer because of his success in Los Angeles the past six seasons, but his playoff experience and knack for big goals are worthy of Sweeney making a few calls to his agent.
Michael Frolik
Boston's depth on the left wing is paper-thin. Michael Frolik could change that.
The 27-year-old has spent the last two seasons in Winnipeg trying to recover the form that made him a top-10 pick in 2006. His 19 goals and 42 points last season were the highest in his career since his sophomore year with Florida in 2009-10. Frolik's $3.3 million salary this year is fair market value for a player that is a top-nine forward.
Boston has only Milan Lucic and Brad Marchand on the left side according to the depth chart. Frolik will be 27 to start the season and would not be a bad option for the Bruins to pursue. He could be on the third line with either Carl Soderberg (if he re-signs) or Ryan Spooner for the right price.
Martin Jones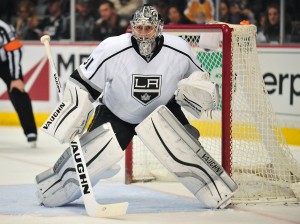 A backup goalie is also an area of need. Sweeney may look to the City of Angels for help in that department.
Martin Jones has spent the last two seasons backing up Jonathan Quick for the Kings. The 25-year-old has shown he can be, at the very least, a reliable backup. The restricted free agent has appeared in 34 games posting a sub-two goals-against average and .923 save percentage in his brief career.
Furthermore, 18 of his 29 career starts have been "quality starts", defined by Hockey-Reference.com as "starts with a save percentage higher than a goalie's save percentage for the season."
Niklas Svedberg has moved on to the KHL while Jeremy Smith and Malcolm Subban split time this season for Providence in the AHL. Smith has no NHL experience and Subban was poor in his only big league start this season, allowing three goals on six shots in St. Louis. The club needs someone who they can rely on to give Tuukka Rask a rest when need be.
Matt Beleskey
Matt Beleskey should come with a "buyer beware" tag this summer.
The Anaheim Ducks left winger exploded for a career-high 22 goals and 32 points this season. Eight goals in 16 playoff games further boosted his offseason value, including goals in all five games against the Calgary Flames in the second round. It all sounds good, but keep in mind this is a player that only scored 35 goals in his first 264 games.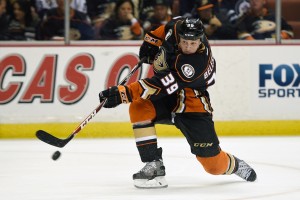 As stated earlier, Boston's depth on the left side is thin. Beleskey seems like a good fit as a top-nine forward. The big question remains whether the Bruins will be able to offer a contract that pales in comparison to their competition.
Regardless, Beleskey is one of the popular names this summer, and the club would be smart to gauge what his value is.
Adam Pardy
I know what you are thinking. Who is Adam Pardy?
Well, he is a 31-year-old defenseman that has spent the last two seasons with the Winnipeg Jets. Pardy is not known for his offense from the blue line. In fact, he has not scored a regular season goal since the 2010-11 season.
Why would you ever consider him?  Three reasons: Pardy is affordable, has size, and could be of use to the Bruins defense corps.
The sixth-round pick in 2004 is a big body at six-foot-four-inches. Boston needs a player who is able to clear the crease around Rask. Furthermore, Pardy was on the books this year for an affordable $700,000. Adam McQuaid and Matt Bartkowski are destined to hit the open market as free agents, so Boston could use an experienced body either on the third pairing or as a seventh defenseman.
Pardy would be a good pickup for a club that will have to fill two possible openings on the blue line for next season.