The Calgary Flames are at a major turning point as the team heads towards the 2013-14 season.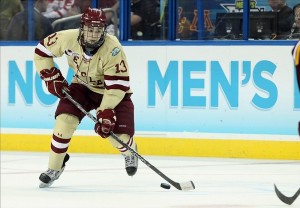 Jarome Iginla? Gone. Jay Bouwmeester? Gone. Miikka Kiprusoff? More than likely gone, as well. Heck, veterans Cory Sarich and Alex Tanguay are also departed, and team management has publicly committed to a youth-driven rebuild.
This past week at the Winsport Complex in Calgary's Canada Olympic Park, the Flames organization got to preparing their younger players – and the club's fans – for the rebuild. The business of selling hope has begun in earnest and – both on and off the ice – it appears to be going over fairly well.
On the ice, the newest additions to the Flames organization took their first strides wearing the Flaming C. Save for 2013 seventh round choice Rushan Rafikov, every member of Calgary's last three NHL Draft classes were in attendance for the week-long camp – including 2011 first rounder Sven Baertschi, 2012 first rounder Mark Jankowski and 2013 first rounders Sean Monahan, Emile Poirier and Morgan Klimchuk.
The week provides the team's coaching and development staff with an opportunity to work with their prospects – most notably the club's college draft picks, who are back in school when the rookie portion of training camp opens in early September. The camp was punctuated by a pair of full-length scrimmages that were remarkably gritty and competitive.
On Saturday, Team Black won by a 4-1 margin off goals from Linden Penner, Markus Granlund, Coda Gordon and Turner Elson. Sean Monahan had the lone goal for Team Red.
On Monday, Team Red got revenge and won 5-3 off goals from Sean Monahan, Johnny Gaudreau, Tim Harrison, John Ramage and Roman Horak. Markus Granlund, Dan O'Donoghue and Turner Elson scored for Black.
While it's difficult to single players out for exceptionally strong or weak play based on two scrimmages and several days of shooting and skating drills, a handful of players earned some recognition.
For the third straight camp, NCAA standout Johnny Gaudreau generated "oohs" and "ahs" from spectators for his speed, tenacity and stick-handling. He also deftly handled questions regarding his college status from increasingly nervous fans and media, all with recent memories of NCAA star Justin Schultz joining the Edmonton Oilers instead of the Anaheim Ducks after college. Gaudreau insisted that the decision to stay at Boston College for now is based on getting bigger and stronger (he's 160 pounds), getting an education and getting to play with his little brother this season, rather than trying to find greener pastures to make his NHL debut.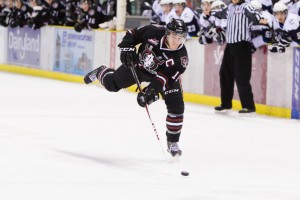 Another college star making waves at camp was Corban Knight. The native of nearby High River, Alberta looked poised, strong and generally stood out against the younger players on the ice. He'll most likely be getting a long look at main training camp, as the Flames are generally bereft of large-bodied centers that can win face-offs. For somebody who lost a lot of family memories in the late June floods throughout southern Alberta, Knight was in great spirits and very focused on putting on a good performance.
Off the ice, the response of the Flames faithful must have taken brass a bit by surprise. Despite trading away the team's captain and most beloved player in March, despite the anticipated retirement of the team's star goaltender, and despite the club having one of its worst regular season finishes in franchise history, the stands were full for most of the week.
Dozens of people spent their mornings – during the popular Calgary Stampede – at Winsport watching Flames prospects practice skating and stick-handling drills. Roughly a thousand people were in attendance for Saturday's scrimmage, with some arriving nearly two hours beforehand to get good seats, while about half that many skipped work on Monday morning for that scrimmage. Eager fans and autograph hounds brought jerseys, photos and hockey cards for autographs from the next generation of Flames fans – a proud father even got a photo of Sean Monahan holding his young baby. Even Morgan Klimchuk, a local boy who attended last year's scrimmage in the stands as a fan, was taken aback by the level of fan support in the dead of summer.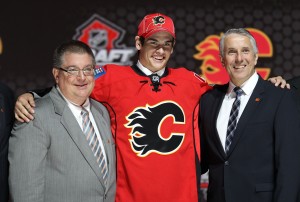 It's going to be a long season in Calgary. The Flames lack a bonafide top player at nearly every position, and the majority of their young players are untested at the NHL level. But for a week in mid-July, a little hope shined at Canada Olympic Park. If just one or two of these promising players can be converted into a top-end NHL asset within the next few years, maybe the Calgary Flames' rebuild won't be as long and arduous as some believe it will.
Until that hope materializes into some reality, though, cautious optimism is the watch-word.
Ryan Pike has covered the Calgary Flames and the NHL Draft extensively since 2010 as a Senior Writer for The Hockey Writers and Senior Contributing Editor of FlamesNation.ca. A member of the Professional Hockey Writers Association, he lives in Calgary.