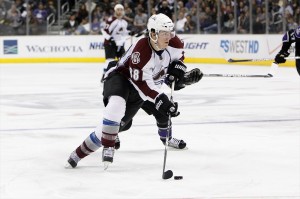 If Dale Tallon has his way, the Florida Panthers forward lines just might be set already. The top line of Kris Versteeg, Stephen Weiss, and Tomas Fleischmann probably isn't going anywhere, as it was one of the best lines in the NHL up until the All-Star break last season. As far as the second line is concerned, Tallon thinks that newly signed Peter Mueller would fit in nicely with rookie Jonathan Huberdeau and Scottie Upshall. On the third line, Mikael Samuelsson will likely be replaced by Tomas Kopecky, who will join Marcel Goc and Sean Bergenheim. With these lines almost set, the fourth line will be the only place that Florida Panthers fans could see something unexpected.
Of course, Florida's head coach, Kevin Dineen, will likely have something to say about all this, but for the most part he won't want to tinker with his lines that have not only shown chemistry together, but also produced a Southeast Division Championship. However, this writer would like to suggest that Dineen should tinker with the lines in order to put a more well-balanced team out on the ice. With that said, here are the lines you won't see the Panthers use, but the ones they likely should.
Tomas Fleischmann – Stephen Weiss – Peter Mueller
Although it would be hard to break up Florida's top trio, it still should be done. While Fleischmann, Versteeg, and Weiss got off to a great start last year, opponents seemed to figure out how to defend them as the season progressed. The strategy against the Cats' top line became to play a defensive forward group against them and to be as physical as possible, due to the lack of size on the line.
With Mueller in place of Versteeg, however, this strategy wouldn't be as effective. Mueller would add the size and physical presence that this line lacked last season, without having much of a drop off in skill level. If Fleischmann and Weiss were able to develop chemistry with new linemate Mueller (and Mueller is able to stay healthy), then this could end up being quite a formidable number one line.
Sean Bergenheim – Jonathan Huberdeau – Kris Versteeg
For those of you wondering why the Panthers would want to move their newly signed $17.6 million dollar winger down to the second line, look no further then the player that will be centering the line. Huberdeau, the Panthers highly touted third overall pick, is a pure playmaker at the center position. Who better to pair Huberdeau with, then, if not Versteeg, the Panthers' purest goal scorer and a player capable of scoring goals like this:
On the left side, Bergenheim would provide the grit and energy that a line always needs to be successful, while also not taking away from the overall skill level of the line. Depending on how quickly Huberdeau is able to adjust to the NHL game, this could be the Panthers most explosive and exciting line.
Scottie Upshall – Marcel Goc – Tomas Kopecky
This line would have everything you could ask for on a third line. Not only could they be a shut down line defensively, but they could also provide a respectable amount of offense. This is a line that could play in all situations. Every team could use a third line like this.
George Parros/ Quinton Howden – Shawn Matthias – Jack Skille
This is a fourth line that Kevin Dineen would have no problem playing on a consistent basis. Shawn Matthias is coming off his best NHL season and could be ready for a breakout year. However, his play is inconsistent at times, so having him on the fourth line would likely keep him motivated.
On the right side, Jack Skille played very well at times for the Panthers last season, but was unable to remain healthy. His energy and physical play would make this line difficult to play against.
Finally, on the left side, George Parros and Quinton Howden would likely play depending on the need. If the Panthers were playing a more physical team, then in goes Parros. If a more offensive minded player is needed, Howden would play on the line.
These line combinations would allow the Panthers to roll all four lines with confidence. Every line possesses a player that provides energy, toughness, and scoring ability. What else could Florida ask for?
Charlie Crespo is a Florida Panthers Correspondent for TheHockeyWriters.com. His work has also been featured at SB Nation Tampa Bay, where he is the Assistant Editor, and at TheRumpus.net. In addition to his writing, Charlie is currently working on an MA in English Literature at Florida International University.