After a seemingly strong start to the 2020-21 season, the Philadelphia Flyers have battled injury woes since the start. From dealing with offseason rehab issues to battling COVID-19, the team is no stranger to dealing with adversity. That "next man up" mentality, as Kevin Hayes previously mentioned, has quickly been adopted into the Flyers system of play by both the players and coaches.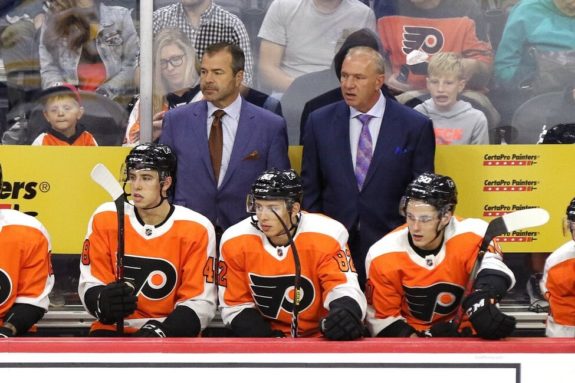 It seems as though there is a bright side to some of the injuries, but for others, the injuries have not been as kind. As the Flyers look to continue staying at the top of the league, injuries seem to be the only thing preventing long-term success, but they have taken a toll on the organization as a whole.
Sean Couturier
After suffering a costochondral separation in the second game of the season, which held Sean Couturier out a minimum of two weeks, the Selke Trophy-winning forward is close to returning to play. He is currently on injured reserve, but has been skating with the team since last Monday. As reported by the Flyers, Couturier is hopeful to return in the next seven to 10 days.
"Hopefully he'll be able to come back in the next week, I'm not 100 percent sure," Flyers general manager Chuck Fletcher said Tuesday. "He skated today, he was shooting the puck today, he's made really good progress. I don't think he's quite a day to day yet, but hopefully, in the next seven to 10 days, he can be a player for us."
As of this morning, Couturier was skating with the taxi squad. Many believe he could return as early as Sunday against the Washington Capitals, but Tuesday is a more likely option. The Flyers could use the offensive and defensive boost from Couturier as he has been missed greatly in his absence. 
Morgan Frost
In searching for an opportunity to fill the void left by Couturier, Morgan Frost was inserted into the lineup. Frost would unfortunately only last two games as he suffered a dislocated left shoulder on an awkward hit. His opportunity might have only lasted two games as it seems the injury is more serious than originally anticipated.
"I don't know if he's a candidate to come back at any point this season," Fletcher said Tuesday. "I guess in my mind I'm just hoping for a full recovery and a great offseason and get him ready for next year. Maybe he can beat that timeline; we'll have more information after the surgery is completed."
Issac Ratcliffe
After missing training camp with a fractured rib, Issac Ratcliffe was unsure about his opportunities for this season. He spent his first year in professional hockey with the Lehigh Valley Phantoms where he played 53 regular-season games. Fletcher announced on Tuesday that Ratcliffe's rib injury led to a collapsed lung and a couple of surgeries, which set back his timeline for a return. 
"He's doing much better, he's back skating," Fletcher said. "I think he's still a few weeks away from being able to return to practice and probably a few weeks away from being able to return to play after that… He's had a tough go; he's in a much better spot now."
The big forward has been spending time at the Virtua Center Flyers Skate Zone recently, but will more than likely make his way down to the Phantoms once the 38-game AHL season starts.
Wade Allison
Although not on the current roster, Flyers prospect Wade Allison is considered to be an important part of the future for the franchise. He spent the last four years at Western Michigan where he produced solid numbers. He underwent ankle surgery last week in Green Bay, Wisconsin, and will be out four to six weeks. 
There is a potential for Allison to make the Flyers lineup at some point in the season, but the likelihood of that happening at the moment is slim. The hope is that he will be able to rehab with the Phantoms once he is able to return. 
Chuck Fletcher
Fletcher himself has even faced some adversity this season. As it was reported earlier this week, the general manager admitted to having COVID-19 back in January. Fletcher is in better health and back with the team in Philadelphia since the beginning of the week. 
Regardless of the number of injuries the Flyers face over the course of the season, there is always going to be another man up. With as deep as this organization is, anyone on the current roster or taxi squad could fill a void left. The Flyers have an important stretch of games coming up as they face the Washington Capitals, New Jersey Devils, and New York Rangers coming up in the next two weeks.
---
---