Onlookers have praised rookie Philadelphia Flyers general manager (GM) Daniel Briere for recouping the maximum value for Ivan Provorov, a top-four defenseman who never quite reached his ceiling in Philadelphia. Provorov will now ply his trade in Columbus, and Briere's ability to clear cap space, coupled with fresh trade rumors, pushed an impressive trade return to the back burner. A second first-round pick in the most loaded draft in nearly a decade is hardly trade fodder, though as the Los Angeles Kings' 22nd selection is nothing to sneeze at.

The Kings coughed up the selection in return for the Flyers taking on the contracts of Cal Petersen and Sean Walker, and suddenly the Orange and Black have dramatically expanded their options in the 2023 Draft. So, do they take a big swing with their own seventh pick and hedge with the 22nd, or regard pick No. 22 as house money and play it safe early on? It is a tough call that could define the early direction of Briere's rebuild, but the right choice is to go for a star where stars are available and worry about holes with the later pick.
A Big Swing at 7
If Matvei Michkov, the 18-year-old Russian pro who might have the second-most potential in the class, scares off each team in the top six with his Kontinental Hockey League (KHL) commitments, the Flyers would have a no-brainer on their hands: fall face first into a future superstar and take a reliable future pro (if there is such a thing) at No. 22. Michkov to Philadelphia would be a heist, but the San Jose Sharks and Montreal Canadiens could afford to wait for the prospect at numbers four and five, respectively.
With Zach Benson, who typically falls between picks five and eight in prospect rankings, the strategy would go similarly: take the big name and use the Kings' pick to fill a need. The Flyers have no shortage of those. The argument for taking Benson is simple, he is the only prospect in the mix at seven with superstar potential. College commits Ryan Leonard and Oliver Moore should be solid complimentary top-six players but would have to overachieve to drive offense in the NHL.
Related: Flyers' 2023 Draft Target: Zach Benson
---
Latest News & Highlights
---
If Benson fully realizes his potential, he will settle in as a 60-assist player. Though riskier than Leonard, Moore, or top-defensive prospect David Reinbacher because of his below-average size, his ceiling is higher than anyone except generational prospect Connor Bedard, consensus No. 2 Adam Fantilli, and Michkov. Even Leo Carlsson and Will Smith, who typically round out mock-draft top fives, offer security more so than the explosiveness of the Western Hockey League standout.
If the Flyers select Benson (they should) or, better still, luck into Michkov, they will pick 22nd without any pressure to find their next star. They have holes, especially in their defensive top four and offensive middle six, that they could stand to fill without worrying about landing a franchise changer from a spot where few will be available. The John Carlsons (27th in 2008) and David Pastrnaks (25th in 2014) of the world are few and far between. 
Who could the Flyers pick to reliably do a job for them as they overhaul their roster in the coming years? Unglamorous as the strategy is, replacing the core pieces of Chuck Fletcher's Flyers would be a start.
Rebuilding on Defense
Provorov never became a Norris Trophy candidate despite a fine start to his Flyers' career, but the 20 minutes he logged night in and night out for the past seven seasons need replacing. The team's options are limited to unspectacular veterans Walker and Nick Seeler, salary cap albatrosses Rasmus Ristolainen and Travis Sanheim, and a host of unproven youngsters led by Cam York. The team could liven up that group by taking Oliver Bonk of the Ontario Hockey League's (OHL) London Knights.
Bonk, the son of former Ottawa Senators All-Star Radek Bonk, will be around at 22; he typically grades as a late first-rounder. His game is not explosive, but he takes care of business with admirable composure at both ends of the ice. If the 6-foot-1 defenseman continues down his current trajectory, his defensive responsibility and offensive toolkit (10 goals and 40 points in 66 OHL games last season) should make him a two-way, top-four blueliner that can function on both sides of special teams.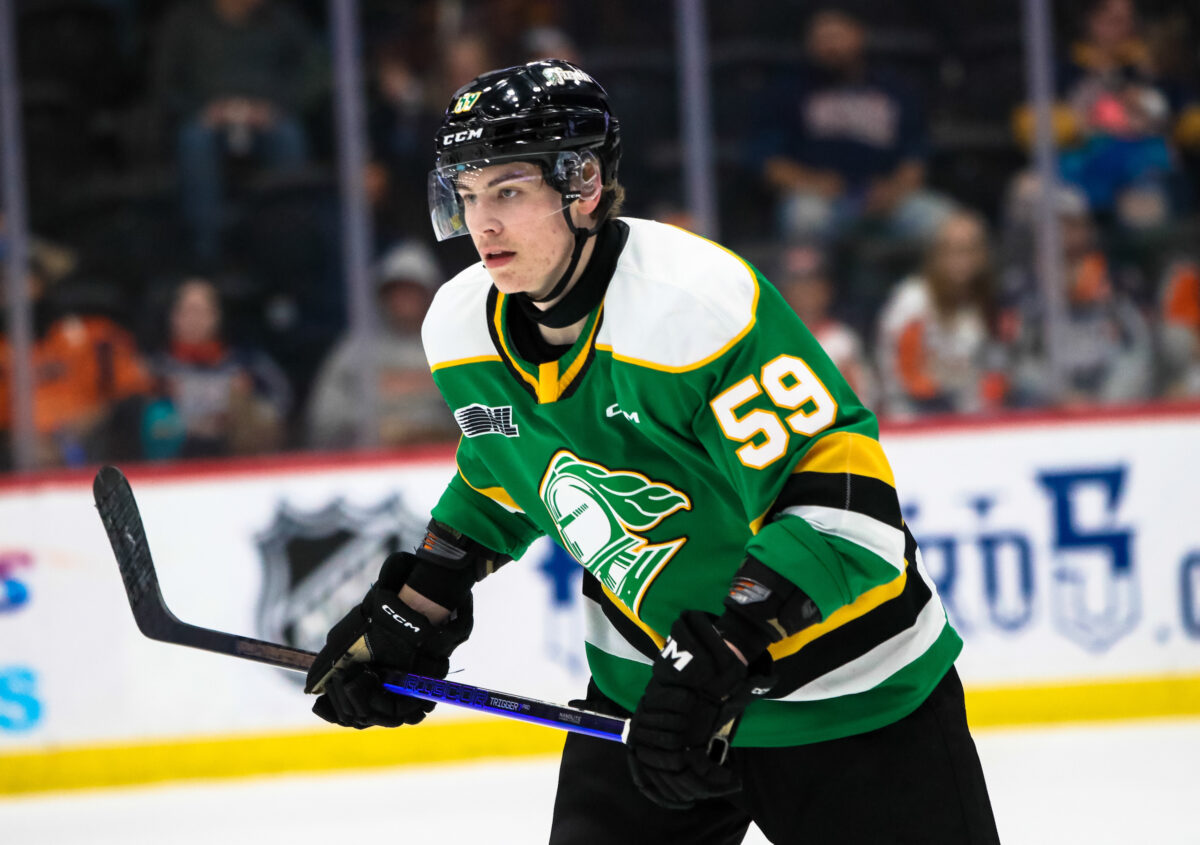 Bonk lacks Provorov's natural ability but could step into the Russian's role in the coming seasons. His right-handed shot also means that if the Flyers select him, he could step into a dirt-cheap top-four pairing alongside the left-handed York. He could also pair nicely with Emil Andrae, another lefty whose offensive skills could force an NHL audition as early as next season. His ceiling is unremarkable, but Bonk would be a steady hand in a transitioning Flyers' defensive corps. 
The Next Konecny?
Briere could also end up having to replace Travis Konecny. His 2022-23 explosion (31 goals and 61 points in 60 games) was the best season of his career and a stark outlier on a team that could not score (fifth-fewest goals in the NHL). His dynamic game, perpetual agitation of opponents, and reasonable $5.5 million cap hit through 2025 all make him an attractive option for contenders who need help in their top-six; the Carolina Hurricanes, Nashville Predators, and Boston Bruins are just a few of the teams that could use his fire and skill. The chance 'TK' will ply his trade in Philadelphia next season plummeted when Briere pulled the trigger on the Provorov trade and kicked off his rebuild in earnest.
Related: Flyers Cannot Afford to Keep Star Travis Konecny
Lucky for Briere, a player who is an agitator in the vein of Konecny could be available with the 22nd pick. The relentless work ethic and offensive zone peskiness of Ethan Gauthier (no relation to Flyers' top prospect Cutter Gauthier) has earned him a first-round grade. His game lands somewhere between Konecny and Scott Laughton, with the former's hands and tenacity and the latter's 200-foot awareness; Gauthier is likely to score at a clip more closely resembling Laughton's. His feistiness and motor would fit seamlessly into the identity that coach John Tortorella is trying to establish on Broad Street.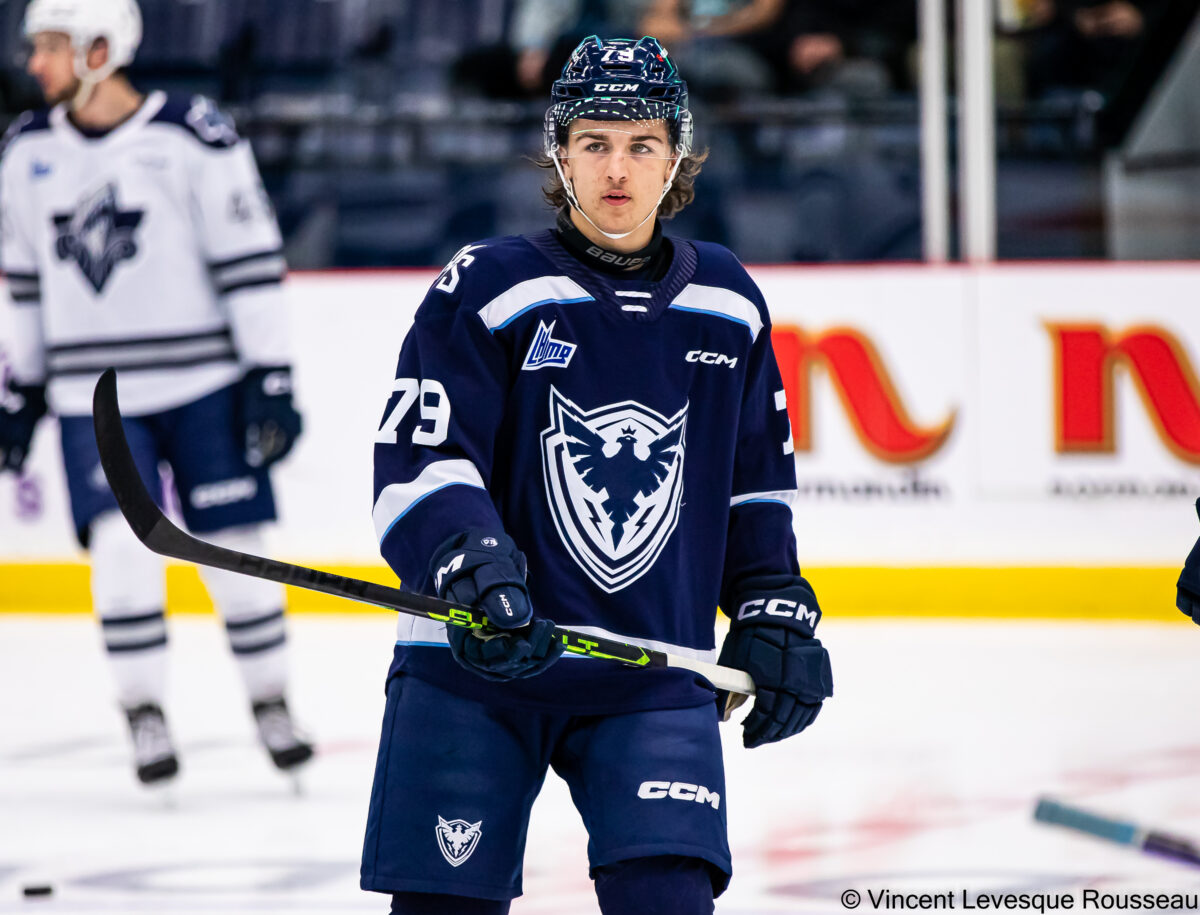 That same attitude and competitiveness have led many analysts to mock Leonard to Philadelphia at seven. If he is foremost an intensity guy, why not settle for a cheaper alternative and shoot for the stars with a surprisingly high-leverage seventh pick?
The Future in Philadelphia
None of this is to say that Leonard would be poor value for the seventh pick or that he would not make an excellent Flyer; he can be an impact player in the NHL without having to score 80 points a season and would hardly be a consolation prize should Benson and Michkov go in the top six. Still, any other alternatives to a top-of-the-line offensive talent would disappoint. Top defenseman David Reinbacher and elite skater Moore would be so nauseatingly safe that their selections at seven would inevitably underwhelm in light of all of Briere and president of hockey operations Keith Jones' bold rhetoric. Bonk or Gauthier would offer plenty of safety as future NHLers with the 22nd selection, giving Briere and Jones all the security they need to think big with their top-ten pick.