The Vancouver Canucks have drafted a goaltender in all but one draft since 2017, so it stands to reason they will do so again in 2023. In those five classes, they added Ty Young (144th overall in 2022), Aku Koskenvuo (137th in 2021), Arturs Silovs (156th in 2019), Matthew Thiessen (192nd in 2018), and Mikey DiPietro (64th in 2017) to their coffers.

Apart from DiPietro, who was selected in the third round, the Canucks seem to like drafting goaltenders in the fifth and sixth rounds. So, with that said, let's take a look at a few prospects goaltending guru Ian Clark might have his eye on when Day 2 of the 2023 Draft gets underway.
Adam Gajan – Chippewa (NAHL)
NHL Central Scouting: 6th (among NA goaltenders)
THW Prospect Profile
Starring for Team Slovakia at the 2023 World Juniors in Halifax, Adam Gajan outperformed his peers and walked away as the tournament's best goaltender finishing with a 2.40 goals-against average (GAA) and .936 save percentage (SV%) along with one shutout. While he didn't lead his team to a medal, he was brilliant against Team USA in a 6-3 win and then nearly upset Team Canada with a 57-save performance that needed overtime and Connor Bedard to win it for the Canadians. Needless to say, he got on the map.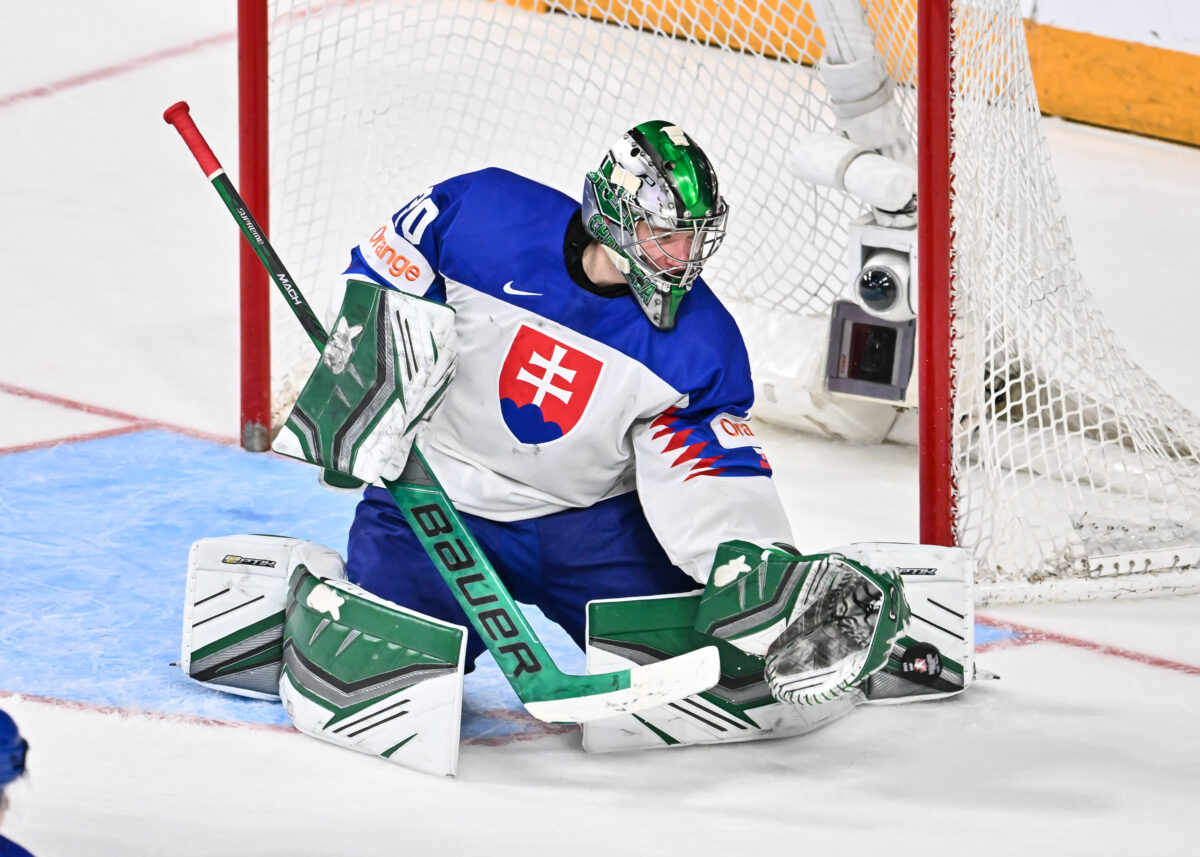 Gajan has all the attributes of a Clark draft pick – over 6 feet and athletic.
When he drops his pads, he can effectively cover the entire bottom half of the net yet still maintain his mobility to slide around the crease. Should a skater try to get around him to the other side, he can shoot out a leg or go into a split. If they instead decide to go up high, it's not like they have many more options; while on his knees, he still takes up the majority of the net, and he can swivel his torso to take the puck right in the chest or arm.

Dayton Reimer, The Hockey Writers
That sounds a lot like Thatcher Demko, Roberto Luongo, Sergei Bobrovsky, and Jacob Markstrom, all goaltenders Clark has developed into All-Star caliber starters in the NHL. Luongo was all about athleticism as many of his saves were of the highlight-reel variety. While I am not saying Gajan will end up being a Hall-of-Famer, his athletic profile makes him an ideal candidate for Clark's school of goaltending.
Ranked all over the place from 34th overall by The Hockey News to 100th by Elite Prospects, the Canucks might not get a chance to select him even with their third-round pick. But with the plethora of quality forwards and defencemen still available in the second round and early in the third – along with higher-ranked goaltenders Trey Augustine and Michael Hrabel on the board – he will probably still be around when they select at 75th.
Thomas Milic – Seattle Thunderbirds (WHL)
NHL Central Scouting: 28th (among NA goaltenders)
The 2023 Draft has a number of standout overagers when it comes to goaltenders. In addition to Gajan, the Canucks could also take a look at Seattle Thunderbirds starter Thomas Milic, who will be entering his third draft after being passed over in 2021 and 2022. He had a stellar final season in the Western Hockey League (WHL) finishing with a 2.08 GAA and a .928 SV% along with four shutouts. He also continued his brilliance in the playoffs with a 1.95 GAA and .933 SV% en route to a WHL championship and a WHL Playoff MVP award. Finally, he starred in the Memorial Cup where his team played in the Final.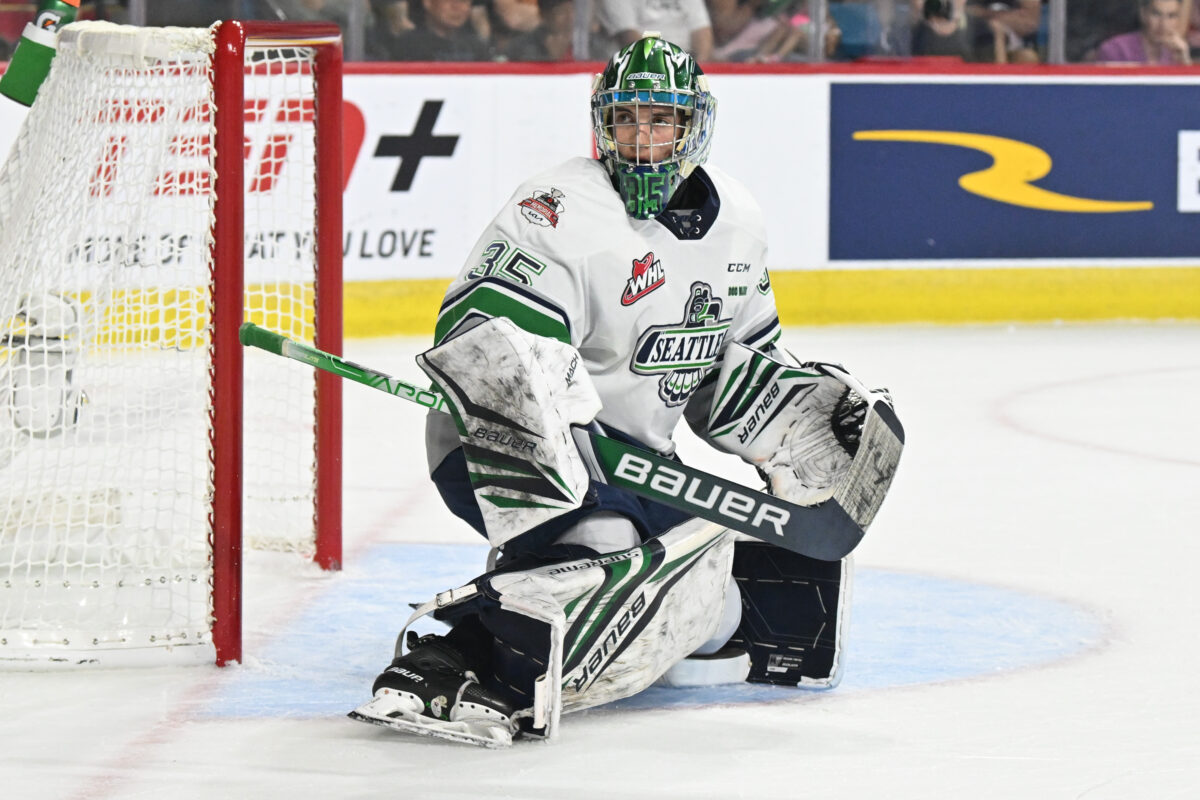 To say Milic had a great season would be a massive understatement. Yes, he's 20 years old, but the New Westminster native deserves to be drafted. He's not the typical Clark-type goaltender at 6 feet, 174 pounds, but he's quick in the crease and has great control over his movements. His maturity and experience could lead to him starring in the American Hockey League (AHL) or ECHL next season and be a call-up option in a few years. With the Canucks' lack of pro depth beyond Silovs, they might need a goaltender a little further along in his development.
As for where Milic might be selected, that's hard to say as major scouting outlets have him going as early as the fifth round to as late as the sixth round. He could even go in the third round as THW's Peter Baracchini has him at 77th in his final rankings. Either way, the Canucks should have the opportunity to add him to their prospect pool if they so choose.
Aksels Ozols – HS Riga (Latvia)
NHL Central Scouting: 8th (among EU goaltenders)
With the success the Canucks have seen with Silovs, could they go back to Latvia and select Aksels Ozols? Similar to Silovs in his draft year, Ozols has a raw package that will require a few years to refine. According to Elite Prospects' Draft Guide, he "has good instincts for recognizing threats on the ice and often makes saves by positioning himself smartly." FC Hockey's Kellen Eyre also noted that his "feet are very calm and quiet, and he moves around the crease with ease." That latter quote by Eyre is what caught my eye considering Clark's affinity for making his goaltender's movements more efficient. Since Ozols already has that in his arsenal, he's already ahead of the curve.
---
Latest News & Highlight
---
Clark seems to like Latvian goaltenders too, as he was instrumental in the additions of Elvis Merzlikins and Matīss Kivlenieks (who sadly passed away in 2021) in Columbus. So, I would not be surprised if Ozols wasn't already on his list for Patrik Allvin on draft day.
Charlie Schenkel – Sault Ste. Marie Greyhounds (OHL)
NHL Central Scouting: 25th (among NA goaltenders)
Finally, we have Charlie Schenkel from the Sault Ste. Marie Greyhounds in the Ontario Hockey League (OHL). Another goaltender with NHL size at 6-foot-5, 194 pounds, he got passed over in the 2022 Draft but could be worth a flyer in 2023. On a bad team that gave up a ton of shots, he gritted out the season and finished with a 3.49 GAA and .894 SV% in 31 games. Technically sound and athletic for a big goaltender, he has a solid foundation for Clark to build upon.
He's a huge goaltender who uses his size to take away the net extremely well. He remains tall when down on his knees and battles taking place in front of him. He moves extremely well for a big goaltender, challenges well and is technically sound.

Dominic Tiano, OHL Writers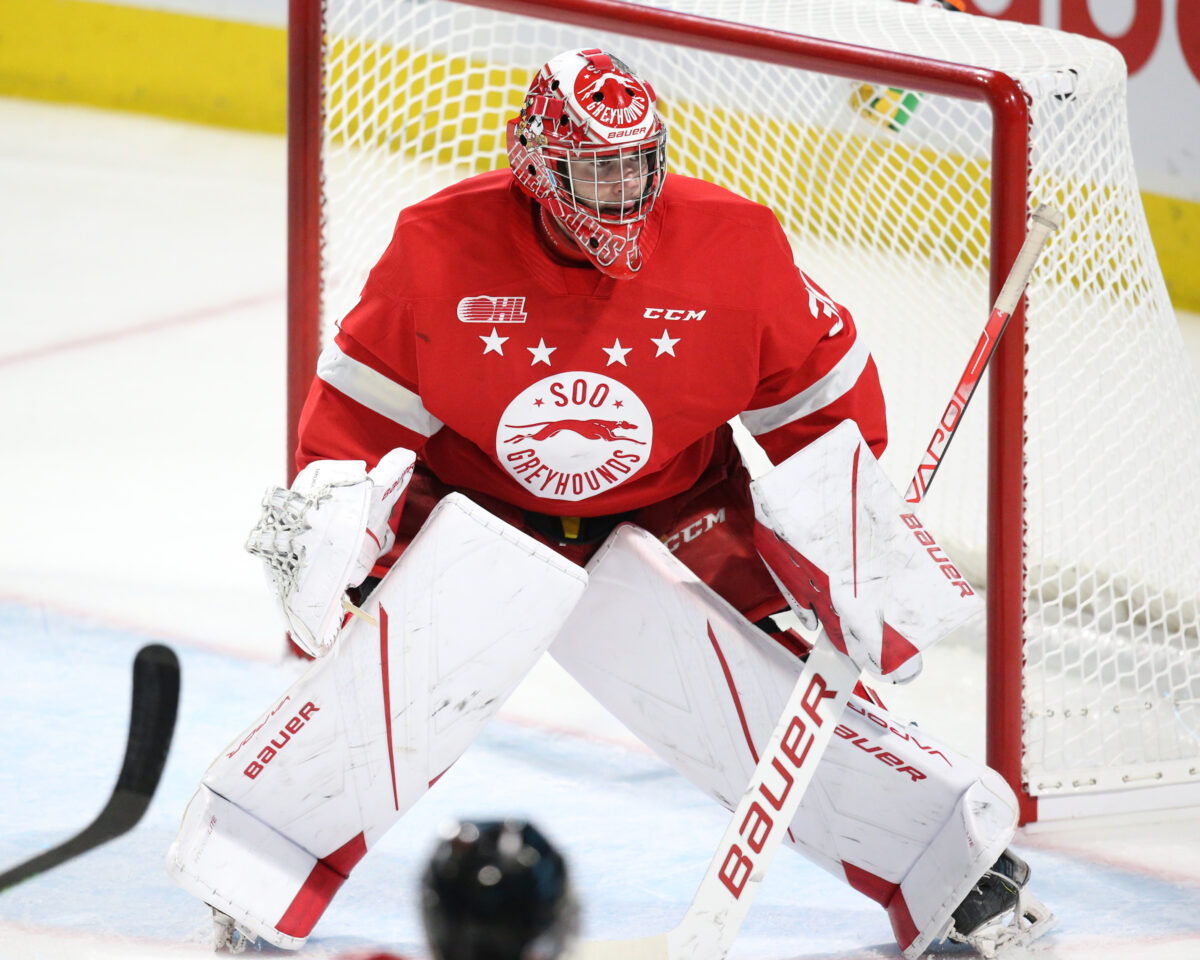 The Canucks' amateur scouts probably saw a lot of Schenkel as the Greyhounds also house 2022 seventh-round pick Kirill Kudryavtsev. He could be an interesting pickup in the later rounds, as he has a lot of qualities Clark likes to see in his goaltenders.
Canucks Have Options If They Want to Draft a Goaltender
While the Canucks won't likely have a chance at selecting top goaltenders Trey Augustine, Michael Hrabel, or Carson Bjarnason, they do have some great later-round options in the names mentioned above. They could also take a look at another overager in Tomas Suchanek, 6-foot-6 Italian netminder Damian Clara, Kamloops Blazers starter Dylan Ernst, and many others.
One thing is for certain, though, Clark will be in there like a dirty shirt giving Allvin his recommendations on who to select. He has done it every year, not only with the Canucks but with the Blue Jackets as well. With his previous success, it's almost a guarantee they will walk away with an intriguing goaltender that will be interesting to follow in the seasons to come.