No matter the opinion of Craig Berube's Flyers, they certainly keep it interesting. Wednesday's win in Pittsburgh not only deflated the Penguins' early season swagger, but built some confidence in some of their own. Thanks in large part to R.J. Umberger (yes, that R.J. Umberger), the Flyers improved their regular season record at Consol Energy Center to 10-1-1 (12-2-1 all-time). Crazy, right? It always is.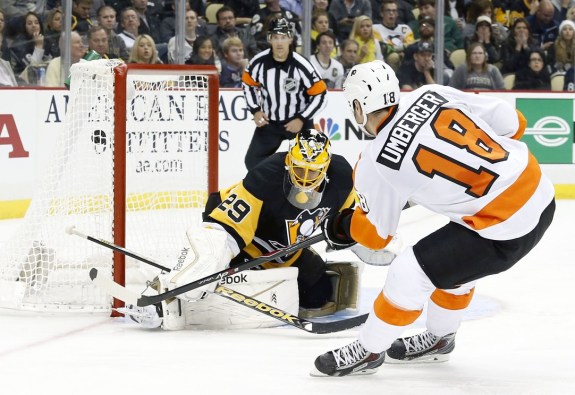 Umberger Goes Gordie Howe
R.J. Umberger couldn't have picked a better time to show up. The 10-year veteran entered his hometown of Pittsburgh and collectively stunned Penguins and Blue Jackets fans alike by collecting his second career Gordie Howe hat trick. This, of course, after starting the season with a goose egg in the point column, and a minus-six rating through the Flyers' first six games.
"It's been a while since I actually scored in [Pittsburgh]," said Umberger. "It felt good."
Just how long was it? Feb. 10th, 2008, to be exact.
On that date, Umberger was in his first stint with the Flyers, and the goal was assisted by current Penguins forward Steve Downie. After beating Ty Conklin at the old Mellon Arena, Umberger would go onto spend six seasons in Columbus, failing to find the back of the net one time in his childhood city.
Umberger? Really Pittsburgh? Pack it in right now, your season is over.

— Matt (@zekebud) October 23, 2014
In his first trip back with the Flyers, Umberger made up for that drought, adding an assist and a fight with Pens defenseman Simon Despres. The former Ohio State Buckeye's big night left even Columbus fans stunned, as they reverted back to Scott Hartnell's contributions through his first five games with the Jackets (0 goals, 4 assists, minus-2 rating).
"Coming in here tonight and beating a good team on their ice to finish off a road trip, to me that shows a lot of character," added Umberger.
You'd celebrate like that too if you were Umberger. The effort in Pittsburgh should stave off the heavy criticism he's received up until that glorious moment, even if it lasts but a short while. Here's hoping it is sustained, since his $4.6 million cap hit is not only higher than Vinny Lecavalier's $4.5 million annual hit, but on the books for another pair of seasons after this season.
Del Zotto Down
Despite accounting for the few bright spots on the defensive side of the ice this year, Michael Del Zotto sure struggled to stay on his feet on Wednesday in Pittsburgh. Skating in the least amount of ice time of any Flyers defenders (16:44), the first-year Flyer fell to the ice an astonishing four times.
It was a tough night altogether for Del Zotto, who left Consol Energy Center with a shot and a blocked shot to go with a minus-one rating. It's a good thing Del Zotto's spills aren't correlated with Scott Hartnell's foundation, which collects $1,000 for every time Hartnell falls to the ice.
Furthermore, looking like Happy Gilmore on skates is still more honorable than the massive dive that Penguins forward Chris Kunitz was whistled for in the second period. You'll be shocked at the footage, I know. But here it is, nonetheless.
Chris Kunitz with a 10/10 flop: https://t.co/RMMejx9tGn

— Flyers Nation (@FlyersNation) October 23, 2014
Del Zotto, on the other hand, has only 2:00 of penalty time through seven games to go along with three assists. His klutzy performance can be giggled at since the Flyers were victorious. Just as long as it doesn't become a trend, of course.
Pebbles Bellemare & That Mouth Piece
Never mind the fact that Pierre-Edouard Bellmare recorded his first career NHL goal in Philadelphia's win at Pittsburgh. His mouth piece, which resembles the French flag in color, stole the show. At least on social media, that is.
Skating with Sean Couturier and Matt Read, Bellemare broke a 1-1 tie in the first period by deflecting a sensational pass from Couturier past Pittsburgh goalie Mark-Andre Fleury.
The linemates smiled together in celebration, making Bellemare's mouth piece a viral hit. And if we didn't know any better, Couturier's toothless grill might've been just as popular.
Nevertheless, Bellemare's first as a Flyer was well worth the wait. The speedy forward was finally rewarded for the array of close misses he had amassed through the Flyers' previous six games, and at a pivotal moment in the game from a momentum perspective.
"It felt pretty unbelievable, especially because we won the game," Bellemare said afterward.
It was indeed. Especially if it means adding yet another Penguin killer to the lineup.
Couturier Blanks Crosby (Again)
If Pittsburgh captain Sidney Crosby didn't like anyone on Philadelphia's 2012 team, he clearly has to hate Sean Couturier even more now. Since blanketing Evgeni Malkin in the 2012 quarterfinal round, the 21-year-old center has since been given the responsibility of shutting down the game's most prolific scorer. And he's done just that.
In addition to helping shut down Malkin and Crosby, Couturier had 3 pts and won 56% of his FOs.#Flyers

— Sam Carchidi (@BroadStBull) October 23, 2014
Couturier, who's off to his best scoring start through seven games (three goals, two assists), added an empty net goal to accompany his pair of assists in Wednesday night's win at Pittsburgh. But even though the budding star's offense appears to be picking up, his defensive prowess has remained intact. Especially against Crosby and the Pens.
Frank Seravalli of philly.com explains just how dominant he's been against the Pens:
It was Couturier's defensive play, though, that turned the tide to help them pick up their sixth win in their last seven games against the Penguins. Crosby was held without a point for just the 12th time in his 49 career games against the Flyers. He doesn't have a goal in four straight games against the Flyers and just one assist to show for himself.
Couturier's value to the Flyers can be measured alone in his effectiveness against a player like Crosby, who's scored 30 goals and 45 assists in 49 career games against Philadelphia. In other words, it's a wake-up call for anyone keen on the idea of packaging Couturier in a trade of any kind.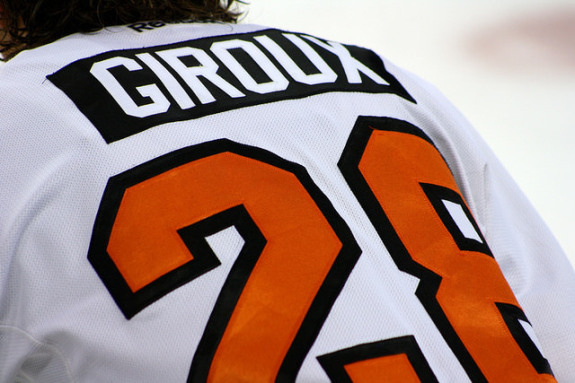 Giroux's Steady Leadership
The pointless comparisons of Sidney Crosby and Claude Giroux are just that, pointless. Declaring one better than the other doesn't win hockey games, as the Crosby following is starting to now realize. And while Crosby has his Stanley Cup from 2009, Claude Giroux continues to lead a lesser talented team into Crosby's barn to smack them in the mouth.
To add insult to injury, Giroux has scored nine points in his last four games against the Pens, adding two assists to Wednesday's totals. This is not a declaration that Claude Giroux is "better" than Sidney Crosby. The Penguins captain blew past every player in the league last season in the points department with 104 points on his way to his second career Hart Trophy. But it is, however, worth noting that since 2010, the year Consol Energy Center coincidentally opened, no player has notched more points than Giroux's 312.
Claude Giroux now has 30 points in 29 career games vs. #Pens.

— Brady Trettenero (@BradyTrett) October 23, 2014
In fact, the closest player to Giroux in that time frame is New York's Martin St. Louis, who has 308 points through Oct. 22nd. Giroux's 40 point advantage over Crosby comes with 36 more games played, not counting Pittsburgh's game on Thursday against Detroit. But since 2010, Giroux has missed only 5 games. Placing an asterisk next to Giroux's feat is merely penalizing him for staying healthy. After all, you can't be good at what you do if you're not healthy enough to do it.
Giroux holds the advantage in their only playoff meeting as captains, 2012's quarterfinal round, and again, holds the curb stomping 10-1-1 regular season record at Consol Energy Center.
Dejan Kovacevic of DK on Pittsburgh Sports detailed Pittsburgh's reaction to their most recent loss:
The Flyers are in the Penguins' heads.

Or, as one team official fumed afterward, "They're in our [expletive] heads."

[Expletive] right they are. And exorcising them isn't exactly optional, no matter how hard the Penguins tried to make it look with this sweat-free affair.

Call it intangible, call it mumbo-jumbo, but sometimes it really is that simple.
Since the swinging of the pendulum, shifting nearly all fortune Philadelphia's way, it's been a tale of two captains when the Flyers and Penguins meet. The Flyers have made the Pens play their style of hockey, while effortlessly getting under the skin of their opponents' star captain, as if they were giggling, saying, "Watch this."
Giroux, on the other hand, continues to quietly rack up points and victories. An egregious imbalance if you ask anyone. It helps, of course, to have five different teammates who have scored more career points against the Penguins than against any other team in the league.
Jakub Voracek (22), Brayden Schenn (8), Wayne Simmonds (16), Braydon Coburn (14), and Zac Rinaldo (3) have killed the Penguins in the recent past. And that list would be much longer had the Islanders not existed.
That does not, however, strip Giroux of the credit that's due. After all, Schenn, Simmonds and Rinaldo were all held pointless in Wednesday's meeting, and Braydon Coburn didn't even play. It's just added salt in an open wound that's growing more infected with every Flyers win in this rivalry.
You could argue things might change, even this season. But at this point, who cares? The Pens would have to sweep the Flyers for 15 straight seasons to lead in the all-time head-to-head record.
1975? How predictable. Almost as much as Wednesday night's results.
Andy is a contributor for The Hockey Writers, covering the Philadelphia Flyers. He holds a Bachelor's Degree in Communications from Walsh University. He enjoys spending time with his family, golfing, and reading. He is married with a daughter. You can follow Andy on Twitter @ADudones.