John Tortorella has never wavered from his own personality. He brings unrelenting fire, passion, and (sometimes overly) brutal honesty behind the bench. The Philadelphia Flyers hired him to force players out of their comfort zones and breathe life back into an organization that lost it somewhere along the line. Joel Farabee and Travis Sanheim recently joined Kevin Hayes and Travis Konecny on the long list of high-profile NHL players benched by Tortorella in 2022-23.
Tortorella has never been afraid to clash with his players. He even values certain direct confrontations as learning experiences. He famously quarreled with Vincent Lecavalier in 2002 just two years before they won the Stanley Cup together with the Tampa Bay Lightning. However, Elliotte Friedman cited a source that brought up a point the Flyers must consider in Tortorella's long-term future relating to the changing attitude of the modern athlete. 
"Kids are different now. What Vincent Lecavalier would've accepted 20 years ago, he's not convinced that some of these young players will deal with now," Friedman said.
John Tortorella Causing Controversy
The organization signed up for controversy, and they've gotten more than their fair share. Tortorella has challenged his players without much hesitation or consideration for earning acceptance from the media or pockets of the fan base. Many people criticized his choice to scratch Sanheim with family and friends in attendance against the Calgary Flames on Feb. 20. The two-time Jack Adams winner claimed he wasn't aware of Sanheim's experience playing junior hockey in Calgary and the preplanned family trip.
Hayes took a seat as a healthy scratch in December against the New York Rangers, the team he played for during his first five NHL seasons, in a situation that drew the most attention around the NHL. He led the Flyers in scoring at the time, but Tortorella had challenged the 30-year-old forward's defensive game repeatedly throughout the early part of the season. He even moved Hayes to the wing despite his extensive experience as a center in over eight NHL seasons.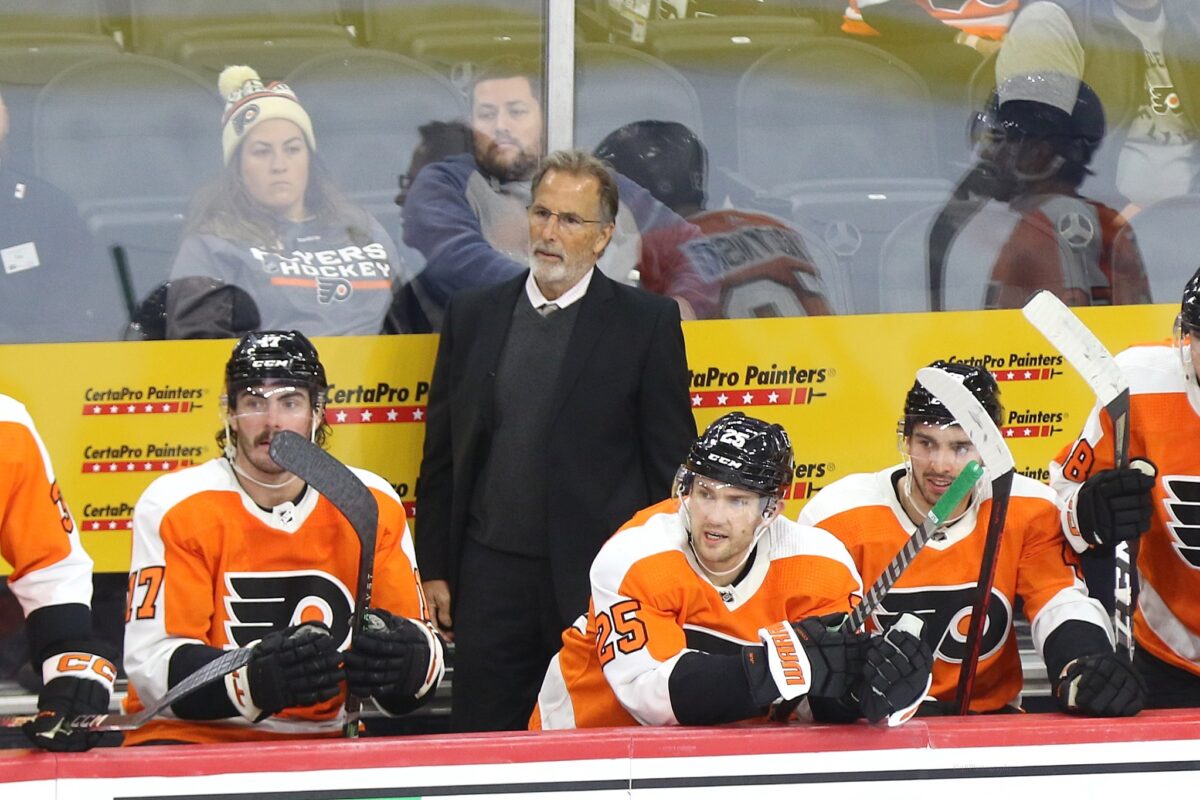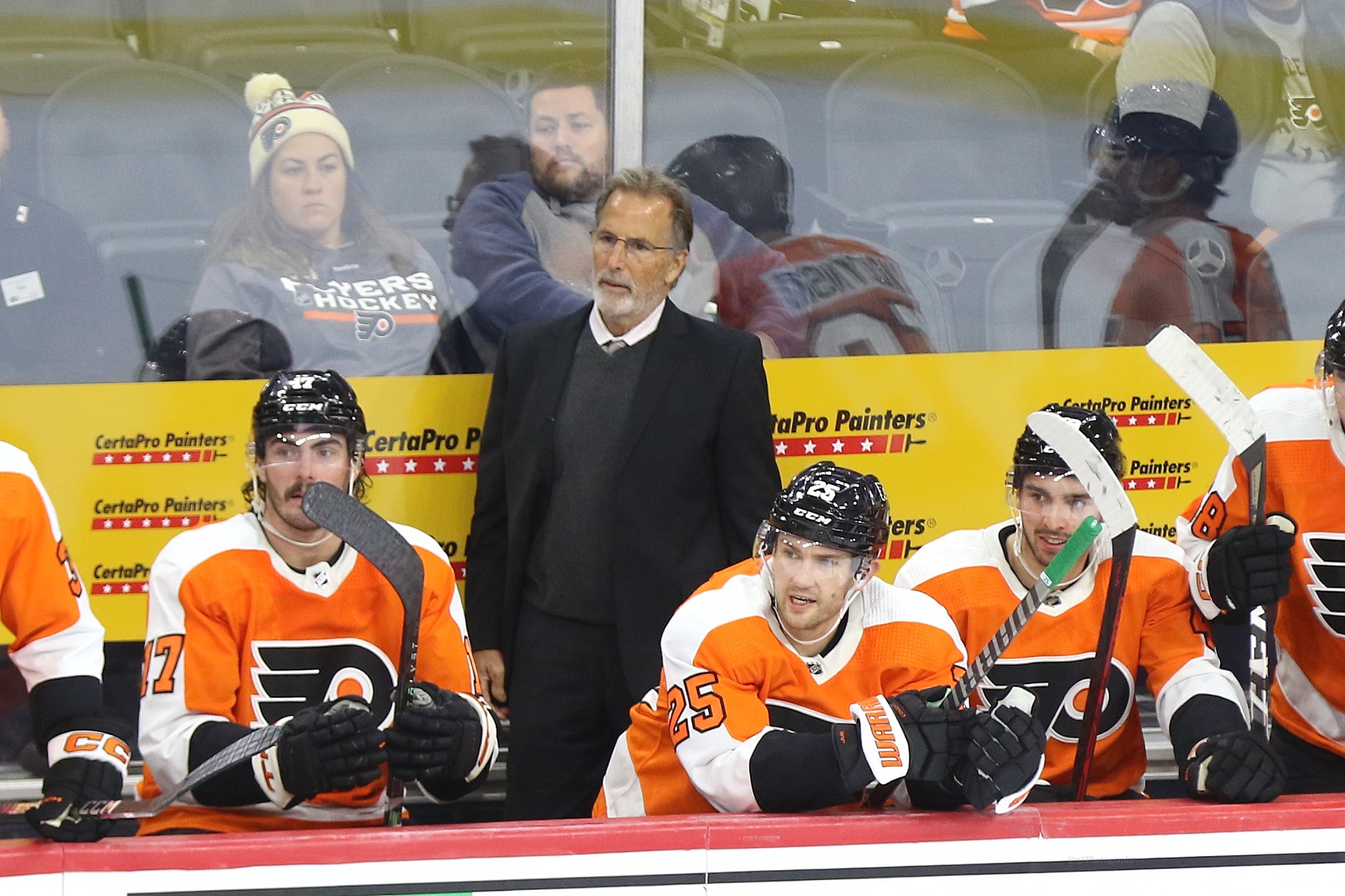 "It's kind of a big picture in my mind, as far as team concept," Tortorella said about his decision to sit Hayes. " I'll put it to you this way. I can't keep looking by things because we're worried about scoring. I've got to worry about the big picture of what this team is going to be, what the standard is of how we have to play. That far outweighs losing some offense in a particular game."
Tortorella and the organization emphasized a new standard during the offseason for players to approach to the game off the ice and perform on it. Part of that new standard is holding the top players on the team accountable in all aspects of the game. Hayes hasn't been a strong defensive player this season, and he paid the price by sitting as a healthy scratch.
---
Latest News & Highlights
---
"I'm never going to say there's a benefit to being benched. I'm sorry," Hayes said. "I don't think I should have been benched, but it's not my decision. He's the coach. I'm a player. He makes the lineup. He wants the best team on the ice to ultimately win."
Farabee and Sanheim haven't responded well to the challenge with improvement on the ice. Tortorella once again sat both former first-round draft picks for the entire second period in Tampa Bay on March 7. After the game, Tortorella seemed at a loss for words about the decision to sit them initially and the decision to give them another shot in the third period.
"I don't know where I go there," he said with a tone of frustration.
Other Flyers Benched
"It didn't matter if you were a first-line guy or a fourth-line guy, he'd challenge guys and verbally give it to them if he didn't think they weren't giving it their all," Chris Dingman told NBC Sports Philadelphia said about his time with Tortorella as a member of the Lightning.
Tortorella hasn't been picky about the players he is challenging. Some players have responded well and shown the improvements their head coach is looking for. Tortorella sat Hayes and Konecny for the third period against the San Jose Sharks on Oct. 23 just six games into the regular season. While Hayes has remained in the doghouse for most of the season, Konecny took another path. He led the team in scoring before his recent injury, and he has consistently earned praise from the head coach for his hard-nosed attitude on the ice.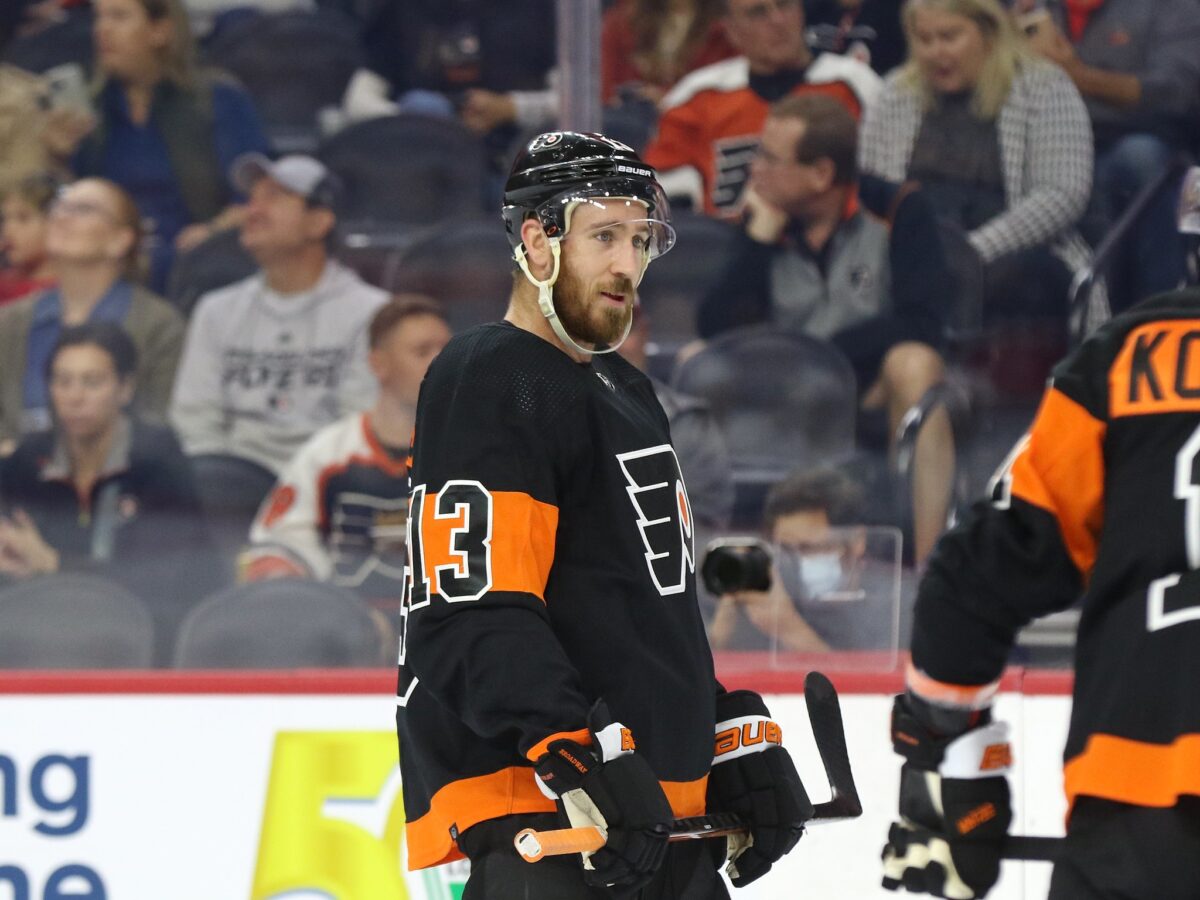 Rasmus Ristolainen played a grand total of four games in 2022-23 on his new five-year, $25.5 million contract before he found himself out of the lineup. However, since the benching, the bruising defenseman has progressed into a more reliable role on the Philadelphia blue line and posted some of the best defensive metrics of his 10-year NHL career. 
Cam York began the season in the American Hockey League (AHL) after struggling during the preseason. Controversy swirled, but Tortorella had no intention of granting any sense of entitlement to a top prospect and former first-round draft pick. Since York finally made it back to the NHL in December, he has shown growth as one of the best defensemen on a roster of expensive veteran blueliners and an ability to play stretches on the top pair for the Flyers.
Tortorella sat York as a healthy scratch on Feb. 25 because of a recent dip in his play. The head coach's attitude about the decision suggests that he considers the instance something that he and York will move past quickly. While these types of decisions are not all that common around the NHL, Tortorella is not making them for any sort of shock factor from the outside or to create a totalitarian power dynamic between him and his players.
Tortorella's Emotional Intelligence
"I think all of us (coaches) have evolved, and personalities are different with players. It's kind of a combination of doing it together. I think that's really important, especially dealing with a young team," Tortorella said before the loss to the Lightning. "It's not about what I want to do. It's what I think is best for the team or for that player for the team. That's where you've got to be really careful sometimes, and I've made mistakes all through my career that way."
He has spoken with a sense of self-awareness at several points in his tenure beginning with his introductory press conference in June 2022. A societal shift has taken place since Tortorella first stepped behind an NHL bench in 2000. Figures of authority don't have the same type of unquestioned power and influence as they did in different generations, and NHL coaches are no exception.
"I do think the young athlete, it's a different athlete right now. That's a huge part of a coach's responsibility is to work with the different athletes as you go through. As long as I've been in the league, I've seen you go up and down different avenues of what the different athletes are," Tortorella said when he was introduced to the Philadelphia media.
Related: Fletcher Fails Flyers with NHL Trade Deadline Blunder
A wily veteran is very different from an antiquated holdover from a past era. Despite a seemingly constant emphasis on blocking shots and becoming harder to play against, Tortorella seems to at least understand that concept in theory. However, he still intends to set the right standard that forces players to reach their ceiling without crossing the line between tough and crazy.
"This isn't intramural hockey. This is the National Hockey League, and these aren't personal decisions to affect him that way," Tortorella said about Sanheim after the decision to sit him in Calgary. "If that's going to hurt feelings, then we're certainly down the wrong road with the player."  
He will never coddle players because it would be a complete divergence from what made him a successful coach to begin with. However, where will he draw the fine line?
Flyers' New Standard
The new standard is set in Philadelphia. If some players aren't able to handle it, they probably won't be with the organization for very long, for better or for worse. The Flyers were well aware of that reality when they picked Tortorella to become their new head coach. 
While the fiery, old-school brand has helped Tortorella's teams to success in past stops, the long-term project in Philadelphia hasn't fully gotten off the ground yet. The Flyers enter the final stretch of the 2022-23 season out of playoff contention, and general manager (GM) Chuck Fletcher's lack of activity at the 2023 NHL Trade Deadline certainly did help the team gain any momentum with their hopes for long-term contention.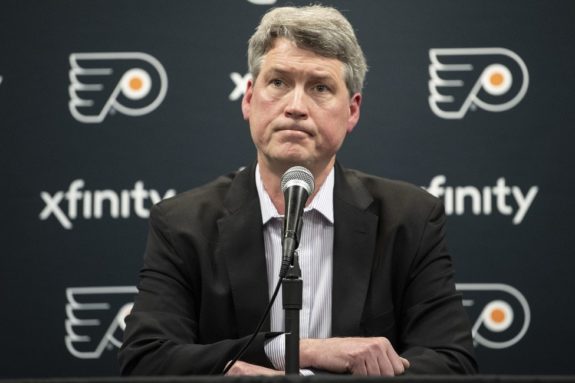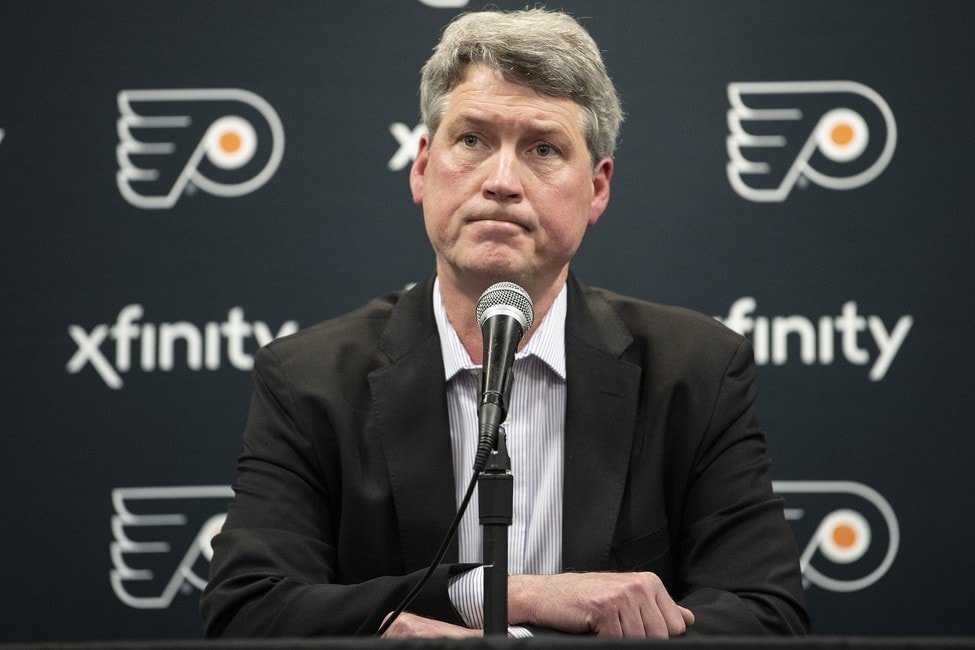 The Flyers have reached a volatile position. They've pushed their own fan base to a new level of venom for the repeated failure of the organization. They don't have enough franchise building blocks at the NHL level to convince anyone their short-term future is bright. Their prospect pipeline isn't among the league's best, and their cap situation will continue to handcuff the front office. Rumblings about a disconnect between Fletcher and Tortorella have surfaced.
Is the most volatile head coach in the NHL going to survive a messy situation like the one in Philadelphia? Tortorella's proponents point to his success over long tenures with the Lightning, the Rangers, and the Columbus Blue Jackets as the highlights of a resume for a coach who can build a franchise slowly but surely. However, his nightmare one-year tenure with the Vancouver Canucks provides a contrary example of how his fierce style can burn out quickly.
Philadelphia has a coach with an incredibly polarizing personality for a franchise in complete disarray in a major media market with athletes of the new age that don't always respond well to strict standards they don't agree with. If John Tortorella somehow survives those challenges and helps the Flyers return to Stanley Cup contention against all odds, he deserves a whole lot more praise than just an induction into the Hockey Hall of Fame.