I have developed a ritual over the last however many years, of looking around the teams in the playoffs and trying to find as many former Anaheim Ducks as possible. Whether in big or small roles, it seems that almost every team has a former Duck somewhere on their roster come the postseason. Now, I don't know that this says anything of value or significance about the ability of Anaheim's front office to evaluate talent, as much as it does about the transient nature of the life of an NHL player.
But this post isn't about the larger takeaways that can be gained from studying the roster compositions of teams that won the Stanley Cup. No, this post is about celebrating the Ducks Diaspora. The seemingly immutable fact that no matter how good or bad the Ducks are in a given year, there are always former (or future) Ducks on the rosters of teams competing for hockey's ultimate prize.
Related: A Look Back at the Ducks 2011 Draft
With that in mind, I decided to see what was the best possible roster of Ducks players who won a Stanley Cup somewhere else. So, let's take a look at the Ducks' history and see who we can scrounge together to try and make a competitive roster. As far as rules are concerned, they're pretty straight forward.
First, anyone from the 2007 Anaheim team is disqualified. My sincerest apologies to Scott Niedermayer and Chris Kunitz, and I suppose Shawn Thornton, but winning a Cup in Anaheim means the other ones don't count. That's just like, the law, man.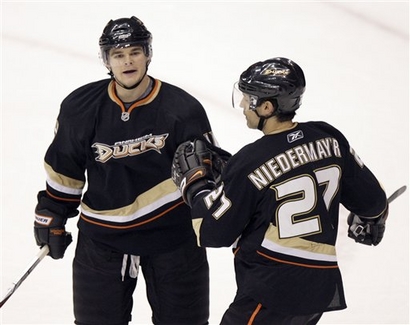 Second, player evaluation will be based on a couple of different stats, depending on the position. For forwards, it'll be games played, goals, and assists to try and get an idea for how much a player contributed to their team's Cup run. For defensemen, it's games played, total points, and average time on ice (ATOI). For goalies, well, let's just say that's not a big area of concern for us.
Third, as far as positions are concerned, this isn't Team Canada. We will be using a player's listed position on Hockey-Reference.com to see where they slot into our lineup. There will be four left wings, four centers, and four right wings. None of this "lets just put three number one centers on our third line and call it a checking line" nonsense. For defense, we won't be focusing on handedness for selection but it will be a factor in pairings.
And finally, this is not a "best possible version" thing. We will be taking a player's stats from the year they won the Stanley Cup. In the event that a player won more than one, we'll use the year closest to their tenure in Anaheim to evaluate their play.
Forwards
First Line
Left Wing: David Perron, 2019 St. Louis Blues – 23 G, 23 A in 57 GP
Center: Sergei Fedorov, 2002 Detroit Red Wings – 31 G, 37 A in 80 GP
Right Wing: Jari Kurri, 1990 Edmonton Oilers – 33 G, 60 A in 78 GP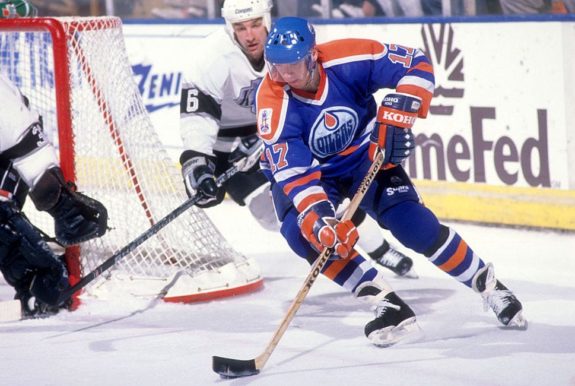 Well, this is as good a start as one could hope for, no? Two first-ballot Hall of Famers on a roster to begin with is a good thing. Having two on the same line, that's a treat. Now, neither one of them was in their prime per se, Kurri (29) and Fedorov (32), but they were still both incredibly effective and dynamic players who competed at the highest levels of professional and international hockey. David Perron is a little bit of a "youngest brother" here, but 46 points in 57 games are nothing to sneeze at. Signing with St. Louis, again, in the summer of 2018, Perron provided much-needed scoring depth for the Blues. All three players played over 20 games and scored more than 15 points in their respective Cup runs. That'll do.
Second Line
Left Wing: Jeff Friesen, 2003 New Jersey Devils – 23 G, 28 A in 81 GP
Center: Matt Cullen, 2006 Carolina Hurricanes – 25 G, 24 A in 78 GP
Right Wing: Petr Sykora, 2000 New Jersey Devils – 25 G, 43 A in 71 GP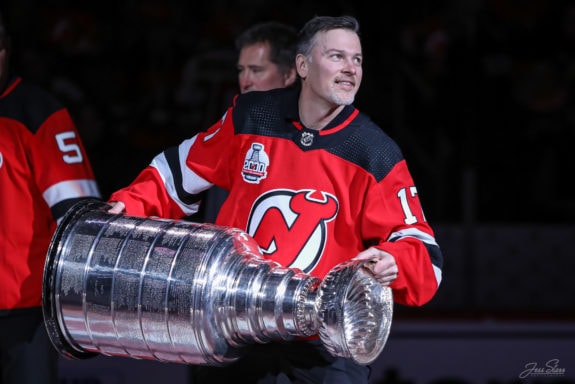 Matt Cullen played almost a third of his career in Anaheim but managed to beat the franchise to a Stanley Cup when he won with Carolina in 2006, the first of three in his long career. Posting a career-high 49 points at age 29 might not be the most exciting stat line, but his development into an effective depth center as he aged was a testament to his ability to perform across all 17,000 square feet of ice. Petr Sykora was a skilled right-winger who despite playing in the heart of the dead puck era, and most of that with the Devils, managed to post a career 0.71 points per game. Jeff Friesen… was in the Teemu Selanne trade.
Third Line
Left Wing: Carl Hagelin, 2016 Pittsburgh Penguins – 14 G, 25 A in 80 GP
Center: Doug Weight, 2006 Carolina Hurricanes – 15 G, 42 A in 70 GP
Right Wing: Tomas Sandstrom, 1997 Detroit Red Wings – 18 G, 24 A in 74 GP
A third line consisting of guys who all managed to hit double-digit goals but none of whom surpassed the 20 goal mark? Yeah, this is starting to feel like a real roster now. Doug Weight was in the home-stretch of his career by 2006, but he still managed to hit 50 points splitting his season between St. Louis and Carolina thanks to a mid-season trade.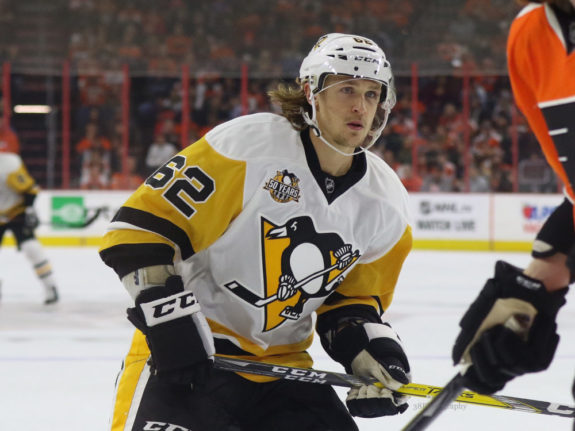 Carl Hagelin came to Anaheim in a draft-day trade and was traded shortly after to Pittsburgh where he found postseason success as a member of the Penguins' HBK line. Tomas Sandstrom was a bit removed from his days as a 30-goal scorer by this point in his career, but he still played all 20 playoff games for an absolutely stacked Red Wings team.
Fourth Line
Left Wing: Patrick Maroon, 2019 St. Louis Blues – 10 G, 18 A in 74 GP
Center: Nick Bonino, 2016 Pittsburgh Penguins – 9 G, 20 A in 63 GP
Right Wing: Devante Smith-Pelley, 2018 Washington Capitals – 7 G, 9 A in 75 GP
This might be the most painful line for Ducks fans. All three of these players were fan favorites to varying extents, and all three went on to find success elsewhere. Patrick Maroon managed to turn a good showing on Connor McDavid's wing into a stint with his hometown Blues that saw him become a key depth piece for the eventual Stanley Cup champions. Devante Smith-Pelley was never quite able to find his footing in Anaheim or New Jersey, but after making his way to Washington, D.C., the former second-round pick managed to equal his season total for goals (seven) in just 24 games in the playoffs – including two game-winners.
Nick Bonino is the player of this threesome that has most managed to go on to bigger and better things. The pivot for the aforementioned HBK line, Bones found chemistry with Hagelin and Phil Kessel that helped spur the Penguins to their second title of the Sidney Crosby era. They would repeat the next year, and Bonino would get the last laugh over Anaheim. While it is hard to consider the Kesler trade a failure, Bonino winning two Cups while the Ducks failed to even reach a Stanley Cup Final certainly makes it an interesting debate.
Defensemen
First Pair
Left Defense: Martin Skoula, 2001 Colorado Avalanche – 25 P, 20:41 ATOI in 82 GP
Right Defense: Fredrik Olausson, 2002 Detroit Red Wings – 15 P, 16:37 ATOI in 47 GP
At just 21 years old, Martin Skoula played all 82 games for the Colorado Avalanche in the 2000-01 season, averaging over 20 minutes a night and chipping in eight goals and 25 points. The 6-foot-3 defenseman would see his minutes drop significantly in the post-season, despite appearing in all 23 games for the Avs. However, it's hard to argue with that fact given that the majority of minutes on the Colorado blue line went to two guys named…*checks notes*… Ray Borque and Rob Blake.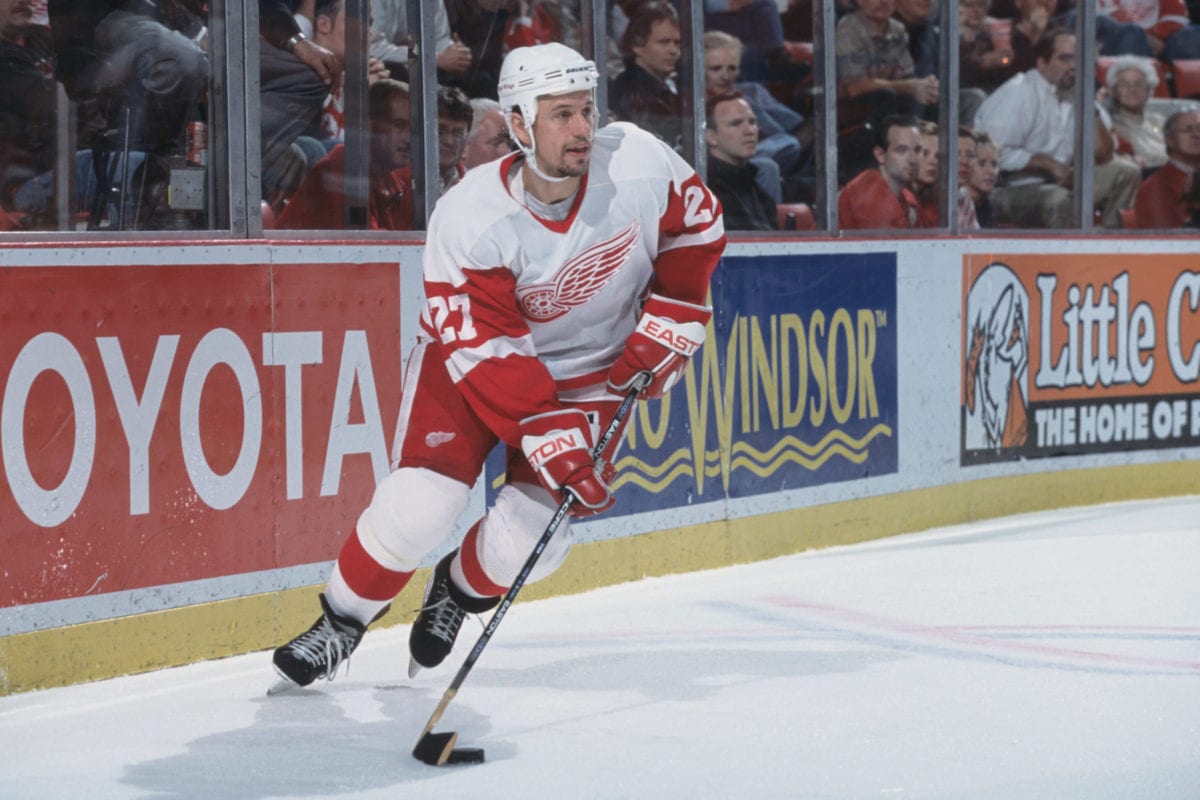 Fredrik Olausson, on the other hand, was in the exact opposite place in his career come the 2002 playoffs. At 35 years old, the puck-moving blueliner would play basically 20 minutes a night (his playoff ATOI was 19:58) over 21 games for the Red Wings in the postseason. The former 60-point defenseman wasn't quite as productive as he had been earlier in his career, but he still managed to chip in six points and play a key role in a top-four that also had Niklas Lidstrom and Chris Chelios.
Second Pair
Left Defense: Mathieu Schneider, 1993 Montreal Canadiens – 13 G, 31 A in 60 GP
Right Defense: Andreas Lilja, 2008 Detroit Red Wings – 12 P, 18:14 ATOI in 79 GP
By the time he found his way to Anaheim, Mathieu Schneider was an established veteran who had moved around a fair bit in his career and was brought in to stabilize the defense. However, in 1993, Schneider was a young, skilled defenseman who managed to notch 44 points for a very good Montreal team. Unfortunately, the NHL doesn't seem to have started tracking ice time until the 1998-99 season, so we are left to look at his counting stats, which are still quite good.
Related: Anaheim Ducks Logo History
Andreas Lilja is the defensive defenseman in this pair. A quick look at his stats that season shows he posted 12 points, 93 penalty minutes, and 133 hits. Pairing that with an ATOI north of 18 minutes and the picture of his game becomes quite clear.
Third Pair
Left Defense: Oleg Tverdosky, 2003 New Jersey Devils – 8 P, 16:48 ATOI in 50 GP
Right Defense: Ben Lovejoy, 2016 Pittsburgh Penguins – 10 P, 18:52 ATOI in 66 GP
Oleg Tverdosky almost shouldn't be eligible for this exercise given that he was a part of the trade that brought Teemu Selanne to Anaheim. If Teemu never gets traded to Anaheim, it's hard to see any reason he joins the franchise after the lockout and helps deliver the first-ever Stanley Cup to California. But he is, so here we are. Playing 15 minutes a night over 15 postseason games as a puck-mover, Tverdosky won the first of his two Stanley Cups with the Devils in 2003. It's weird how I can't think of who the Devils beat in that series. So. Weird.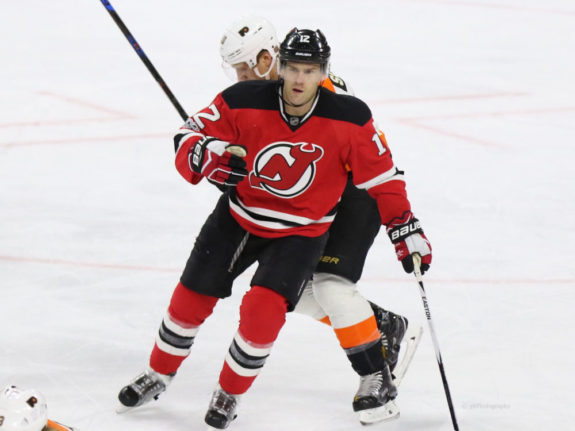 Ben Lovejoy was another player who became a fan favorite over his time in Anaheim. Not particularly flashy or exciting, "Rev" managed to be a steady presence for both Anaheim, and eventually Pittsburgh. Notching two goals and four assists over 24 games for the Penguins in a second pair role, Lovejoy would be more than fine for the third pairing role he's in here.
Goaltenders
Starter: Martin Gerber, 2006 Carolina Hurricanes – 30 W, .906 SV%, 2.78 GAA
Backup: Jonathan Bernier, 2012 Los Angeles Kings – 5 W, .909 SV%, 2.36 GAA
As best I can tell, Anaheim has only two goalies in franchise history who were on a Cup-winning team. Jonathan Bernier found himself stapled to the bench during the Los Angeles Kings' 2012 Stanley Cup run, with Jonathan Quick playing every game that post-season. Martin Gerber, on the other hand, did manage to play in the playoffs for his team. However, his role in that story is not the most flattering.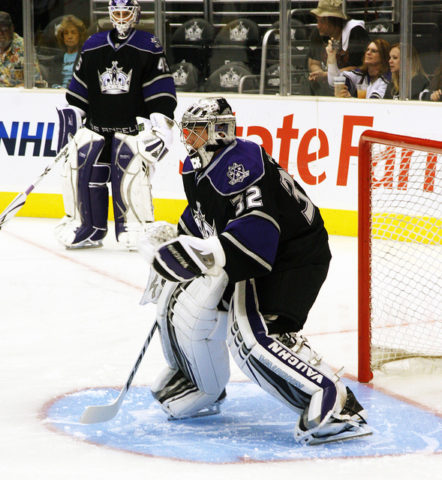 Despite notching 38 of the Canes 52 regular-season wins, which earned him a single third-place Vezina vote, Gerber fared much worse in the playoffs. Giving up 11 goals in 2 games, he was replaced by rookie goaltender Cam Ward. From what I hear, that worked out well for everyone involved, though perhaps Gerber might have a different opinion on that fact.
Do you think I missed anyone? Are there better players I should have picked? Let me know in the comments!
---
---