Dozens of players, at one point in time or another, helped the Edmonton Oilers capture five Stanley Cups between 1984 and 1990. By the mid-90s, only a couple remained with the team, which was now in the middle of a full-scale rebuild.
From future Hall of Famers to third-string goalies, nearly every player from the Oilers Dynasty had moved on, leaving the fate of the franchise in the hands of the next generation.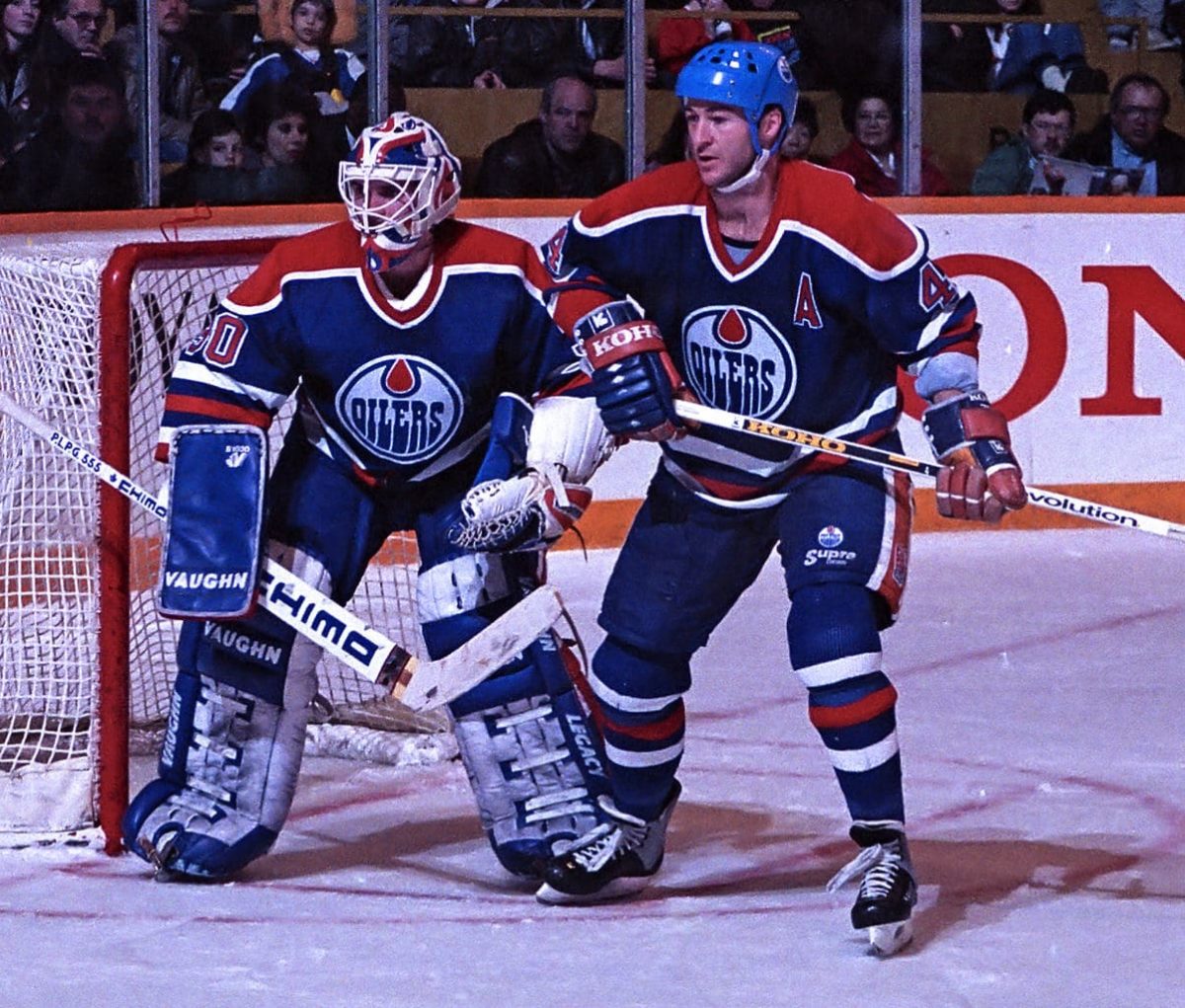 New stars emerged and fueled the Post-Dynasty Oilers' return to the National Hockey League post-season.
But Glen Sather never fully closed the door on the past, and over the latter half of the 90s, the Oilers general manager brought back some familiar faces had coached on Edmonton's Cup winners.
Five former champs, representing more than two dozen Cups, returned to the Oilers between 1996 and 2000. During that five-season span, the Oilers made the playoffs four times and advanced to the second round twice.
Glenn Anderson
Drafted in 1979 by the Oilers, Anderson first played in Edmonton from 1980 until 1991, when he was traded to the Toronto Maple Leafs prior to the 1991-92 season. The fearless right-winger was part of all five Cup-winning teams while recording nine seasons with at least 30 goals. He also topped 100 points three times and played four NHL All-Star Games as an Oiler.
In January 1996, a 35-year-old Anderson was brought back to Edmonton, for all intents and purposes, against his will.
Related: Oilers' Unhappy Reunion With Glenn Anderson 25 Years Later
Anderson was coming off stints on the New York Rangers, with whom he won a sixth Stanley Cup in 1994, and St. Louis Blues. He was planning to retire at season's end and had just signed with his hometown NHL club in Vancouver, but first had to clear waivers before he could join the Canucks.
Despite Anderson's pleas, Sather picked up the veteran, but Slats promised to set Anderson free if Edmonton was not in the playoff hunt.
After 17 games in which he scored 10 points and the Oilers won just four times, Anderson was granted his wish; Sather put Anderson on waivers so he could be claimed by the Blues, who were loading up for a Cup run.
Anderson spent the final couple months of his career in St. Louis, hanging 'em up after the Blues were eliminated in the second round of the 1996 playoffs. Anderson was inducted into the Hockey Hall of Fame in 2008 and saw his No. 9 raised the rafters in Edmonton in 2009. He ranks among the top 5 in Oilers franchise history for games, goals, assists, and points, and is the team's all-time leader with 72 game-winning goals.
Kevin Lowe
The first player ever selected by Edmonton in the NHL Draft, at No. 21 in 1979, and the first to score for the Oilers in an NHL regular-season game, Lowe anchored the blueline on all five of Edmonton's championship-winning teams.
Lowe served as team captain in 1991-92 and was the last of the original Oilers when he was traded to the Rangers in December 1992 amid a contract dispute with Sather that saw Lowe sit out the first two months of the 1992-93 season.
The defenseman, like Anderson, added a sixth Cup ring to his collection as a member of the Rangers in 1994.
When he hit free-agency in 1996, following four seasons on Broadway, Lowe, then 37, returned to where it all began.
"I decided on Edmonton because of family and familiarity. I've had a relationship with Slats and a comfort zone with the team and the city. And it's a good situation for me."

From 'Lowe Brings Optimism and Breakfast Order to Edmonton' Toronto Globe & Mail, 11/12/96
The oldest player on the roster, over seven years captain Kelly Buchberger's senior, Lowe's leadership would prove crucial for a promising but inexperienced team; Edmonton had not missed the playoffs in the 13 seasons Lowe had spent with the club. During his stint in New York, the Oilers failed to qualify for the post-season once. As soon as Lowe returned to the Oilers, playoff hockey came back to Edmonton.
An inner-ear virus ultimately led to Lowe's retirement. After playing 64 games in 1996-97, he suited up only seven times for Edmonton the following season. His final appearance on NHL ice came April 24, 1998, in Game 2 of the Oilers' first-round playoff upset of Colorado.
Ever since, Lowe has been a fixture with the franchise; as an assistant coach in 1998-99, head coach in 1999-00, succeeding Sather as general manager from 2000-01 to 2007-08, and President of Hockey Operations from 2008-09 to 2014-15 before moving into his present role as Vice-Chairman of Oilers Entertainment Group.
Lowe is the only player to reach the 1,000-game mark as an Oiler, suiting up 1,037 times over his 15 seasons with the club. He was announced as a member of the Hockey Hall of Fame Class of 2020 last June.
Petr Klima
Klima, who arrived in Edmonton via trade with the Detroit Red Wings in November 1989, is best known for his triple-overtime goal in Game 1 of the 1990 Stanley Cup Final at the old Boston Garden.
 In 1990-91, the Czech winger potted 40 goals, a milestone that no other Oiler would reach until Connor McDavid scored 41 in 2017-18.
After leading Edmonton with 32 goals and 48 points in 1992-93, Klima was dealt to the Tampa Bay Lightning, where he spent three seasons, followed by brief stays with Los Angeles Kings and Pittsburgh Penguins.
Klima returned to Edmonton as a free-agent signee in February 1997, joining the Oilers as they geared up for their final push towards clinching a playoff berth. He scored once and added five helpers in 16 regular-season contests with the Oilers. In the playoffs, Klima was held without a point during Edmonton's first-round victory over the Dallas Stars, then was scratched for all five games of their Western Conference semi-final loss to Colorado.
The left-winger spent much of the latter stages of his career playing in Europe; Klima's final hurrah in the NHL came with his original club, Detroit, in 1998-99.
In 2017, Klima's sons Kelly and Kevin, who are named after Buchberger and Lowe, attended Oilers development camp. (From 'Proud Father Petr Klima Happy to See Twins at Oilers Camp', The Edmonton Journal, 06/30/17)
Marty McSorely
The definition of an enforcer, McSorely scored just 22 goals in 200 games with the Oilers over three seasons after being acquired via trade with Pittsburgh in September 1985. But the forward turned defenseman's ability to protect his superstar teammates was so significant that Wayne Gretsky demanded McSorely be included in the August 1988 trade that sent the Great One to Los Angeles.
McSorely, who was a member of Edmonton's 1987 and 1988 championship teams, spent several years in Los Angeles watching over No. 99. Shortly following Gretzky's trade to St. Louis in 1996, McSorely was dealt to the Rangers. He then played two seasons in San Jose.
A decade after he left town, on October 1, 1998, McSorely signed as a free agent with Edmonton, where he could be looked upon to provide some old school enforcement.
"The biggest thing is I've been around, I've played with a lot of guys," McSorley told the Los Angeles Times. "They want me as a veteran . . . and I might have to get my hands dirty once in a while."

(From 'McSorely Reminds Oilers of Past', The Los Angeles Times, 10/11/98)
McSorely played 46 games for Edmonton in 1998-99, registering 5 points and 101 penalty minutes, and got into three games of the Oilers' first-round playoff loss to Dallas.
His NHL career ended ignominiously in February 2000 when as a member of the Boston Bruins he swung his stick and struck the head of Vancouver's Donald Brashear. McSorely was suspended by the NHL, and later found guilty of assault and sentenced to 18 months probation.
Bill Ranford
Acquired from the Boston Bruins in a March 1988 trade, goalie Bill backstopped the Oilers to the 1990 Stanley Cup championship with a performance that earned him the Conn Smythe Trophy as playoff MVP.
Ranford started 80% of Edmonton's regular-season games from the beginning of the 1990-91 schedule until January 1996 when he was traded back to Boston, a move that coincided with Curtis Joseph joining Edmonton.
Between the Oilers and Bruins, Ranford ended up playing an incredible 77 games in 1995-96, but that would be his last season as a full-time starter. He had stints in Washington, Tampa Bay, and Detroit, before returning to Edmonton, signing as a free agent prior to the 1999-00 season.
Caddying for Tommy Salo, Ranford appeared in just 16 regular-season games, going 4-6-3. He did not play in Edmonton's first-round playoff loss to Dallas and called it a career afterward. Ranford has said in an interview with NHL.com that retiring as an Oiler "was huge for me".
Ranford leads all goalies in Oilers franchise history with 449 games played, and his 167 wins rank second, behind only Hall of Famer Grant Fuhr. He has served as the Kings goaltending coach for the last 15 years.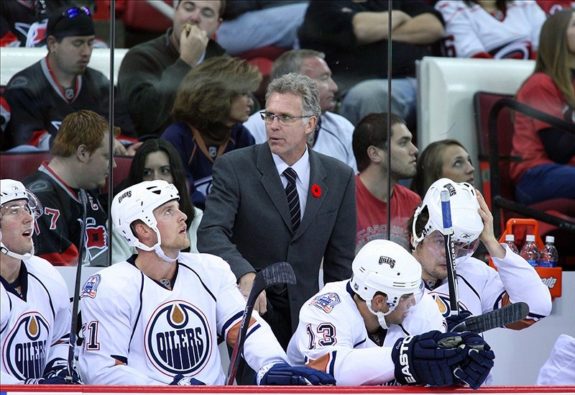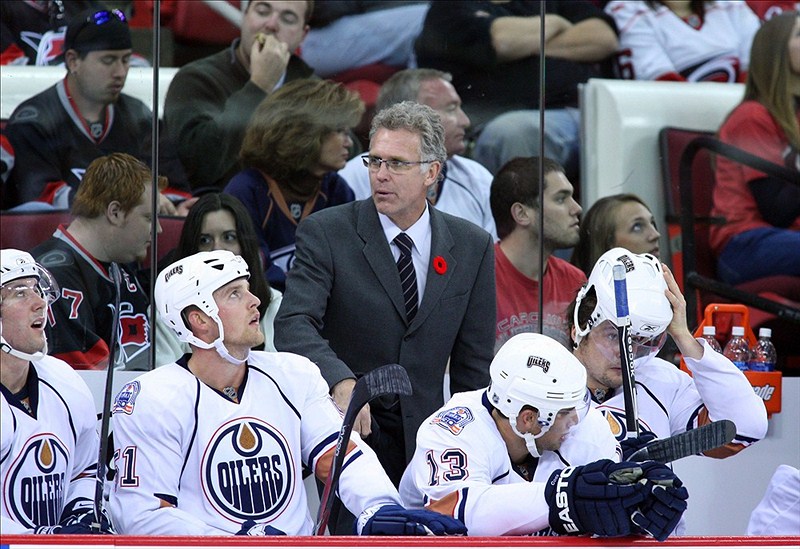 More recent times have seen members of the Oilers Dynasty return in coaching or executive capacities. Most notable is Craig MacTavish, who was head coach from 2000 to 2009, then later served as Senior VP of Hockey Operations, and general manager.
It was in 2006, with MacTavish behind the bench, and GM Lowe as the architect, that the Oilers came closest to bringing the Stanley Cup back to Edmonton, advancing to Game 7 of the Stanley Cup Final before falling to the Carolina Hurricanes.
Even now, with the greatest player of them all, Gretzky, back with the organization as an alternate governor, the Oilers haven't captured that elusive sixth championship.
Not yet, at least.
---
---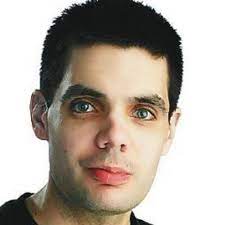 Brian is an Edmonton-based sports writer and broadcaster. His experience includes working as a sports reporter for the Edmonton Sun, where he covered the Edmonton Oil Kings 2013-14 Memorial Cup championship season.