There's nothing worse in life as a sports fan than seeing your favorite player leave your team for another. Unfortunately, in pro sports, it's a common occurrence, as teams are constantly looking for ways to upgrade and evolve as a group. 
That leads to roster turnover, which includes fan favorites being moved along from a franchise. Whether it be scheme fit, age, declining play or other factors, every emotionally-attached hockey fan has experienced this heartbreak. Today, we'll take a look at how some familiar faces are doing elsewhere in the NHL since moving on from Carolina. I tried to focus on mostly recently-departed players, as well as a couple of fun throwback Canes. 
Forwards
Eric Staal
I've yet to watch Eric play this season, but the stats show he's settling in decently with the Buffalo Sabree. He's got there goals and three assists in 15 games – which is modest production, but playing 15 minutes a night. He's a fixture on their second PP unit as well.
At 36, Staal's best days are undoubtedly behind him, but he can still be a welcomed contributor to a playoff team, and offers vital experience. But considering he's in Buffalo, it seems unlikely his playoff experience is put to use this season. 
Jeff Skinner
To absolutely no one's surprise, Skinner's ludicrous 8-year, $72-million max contract extension has yielded horrid returns for the Sabres thus far. Since signing the deal after his 40-goal year in 2018-19, he has just 14 goals and 24 points in 73 games since then – and has yet to score in 14 games this season. He's also been relegated to their fourth-line, and he's recently been made a healthy scratch for their past two games. It's hard not to miss his smile, but the Canes dodged a massive bullet on that contract; and have prospects Pyotr Kochetkov (G) as well as Alexander Nikishin (D) to show for the trade.
Elias Lindholm
I was always a huge fan of Lindholm during his time as a Cane. His vision, patience, playmaking ability and overall hockey sense had me convinced he had a lot more production in him than we'd seen. Obviously, things have gone fantastically for him in Calgary, and he's continued his great play with 17 points in 19 games thus far in 2020-21.
He's on an absolute bargain of a contract with just a 4.85 million AAV until 2024, and he'll likely play out his prime years as a Flame.
Julien Gauthier
Gauthier, who one of the Canes' first-round picks in 2016, hasn't really had seen his career take off the way we'd expected. He was traded last winter to the Rangers for prospect D Joey Keane, and many felt "Goat" would have a better opportunity there. However, it's been a rough adjustment. He did score his first NHL goal this season, but that's his only point in 10 games this year – and has served as a healthy scratch recently. With just three points in 22 games for New York since the trade, it's hard to imagine the Canes regretting moving on from him.
Erik Haula
Included as a piece in the Vinny Trocheck deal, Haula parted ways with Florida last fall after just a seven-game tenure and now finds himself in Nashville. Remarkably, Haula hasn't scored a single goal in 23 games since leaving Carolina and has just six points overall. Quite a downward trend for a guy who, at one point in time, looked like a potential piece of the puzzle for the Canes.
Lucas Wallmark
Post-Canes life hasn't been overly kind to Wallmark. Along with Haula, he had a quick exit from Florida in the offseason and signed a one-year contract with the Chicago Blackhawks. Unfortunately for him, he wound up on the COVID-19 list and has missed 13 of 20 games for the team, which includes a couple of healthy scratches. He has three assists in seven games, but his ice-time, and role, have diminished. Here's hoping he can get back on track.
Janne Kuokkanen
The Devils traded Sami Vatanen for Kuokkanen last winter and then re-signed Vatanen in the offseason; effectively adding Kuokkanen for free. He was a longshot in the Canes' organization due to overall depth but has managed to carve out a role in New Jersey.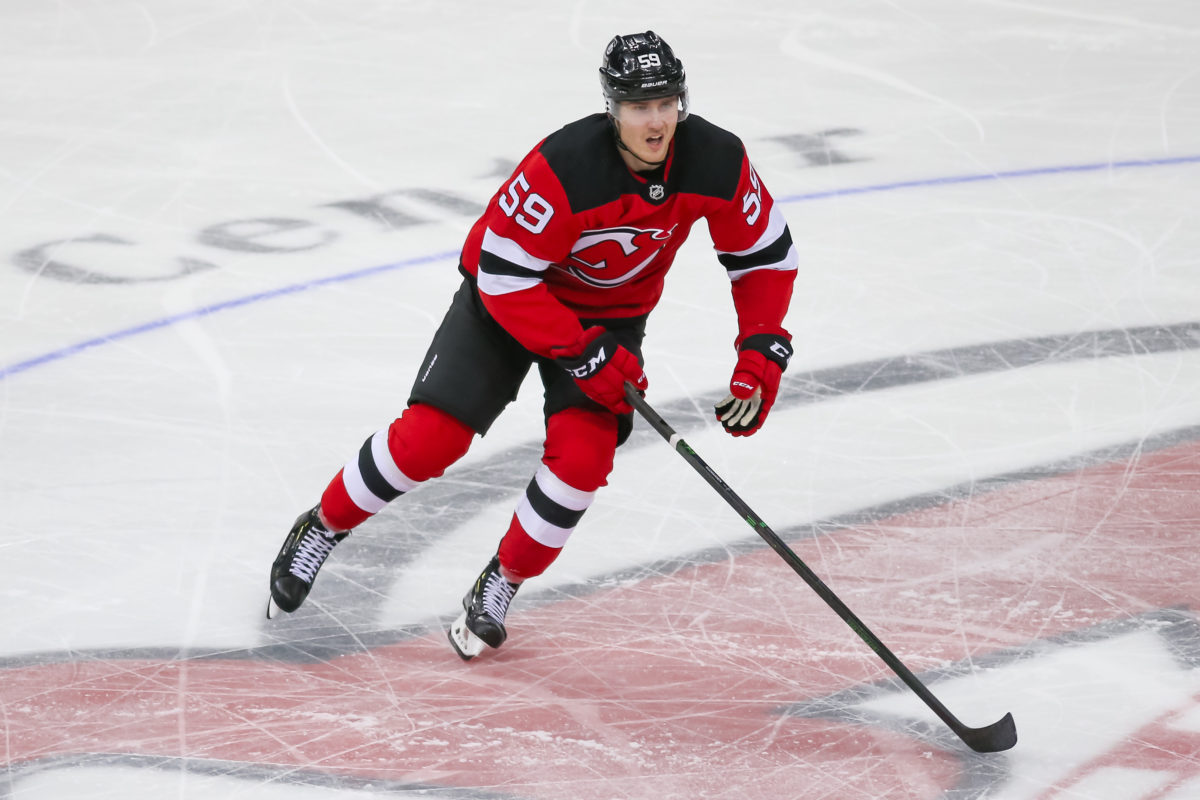 He scored his first NHL goal on Jan. 30, 2021, and has contributed six points in 12 games thus far. He's only playing 12:15 a game but has carved out a nice role in an NHL bottom-six, which is likely more than he had in his Raleigh future.
Clark Bishop
Bishop has skated in three games for the Senators' AHL affiliate in Belleville. He's scored a goal in that time but looks like nothing more than a depth AHL player for a team loaded with young talent.
Phil Di Giuseppe
PDG continues to cling onto his NHL life and has contributed five assists in 15 games for the Rangers. At this point, he's seemingly established himself as an NHL fourth-liner and is pretty solid in his role. Good for him!
Bonus – Sergey Tolchinsky
Though no longer in the NHL, Tolchinsky, once among the most exciting prospects in the Canes' organization, has found a new gear over in Russia. He's got 44 points in 49 games for Omsk Avangard, where he plays with former Charlotte Checkers defenseman Oliwer Kaski.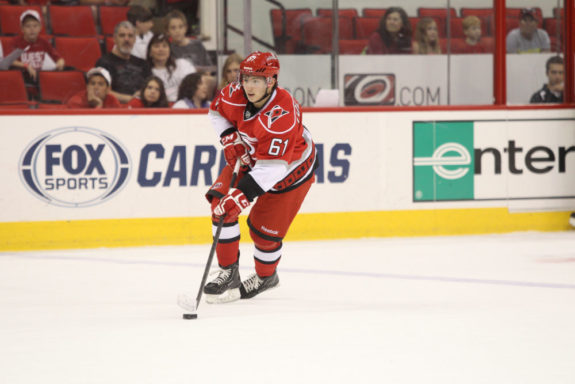 The Canes no longer own Tolchinsky's rights, and he's now 26 years old. I can't help but wonder if he still covets an NHL return.
Defense
Joel Edmundson
Life in Montreal for Eddy is going just fine. He's playing about 19 minutes per game, he's third on the team in hits (33), and is tied for the NHL's plus/minus lead with a plus-16 rating in 17 games. The Canes just had no room for him anymore, but he's a quality NHL defender and he's in a good situation there in Montreal.
Justin Faulk
Believe it or not, Faulk has emerged as a fan favorite in St. Louis. He's also having an absolutely superb start to his season. Five goals and eight points in 19 games isn't crazy production, but he's leading the team in TOI (24:29), hits (55), and PIMs (13). He's second in blocked shots (22), and third in shots on goal (50). He's also tied with Edmundson with a league-leading plus-16 rating.
It's been a remarkable turnaround for Faulk, and his name has begun to emerge in the Norris Trophy discussion. He's been that good. Genuinely, I couldn't be happier for him. And hilariously, he's now got a cult following known as the "Faulkateers". Here was his comical reaction to finding out that news:
Trevor van Riemsdyk
All I have to say here is FREE TVR. I hated to see him sign with the enemy (the Washington Capitals), and I hate even worse how they've used him. He's currently serving as their seventh defenseman and has played in just seven of 17 games. Interestingly enough, he's averaging over 18 minutes a night in those games, so they obviously have real faith in him. He's just buried behind a group of defenders they seemingly have more faith in.
Sami Vatanen
Vatanen re-signed with New Jersey after his short stint in Carolina, which was some good business for the Devils. Unfortunately for him, he's been on the COVID-19 protocol list on two separate occasions so far this season and has only appeared in four games. He'll have a chance to make an impression there before hitting the UFA market again this summer.
Noah Hanifin
Hanifin's tenure feels like a distant memory, mostly because his Canes career is looked back upon as a total waste of potential. He's yet to really take off in Calgary yet either. He's also somehow 24 years old now. His ice-time is down by two minutes per game this season, he's average at 5v5, and he's not playing much on special teams.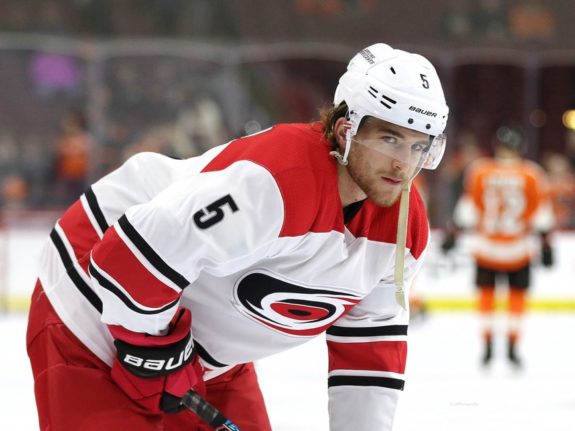 With just three assists in 19 games, it's becoming increasingly likely that Hanifin will never emerge as the elite NHL defenseman he was once expected to be. But when deployed properly, he's a fine player.
Calvin De Haan
The trade to off-load CDH was met with serious question marks from the Canes fanbase, though the move did pave the way for the team to sign Jake Gardiner as a free agent. De Haan was a reliable, steady defensive presence for the team in his lone season, and he's continued that trend with the Blackhawks. He's suited up in all 20 of their games thus far in 2020-21, and leads the team in blocked shots (45) and is second in hits (45), and is a big component in their unexpected hot start to the season.
Adam Fox
Fox didn't want any part of the crowded defense core in Carolina and forced his way to the New York Rangers, where he's been a solid top-four D for them dating back to last season. The Canes, however, showed him firsthand what he missed out on when they swept the Rangers in their three-game play-in series in the Toronto bubble. Fox has a goal and seven points in 16 games so far this season, and his Rangers squad is currently well outside of the playoff picture.
Matt Tennyson
Remember him? He's actually played in 49 NHL games since leaving the Canes in 2017. He now finds himself in New Jersey, where he's played 10 games this season – though he's now been relegated to taxi squad duty after clearing waivers. Now 30 years old, it's nice to see "Tenny" still hanging around.
Goalies
Curtis McElhinney
Understandably, C-Mac doesn't see a ton of action behind Andrei Vasilevsiky. He's started just two of 16 games this season, winning one and allowing seven goals on just 45 shots in the process. He'll be 38 years old in May and is an impending free agent once again this summer. You have to wonder if Tampa is the final stop for him, on his adventurous career.
Scott Darling
The comeback that all Caniacs were rooting for was, unfortunately, short-lived. After starting just one game for the AHL's Rockford Icehogs — a 5-2 loss to the Canes' affiliate Chicago Wolves — Darling was released from his PTO last week. Now 32, the question is, where does he go from here?
Though all of these players have now moved onto new chapters in their careers, we'll always have their memories.
---
---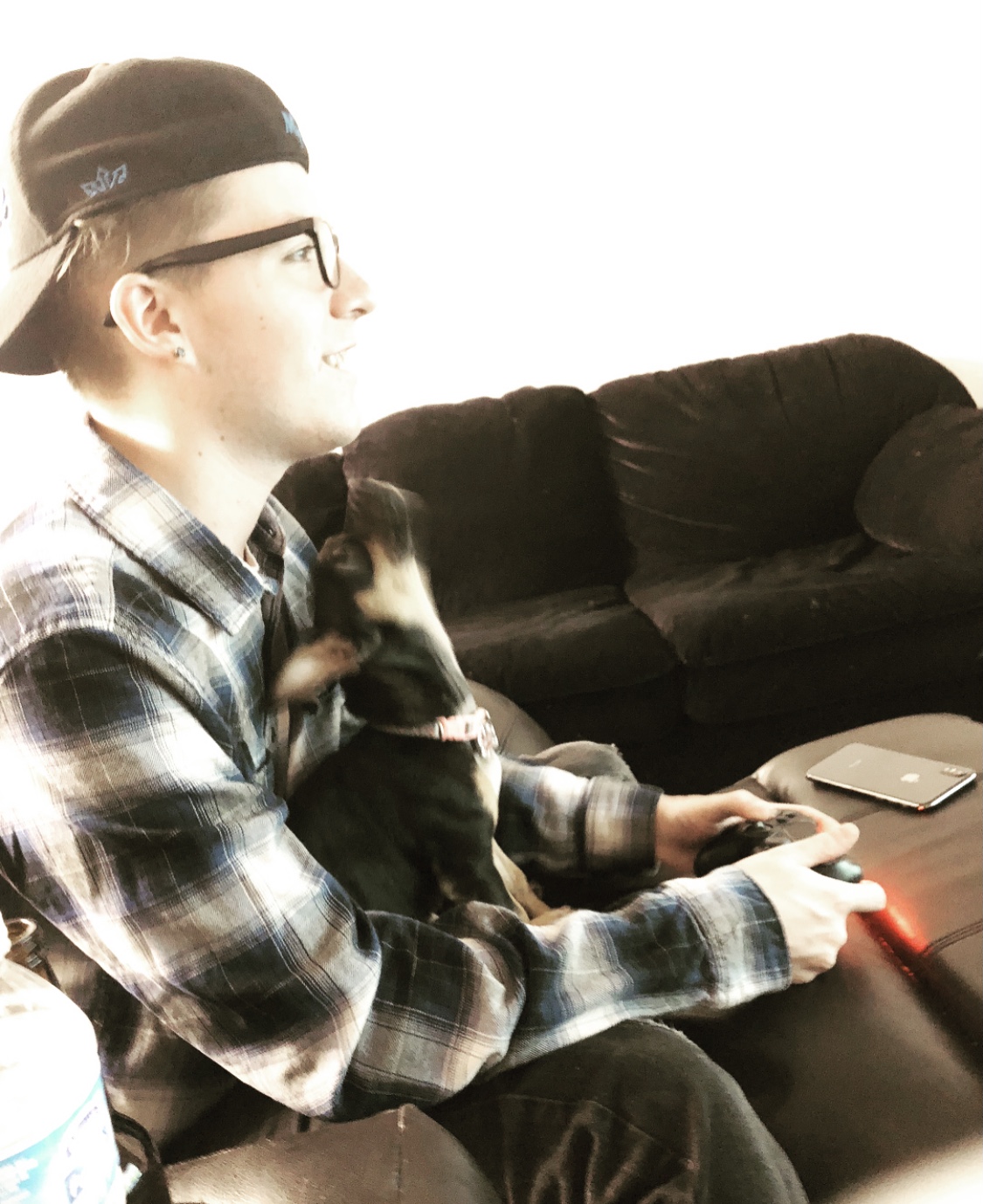 Carolina Hurricanes writer. 23 years old. Ottawa, Canada. Prospect geek, hockey nerd.