From the moment he first laced his skates in Toronto, Ilya Mikheyev was a fan favorite. Quick with a smile and courageously speaking a second language, he became a media darling. He especially caught fans' attention when he stated that Canadians must be a bit wonky because they didn't like soup (he actually didn't quite say it that way).
---
---
It Was Hard Not to Like the Soup Man
Mikheyev quickly became known (at least until Jack Campbell came along) as the "Soup Man." He oozed personality and demonstrated a joyful spirit. He also captured fans' hearts after overcoming some tough injuries.
Not least among them was a badly-sliced wrist suffered in a game against the New Jersey Devils. That injury took a long time to heal and, at least for a while, hindered his shooting ability. It's easy to root for a young player who's working hard to overcome adversity, which is exactly what Mikheyev did (from "Maple Leafs forward Ilya Mikheyev might be better than ever after long rehab from wrist injury," Rosie DiManno, Toronto Star, 17/08/2020).
Mikheyev Became a Key Maple Leafs' Player, But …
By last season, Mikheyev had become a key Maple Leafs player. In 2021-22, the speedy forward scored 21 goals and 11 assists (for 32 points) in 53 games. He was especially adept at penalty killing and would pounce on a turnover and carry it with speed toward the opposition's goalie. As his wrist rehabbed and his shooting improved, he started finding the back of the net with regularity.
Related: Toronto Maple Leafs' Ilya Mikheyev Arbitration Could End Badly
---
Latest News & Highlights
---
But that success came at a cost. Mikheyev became too good to afford, pricing himself out of a new contract with the Maple Leafs. Negotiations ended early because he and the organization were simply unable to find a mutually happy place. 
Mikheyev was going to be paid but not by Toronto. Over the summer, he signed with the Vancouver Canucks for four years at $4.75 million per season. 
Mikheyev's Season Starts Slowly in Vancouver
Sadly, Mikheyev's Canucks tenure started slowly after he suffered an upper-body injury in the preseason, missing three straight games. He was finally taken off injured reserve on Oct.18 and played his first game of the season against the Columbus Blue Jackets. His first point came in late October when he registered a power-play assist in a 5-1 loss to the Buffalo Sabres.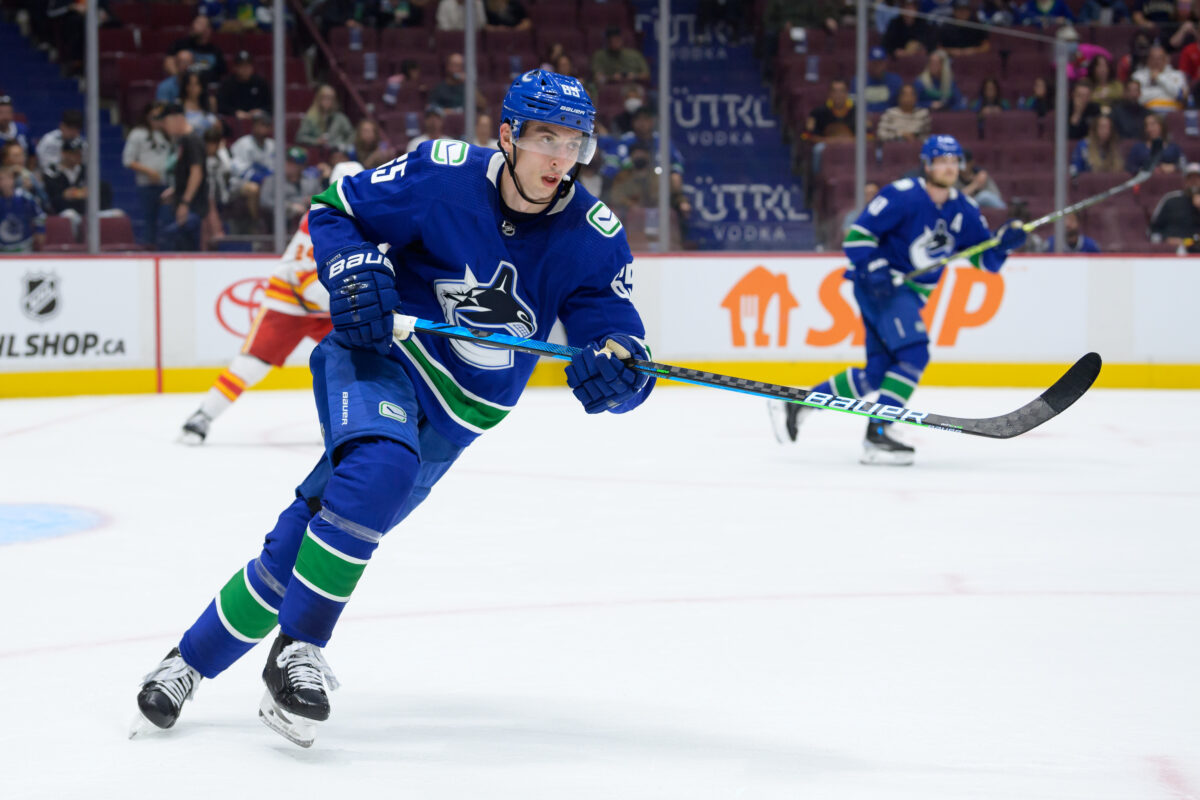 After returning from injury, Mikheyev mainly played top-six minutes. He scored two goals (one on the power play) against the Seattle Kraken in a 5-4 late-October Canucks win. In the team's next game against the Pittsburgh Penguins, he registered two assists, giving him multiple points in consecutive games.
Related: Maple Leafs Have a Tough Choice Between Mikheyev & Kerfoot
his success continues. In a win over the Anaheim Ducks, he extended his scoring streak by registering an assist, bringing his total to two goals and four assists in six games. By November, he looked more confident and became more accustomed to his new team's systems. 
Mikheyev Plays Regularly on Canucks' Second Line
Early in the season, Mikheyev was regularly used on the team's second line. In November, he became a regular on the scoresheet, with three goals and three assists in five games. Then he hit a slump and went four games without a point. 
However, later that month, he put together a three-game point-scoring streak with a goal against the Colorado Avalanche. Despite playing top-six minutes, his performance that month was inconsistent.
After a Slump, Mikheyev Begins to Score
However, on Dec. 5, after he was held off the scoresheet for three games, Mikheyev had a breakthrough contest. He scored two goals in a 7-6 overtime win over the Montreal Canadiens, and on Dec. 19, the Canucks lost to the St. Louis Blues, but Mikheyev scored the team's only goal. 
Related: Tim Horton: A Legacy of Hockey, Donuts, & Coffee
In his last game before the Christmas break, Mikheyev scored against the Edmonton Oilers in his team's comeback 5-2 win. By Christmas, he had scored 11 goals and seven assists (for 18 points) in the 30 games.
Mikheyev Returns from Christmas Break on a Roll
Apparently, Santa brought Mikheyev a stick with some points in it for Christmas. He returned from the Christmas break with some good scoring fortune. 
In his first game back against the San Jose Sharks, both Mikheyev and his team had a strong showing; Mikheyev scored a goal and three assists and earned a plus-5 rating in a 6-2 win. In addition, the line of Bo Horvat, Mikheyev, and Brock Boeser was particularly effective with four goals and 11 points. It was Mikheyev's best game as a Canuck.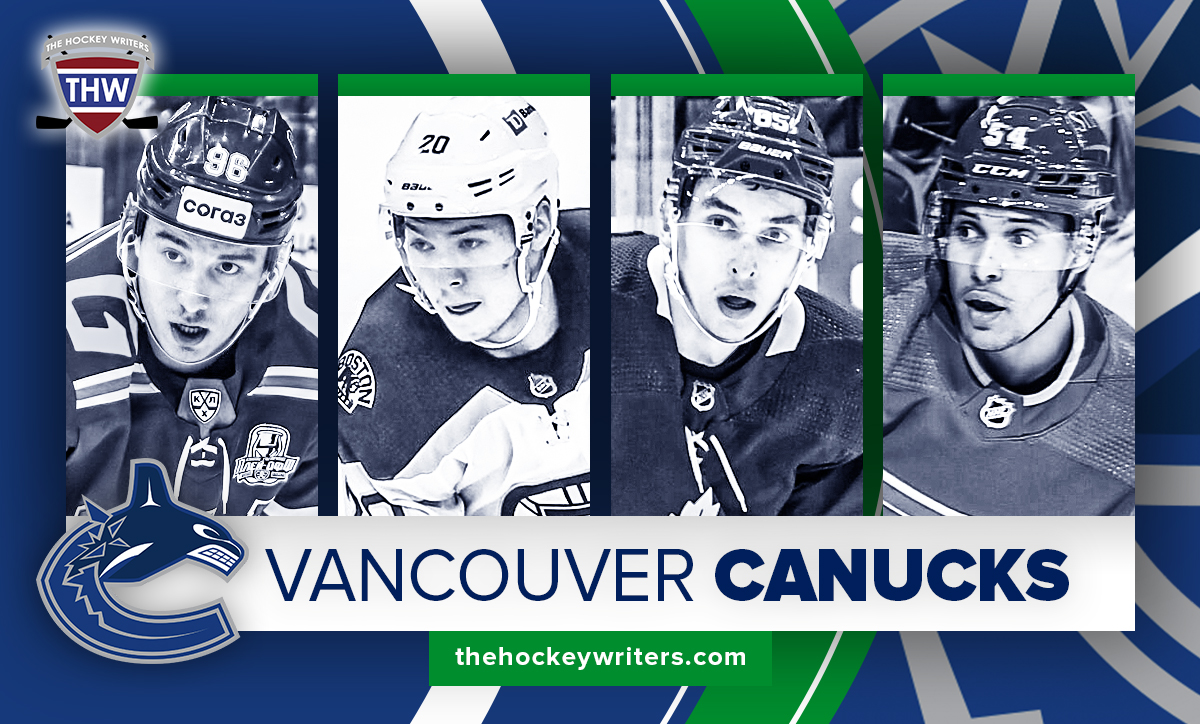 Mikheyev then had a strong performance against the Colorado Avalanche, where he registered two assists in a 4-2 win. That gave him two multi-point efforts over his last five outings, but he had no points in the other three games in that span. As we stand right now, the 28-year-old has 12 goals and 13 assists (for 25 points) in 37 games.
Mikheyev's On Pace for a Career Season
After Thursday's game against the Tampa Bay Lightning, the Canucks are now halfway through the season. If Mikheyev continues the pace he's been on in the first half of the season, he'll end up with 24 goals and 26 assists for a 50-point season. 
Related: Vancouver Canucks Sign Ilya Mikheyev to 4-Year Deal
Given that his best season was in 2021-22 when he put up 32 points, it looks like Mikheyev will likely shatter his career-best season. He's only seven points from that mark with 41 games remaining. Although the Canucks are less than a .500 team, it looks like Mikheyev has become a go-to player in Vancouver. He landed well.
The Old Prof (Jim Parsons, Sr.) taught for more than 40 years in the Faculty of Education at the University of Alberta. He's a Canadian boy, who has two degrees from the University of Kentucky and a doctorate from the University of Texas. He is now retired on Vancouver Island, where he lives with his family. His hobbies include playing with his hockey cards and simply being a sports fan – hockey, the Toronto Raptors, and CFL football (thinks Ricky Ray personifies how a professional athlete should act).
If you wonder why he doesn't use his real name, it's because his son – who's also Jim Parsons – wrote for The Hockey Writers first and asked Jim Sr. to use another name so readers wouldn't confuse their work.
Because Jim Sr. had worked in China, he adopted the Mandarin word for teacher (老師). The first character lǎo (老) means "old," and the second character shī (師) means "teacher." The literal translation of lǎoshī is "old teacher." That became his pen name. Today, other than writing for The Hockey Writers, he teaches graduate students research design at several Canadian universities.
He looks forward to sharing his insights about the Toronto Maple Leafs and about how sports engages life more fully. His Twitter address is https://twitter.com/TheOldProf