The Toronto Maple Leafs' Ilya Mikheyev and his agent are headed for arbitration. That hearing is coming up on Wednesday. Although professional sports is a business and NHL players are supposed to be able to suffer critique as part of their work, I can't imagine that any 26-year-old young man would emerge from an arbitration hearing without suffering psychological scars even if he wins.
What Happens During an Arbitration Hearing
When a player and an organization go to contract arbitration, each side presents a dollar figure to an arbitrator. That arbitrator's job is to use the evidence, based upon the player's body of work, to decide what the contract numbers should be. Usually, the final number represents a compromise between the two offers, but that's not always the way it ends.
Related: Maple Leafs News & Rumors: Pietrangelo, Gardiner, Mikheyev & More
As tradition would have it, the player's agent usually comes in with a high number and the organization usually comes in with a low number. So, it isn't out of the ordinary when there's often a huge difference between what the two sides present to the arbitrator.
Mikheyev Arbitration Ask Is Almost Triple What the Maple Leafs Offered
Yesterday, the numbers each side presented to the arbitration hearing between the Maple Leafs and Mikheyev became public. True to form, the player came in high and the team came in low. As Elliotte Friedman tweeted yesterday, the Maple Leafs presented an offer for a two-year contract at an average annual value of $1 million. Mikheyev's agent has filed a one-year, $2.7 million contract.
Here's how the process works. As noted, an arbitrator need not choose one side's number or the other's number. Often the choice lands somewhere in the middle, but the process is exceedingly contentious. And, I for one, can't imagine – from a human element – how it benefits either side in the long run.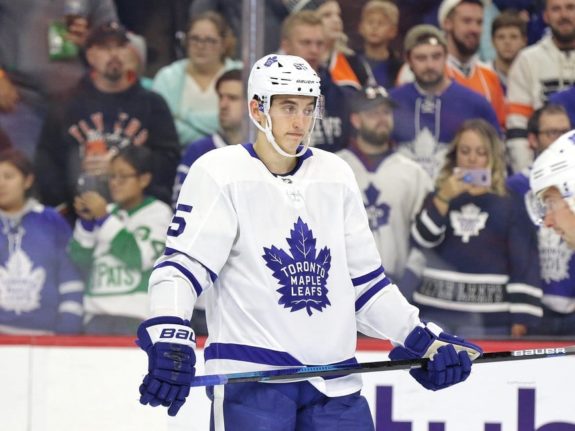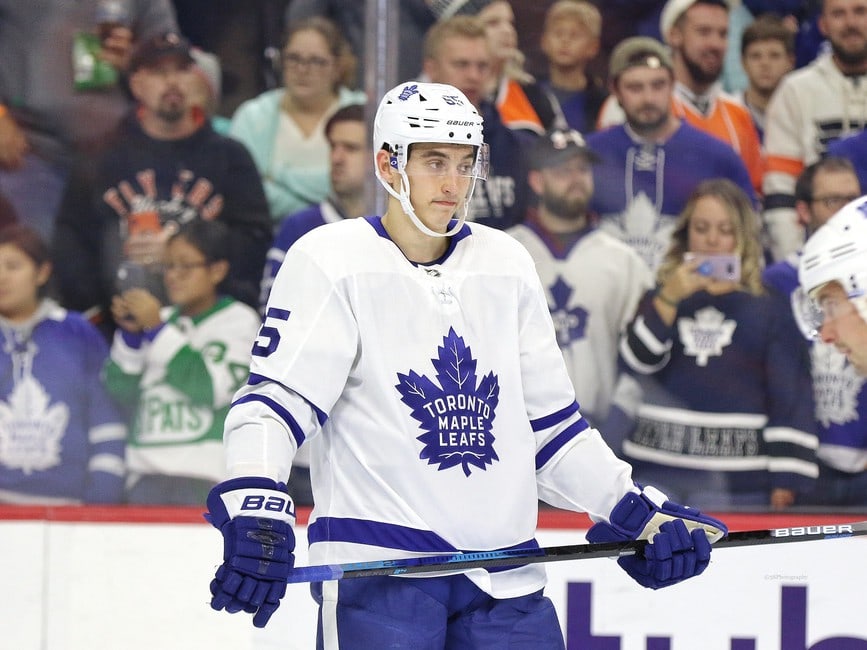 During the hearing itself, the team will go on and on about why Mikheyev's body of work as a player isn't close to being worth the money his side is seeking. Then Mikheyev's team must convince an arbitrator that the Maple Leafs are an organization that's willing to lowball its players on their salary offers.
Why Such a Hearing Might End Up Badly
Sadly, and I hope this isn't true, the end result might be that all the personal friendship and goodwill general manager Kyle Dubas and Mikheyev built up when they spent so much time together in December will end. As Maple Leafs fans will recall, after the young Russian's horrible hockey accident when his wrist was sliced open by an opponent's skate blade, Dubas spent days with his player just hanging out and caring for him. Dubas' wife suggested it.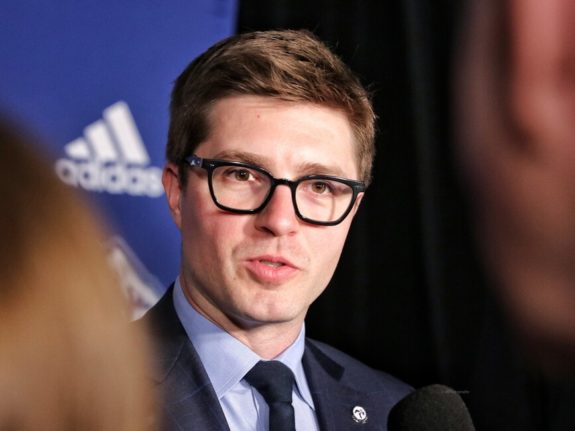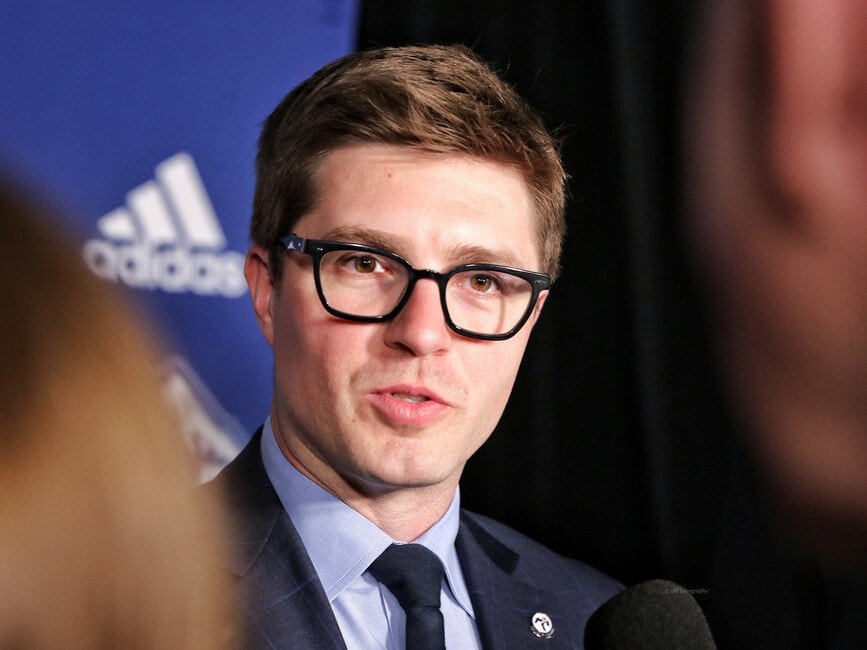 During a hearing where the task is to engage in such discordant activity, could that goodwill evaporate and the immediate personal friction caused by the process be what's remembered? It can't be a pretty process, and it could end poorly by harming long-term relationships.
Related: Whitecaps Re-Sign Anderson, Brodt Brown, and Martinson
Because the case is set for Wednesday, the two sides can reach an agreement any time before the meeting. However, once the hearing begins, both sides must wait for the arbitrator's award and can no longer settle during the time the arbitrator deliberates.
Will Mikheyev Be Judged on Actual Production or on Potential?
Everyone knows of the Maple Leafs' flirtation with the upper limits of the salary cap, so the amount of the award to Mikheyev matters. Specifically, he might well be worth more, but now that the process has started, Dubas must push for the best possible value for his organization and he's choosing to play hardball.
What's interesting in this hearing is that Mikheyev hasn't accrued the body of work he might need to make the case that $2.7 million is fair payment. Mikheyev started the 2019-20 season well, scoring eight goals and 23 points in 39 games. But that December wrist injury stalled his momentum. An additional fly in the ointment is that, although Mikheyev had a great training camp before the postseason, he showed next to nothing against the Columbus Blue Jackets during that qualifying series. Which player is he?
The Maple Leafs are obviously banking on the fact that the arbitrator will choose to bias actual production, which is usually the case. On the other hand, Mikheyev's agent has drafted a figure that's based upon what the winger would have produced had he remained healthy.
Related: Each New Riveters Acquisition Is Another Piece To Their Puzzle
It will be interesting where this arbitration lands should the hearing actually take place. If the arbitrator uses actual production, it's not likely to go well for Mikheyev. And, should that be the case, as easy as it is to say "Just business, nothing personal," the arbitration seems exceedingly personal to me.
Who among us would appreciate this process? Although those who play professional sports are supposed to be able to say "no hard feelings," I'm not buying that it will happen that way.
Why the Numbers Matter for the Maple Leafs?
As a fan, I'm looking forward to having Mikheyev on the team, but an arbitration hearing might militate against that happening over the long haul. I hope I'm wrong.
Related: Maple Leafs Become Chapter in Vesey's Puzzling Career
The final outcome of Mikheyev's arbitration hearing is one of the most pressing items on the Maple Leafs upcoming agenda.
Will that outcome have a domino effect on the ability of the team to sign Travis Dermott? Am I wrong about lingering feelings? Will both sides be able to say "nothing personal" and get on to the business of building a team that includes the young Russian?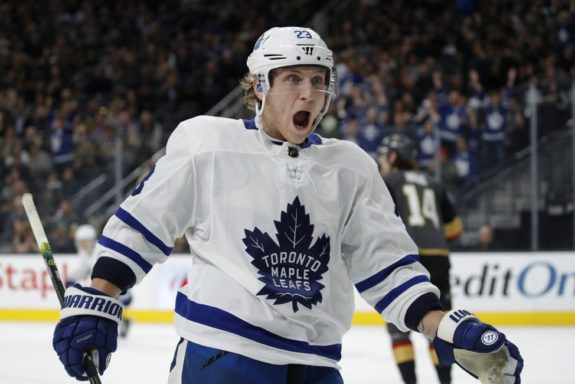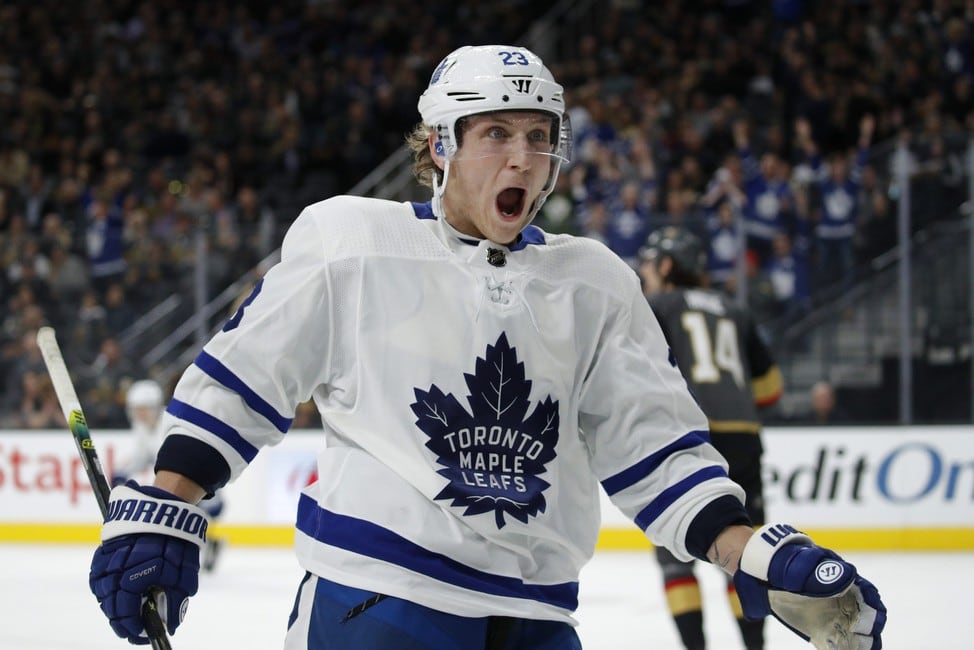 I'm hoping the two sides come to some sort of an agreement; however, given the space between the two numbers submitted, perhaps that's wishful thinking on my part.
---
---
The Old Prof (Jim Parsons, Sr.) taught for more than 40 years in the Faculty of Education at the University of Alberta. He's a Canadian boy, who has two degrees from the University of Kentucky and a doctorate from the University of Texas. He is now retired on Vancouver Island, where he lives with his family. His hobbies include playing with his hockey cards and simply being a sports fan – hockey, the Toronto Raptors, and CFL football (thinks Ricky Ray personifies how a professional athlete should act).
If you wonder why he doesn't use his real name, it's because his son – who's also Jim Parsons – wrote for The Hockey Writers first and asked Jim Sr. to use another name so readers wouldn't confuse their work.
Because Jim Sr. had worked in China, he adopted the Mandarin word for teacher (老師). The first character lǎo (老) means "old," and the second character shī (師) means "teacher." The literal translation of lǎoshī is "old teacher." That became his pen name. Today, other than writing for The Hockey Writers, he teaches graduate students research design at several Canadian universities.
He looks forward to sharing his insights about the Toronto Maple Leafs and about how sports engages life more fully. His Twitter address is https://twitter.com/TheOldProf