Bucky and Gator, together again.
In the same league, in the same building, albeit in opposing dressing rooms.
Not as players, but as coaches.
Not in the NHL, but in the WHL — in the junior loop where it all began for both, before going on to lengthy and distinguished professional careers.
Now giving back to the game that gave them so much — gave them their livelihood — and going full circle, tasked with developing the next generation of talent through their wisdom, experience and leadership abilities.
Kelly Buchberger and Jason Smith are among a half-dozen former National Hockey League players — well-travelled veterans, including Tim Hunter, Brent Sutter, Richard Matvichuk and James Patrick — who are crossing paths in the present as head coaches in the Western Hockey League. Smith in his third season with the Kelowna Rockets and Buchberger in his first campaign as bench boss of the Tri-City Americans.
"It's always great to see some familiar faces, and it's a credit to the passion and the love of the game that we all share," said Smith, who played for five teams over 15 NHL seasons, totalling 1,076 games before retiring in 2009.
"They were really good players in the National League for a long time, but they want to pass on their experiences and their knowledge of the game to hopefully up-and-coming players."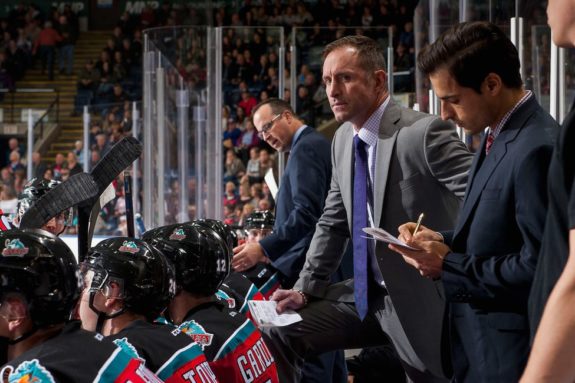 "It's a little different than when we played junior, there's no question," said Buchberger, who carved out a similar career spanning 1,279 games over 18 seasons, also suiting up for five teams. "There's a lot more work put into it now. If you ask any coach that coaches junior, they are long days — a lot longer than pro.
"You spend a lot more time with the kids, and the biggest thing is you want to develop them because they want to go to the next level and we're going to try to help them get there."
Buchberger has been coaching in some capacity ever since retiring following the NHL lockout in 2004-05, working last season as an assistant coach with the New York Islanders. However, this is his first foray back into the junior ranks and his first head-coaching gig in a decade since a single season in charge of the American Hockey League's Springfield Falcons in 2007-08.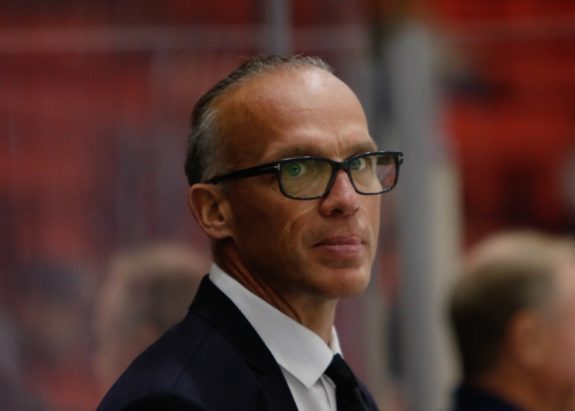 So why, after spending their entire adult life flying around the world chasing the dream and making millions, are these middle-aged men resorting to riding busses across Western Canada and the Pacific Northwest?
"It's the love of the game," echoed Buchberger. "The best thing besides playing is coaching. And when you get into the coaching fraternity, it's pretty tight. Everybody is helping one another."
The hockey world is a small world, but Buchberger and Smith go way back.
It's been two decades now — yes, 20 seasons — since they were teammates with the Edmonton Oilers. That lasted only a few months, with Smith a trade-deadline acquisition in March 1999 and Buchberger departing as an expansion draft pick that June, but they will forever be bonded as two of the 15 men to wear the 'C' in Oil Country.
Trip Down Memory Lane
Buchberger was in his fourth season as Edmonton's captain when Smith arrived from Toronto. Their time together wasn't overly memorable on the ice — the Oilers were swept in the first round of the NHL playoffs that April, by the eventual Stanley Cup champion Dallas Stars — but the camaraderie under Buchberger's leadership made Smith, a Calgary native, feel right at home in Edmonton.
"Whether you were a 10-year player or a rookie in the league, he made you feel welcome, he made your family feel welcome," recalled Smith. "That was a big part of what being an Oiler was about — everybody was on board. They really cared about everybody on the roster, as well as their families."
Buchberger remembers Smith fitting right in and coming as advertised.
"At that time of the year, Edmonton was looking for more of a stay-at-home style defenceman, gritty, and a guy that could compete for 60 minutes. When they had the chance to get Jason, they jumped on him and he was huge for the organization," said Buchberger.
"From then on, I had left the following year, but we kept in contact. Not that we played phone-tag with one another, but whenever we'd see each other, we'd catch up a bit."
Seeing Future Captain in Smith
A couple years later, in 2001, Smith took over Edmonton's captaincy when Doug Weight left as a free agent and remained in that role for five seasons — leading the Oilers to within one win of hoisting the Stanley Cup in 2006 and matching Wayne Gretzky's mark as the longest-serving captain in franchise history to date.
"Jason has his own leadership style, he leads by example and he gets stuff out of his players — as a captain and now as a coach," said Buchberger, who wasn't taking any credit for grooming Smith during their short stint in the same dressing room. "He had good enough leadership skills as it was. He didn't need anything from me. . . .
"He's always been a great teammate to everybody he's ever played with, and you couldn't find anybody to say a bad thing about Jason."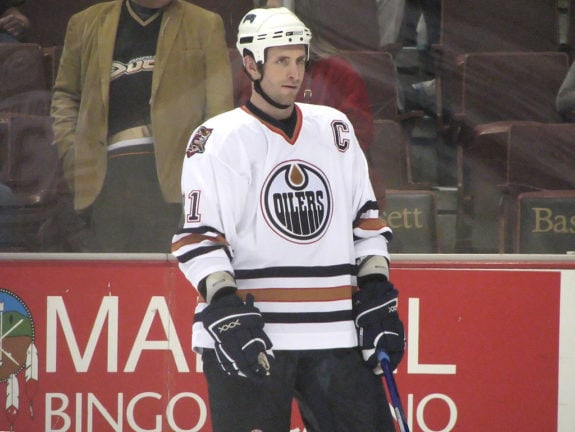 Learning Leadership from Buchberger
There is a real mutual respect between them, and Buchberger certainly rubbed off on Smith while helping him settle into Edmonton after the midseason move.
At that point, Smith was still establishing himself in the league despite being a first-round pick by New Jersey back in 1992. Edmonton was his third stop and became his longest stay — the place where his second of two daughters was born and where he got the nickname Gator.
"Getting to Edmonton and having obviously played against Bucky, then getting to be around him and seeing how he operated as a captain and his work ethic and how he held the guys accountable, just his day-to-day operations and the way he went about things, how he communicated was pretty special," Smith said of Buchberger. "It was a real young group there in Edmonton and he was a figure that was out in front of all the media all the time. He dealt with it and was very professional about it. So, yeah, I did learn a lot from him. . . .
[miptheme_quote author="Jason Smith on Kelly Buchberger" style="text-center"]He's just an all-around great character, somebody who was respected by every guy that he played against and respected by his peers in the league, which is something to be pretty proud of.[/miptheme_quote]
All that reminiscing and reflecting made it feel like yesterday — not nearly 20 years ago.
"Not really, no, it doesn't seem that long ago," said Smith. "When you have positive memories and good times, the time flies. But you can always get back and be social with those people and get right back into a conversation and laugh and it's not like you missed a beat."
Rivals in the WHL
Flash forward to the present — from 1998-99 to 2018-19 — and Buchberger and Smith find themselves on opposite sides of a budding rivalry.
Buchberger's Americans swept Smith's Rockets in the first round of the playoffs this past March. That was an upset on paper — eliminating the top seed from the B.C. Division as a wild-card crossover — but it occurred under former Tri-City coach Mike Williamson, who stepped down in the offseason, which opened the door for Buchberger.
"That's their rivalry, it wasn't mine. I wasn't here for it, so I can't really comment on it. I can't take credit for anything that was done last season," said Buchberger, who was hired on July 16.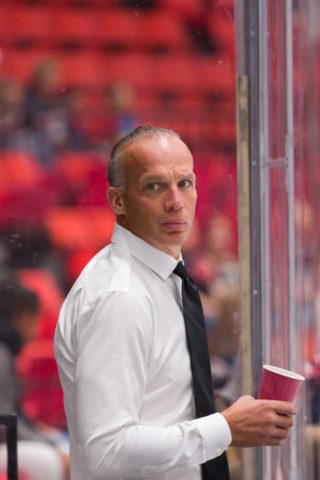 Buchberger could sense an increased intensity last weekend, though, when Kelowna and Tri-City faced off for the first time this season in a home-and-home set. The road team prevailed in both games, with the Rockets hanging on for a 3-2 victory in Kennewick, Wash., on Friday before the Americans overcame two third-period deficits to win 5-4 in the Okanagan on Saturday.
The latter contest had a playoff feel to it and ended with a spirited fight after the final buzzer.
"It's good to play a team that you have some fire against, especially with the way our season has gone up to this point," said Smith, whose Rockets have struggled out of the gate with only two wins through 11 games. "They put it to us pretty good in the playoffs, and I think our guys stepped up (Friday) and played a lot better team game, which allowed us to have success. Hopefully it's something we can build on.
"We know we still need to be better than what we have been," he added. "(Friday) was a step in the right direction. You need to take the good with the bad and keep striving ahead and putting the work in every day, to give yourself a chance."
Buchberger's Americans are off to a .500 start through eight games — with fours wins and four losses — but he was impressed by the Rockets, who didn't look like a last-place team in that mini-series.
"The way I seen Jason's team play (Friday), they play a lot like him," Buchberger said at Prospera Place in Kelowna prior to Saturday's rematch. "They compete hard, they don't take a shift off, they block shots and they do what they can to play as a team. They showed right from the puck drop and for 60 minutes, they didn't lay off at all and they took it to us."
The Americans avenged that defeat in a back-and-forth barnburner, but the Rockets seemed to turn the corner despite settling for a split. Kelowna was clearly motivated for that matchup and should be able to take some momentum from the mixed results.
Relating Rockets to Oilers of Old
Still bringing up the rear in the B.C. Division and the Western Conference standings, Kelowna is starting to embrace an underdog mentality. That's a big adjustment for the fan base and even the returning players — as defending division champions and being a perennial contender, winning 40-plus games in six straight seasons and making the playoffs in 26 of 27 years over the franchise's history — but Smith can draw on his Edmonton experiences as a lower-budget team that hoped to squeak into the postseason, then looked to play spoiler.
"All the years I played there, we weren't a team that ever spent an enormous amount of money on players. It was all based on trying to find character people and people that would fit into the system that they had there, and people that wanted to be an Oiler," said Smith. "Learning to be an underdog and learning to really appreciate the challenge that the underdog has. It's important to establish an identity, and learn to know what you are as a team and how you can have success.
"That's what being an underdog is, and the quicker you realize what will allow you to have success, then you have an opportunity to be in games and win games and compete against the best," he continued. "That's what we're striving to do, to make sure that we're in every game and we're not giving away games, and we're giving ourselves an opportunity to win every night."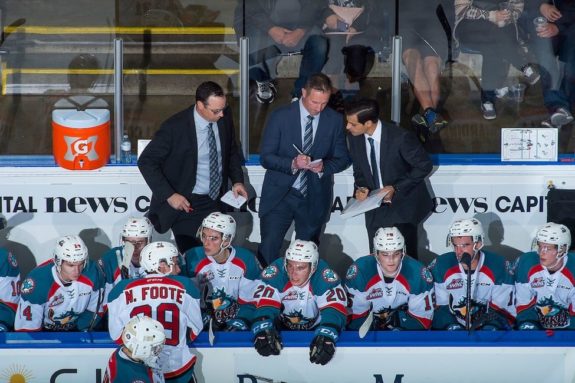 Kelowna Building Towards Memorial Cup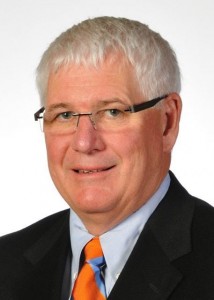 The Rockets are dealing with significant turnover — with their top four scorers from last season turning pro this fall in Kole Lind, Dillon Dube, Carsen Twarynski and Cal Foote — so it'll be an uphill battle the rest of the way. Making the playoffs is still the goal, and general manager Bruce Hamilton has been active in upgrading the roster through a few trades in recent weeks — getting older and bigger, while adding more skilled forwards.
As those pieces come into place, there will be more pressure on Smith to turn the Rockets into a winner again — especially with Kelowna winning the right to host the 2020 Memorial Cup tournament to end next season.
"There's pressure always," said Smith. "You want to go out, as a coaching staff and as players, and get the right results every night. It doesn't always happen, and sometimes you're doing a lot of things right and you don't get wins. And other times you're winning games when you probably shouldn't be.
"That's what sports are about . . . it's about growing as a group and learning how we can have success. The internal pressure amongst the guys, it's disappointing to not be winning games. And as coaches, we need to try to look to find the answers to help get our guys through that hump."
Been There, Done That
These situations — label it a rebuild or a retool — are nothing new to Smith, or to Buchberger for that matter. They have seen and done pretty much all there is to see and do in hockey.
Buchberger, who will celebrate his 52nd birthday in December, won two Stanley Cups with the Oilers in 1987 and 1990, and captured a gold medal with Canada at the 1994 world championship tournament in Italy as well as a silver at the 1996 worlds in Austria. Not bad for a ninth-round pick (188th overall) from little Langenburg, Sask., drafted by Edmonton in 1985 from the WHL's Moose Jaw Warriors.
Smith, who turns 45 next month, never got to hoist the Stanley Cup but did win a world-junior gold with Canada at the 1993 tournament in Sweden — the same year he won the Bill Hunter Memorial Trophy as the WHL's top defenceman with the Regina Pats. Smith also won an AHL championship, hoisting the Calder Cup with the Albany River Rats in 1995, and represented Canada again at the 2001 worlds in Germany.
"The experience that you have as a player, it's one thing that nobody can ever take away from you. The lessons that you learn along the way and the trials and the tribulations that you go through as a player, if you haven't experienced it, you can't necessarily deal with some of the stuff because you don't really know," said Smith, who got his coaching start with the last team he played for, the Ottawa Senators — spending two seasons as an assistant and in a player development role from 2014 to 2016 before landing his first head-coaching job in Kelowna.
Climbing the Ladder Again
Smith will be getting his first Hockey Canada experience as a coach in serving as one of Hunter's assistants with Team WHL for the CHL Canada-Russia Series games in Kamloops and Vancouver on Nov. 5 and Nov. 6.
Don't be surprised if Buchberger works his way onto Hockey Canada's radar in short order too. His Americans are also retooling to a lesser degree — losing the likes of Michael Rasmussen, Morgan Geekie, Juuso Valimaki and Jake Bean — but have plenty of talented holdovers and thus could emerge as contenders again after advancing to the third round, the Western Conference final, last season.
Tri-City, in one viewing, already appears to be taking on the workmanlike approach of their new blue-collar coach.
"I have a great assistant coach in Brian Pellerin who does an amazing job and we work well together, so hopefully we can have some success," said Buchberger, who had been contemplating the junior route for some time and was rumoured to be in the running for the Rockets' vacancy when Smith was hired in July 2016.
"There's always a little bit of talk now and then, but this is an opportunity I got and I couldn't be any happier. I love it in Tri-Cities," he said. "When everything went down in Long Island, I didn't want to do anything else but coach, and I wanted to be a head coach again. I think everybody that is an assistant coach, they eventually want to be a head coach.
"I actually didn't know (Tri-City general manager Bob Tory) before. There were only a couple of jobs open. I talked to Bob and he was in Edmonton at the time, so we met and it worked out from there."
Americans announce new head coach, two-time Stanley Cup Champion, Kelly Buchberger.

READ | https://t.co/aDLJc30ADz pic.twitter.com/HxpcGKTlPN

— Tri-City Americans (@TCAmericans) July 16, 2018
NHL Aspirations as Coaches
Both Buchberger and Smith are happy with where they are at today — in life and in hockey — but they are likely to use their WHL coaching tenures as a stepping stone back to the big league.
Again, the hockey world is a small world and connections are huge. They have "ins" all around the NHL.
Buchberger has experience in a variety of roles — mostly within the Oilers' organization — but it was Weight, his successor as Edmonton's captain, who recruited Buchberger to join the Islanders' staff.
"The group we had last year in Long Island with Dougie, we thought we'd have some success. Unfortunately, at the end, it crumbled underneath our feet," said Buchberger, whose fellow assistant was another former Edmonton teammate in Luke Richardson. "But it's an experience that we'll never forget because we were all friends before that."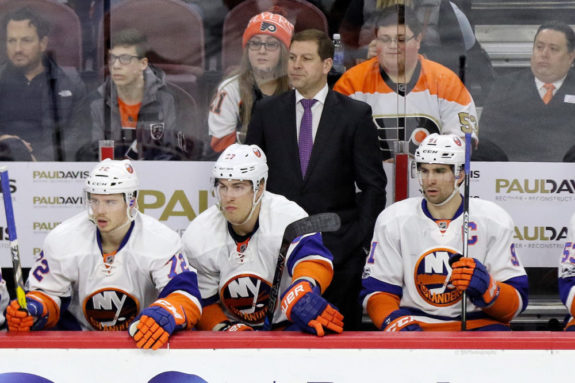 There is potential for a reunion down the road, or perhaps even the possibility of three successive former Oilers captains on the same staff some day in Buchberger, Weight and Smith.
"I talk to Dougie quite a bit. I think he's just going to sit back and kind of weigh the pros and cons of what he wants to do," said Buchberger. "He's really passionate about the game and there's no question he'll be back in the game, it's just a matter of time.
"He lives in Long Island and he's got a daughter that goes to university at Wake Forest and another one that is still in high school, so they are still settled there. And he's got a boy in hockey that he wants to see do well (Danny is in his NHL draft year for 2019). But you never know what the future could hold."
All Goes Back to Edmonton
That group of Edmonton alumni remains tight-knit and the saying 'once an Oiler, always an Oiler' rings true.
"I still follow the Oilers today," admitted Buchberger. "I worked for them after I was done playing, actually I was coaching when Jason was still playing. The biggest thing is we showed loyalty to them and they showed it back to us, and it pays when you're done playing."
Smith hasn't circled back to Edmonton in his post-playing career — not yet anyway — but there is no doubt his best days came as an Oiler.
"It was great, being a kid from Alberta and having grown up in the rivalry between the Flames and the Oilers and seeing how intense it was as a kid and how much passion there was amongst the fans. It made it easy to kind of step in and feel comfortable there," said Smith. "When you get an opportunity to play for a team close to home, it was pretty special. I think I had family and friends at pretty much every game that I played. It was nice to see familiar faces at the rink."
That trend has continued now that he's back in the WHL, making the rounds in Western Canada again. Ditto for Buchberger. Just like old times, except they are older and wiser from the journey as a whole.
Onward and upward they go, to their next adventure — for Smith, that means two games in Victoria and another stop in Vancouver as part of a three-in-three this weekend, while Buchberger has a home-and-home against Seattle, back in Kennewick tonight and then in Kent, Wash., on Saturday.
Larry Fisher is a senior writer and head scout for The Hockey Writers, having been an at-large contributor for THW since August 2014. Fisher covers both the NHL and the WHL, specializing in prospects and NHL draft content, including his annual mock drafts that date back to 2012. Fisher has also been a beat writer for the WHL's Kelowna Rockets since 2008, formerly working as a sports reporter/editor for The Daily Courier in Kelowna, British Columbia, Canada from 2008-2019. Follow him on Twitter: @LarryFisher_KDC.