With the recent signing of Matthew Benning, the Edmonton Oilers have added another top-tier college free agent to the prospect system. Perhaps more importantly, they've added another high-end prospect potentially poised to make the jump to the NHL in 2016-17. Benning's signing now makes four prospects to recently join the Oilers who immediately shoot to the top of the list in terms of players who could play a major factor in Edmonton's success over the next two to three seasons.
To predict when and where these players will make their NHL debuts is a difficult task. Some may start the season with the big club and others may only get a cup of coffee. But, if you look at some of the reasons Edmonton was able to grab these players in the first place, you'll see that all of them are in prime spots and there is tremendous opportunity on a team that has needs at their respective positions.
Jesse Puljujarvi
Edmonton couldn't have raced up to the podium any faster than they did at the 2016 NHL Entry Draft when Puljujarvi fell to the number four spot, leaving the Oilers eligible to draft him. Puljujarvi was widely considered a top-three draft selection by almost every scouting report. There were rumblings Edmonton may look to take a defenseman, but they also had a hole at right wing and Puljujarvi isn't just considered a good prospect, he's considered an NHL-ready one. With offensive talent like his, it wasn't realistic to think Edmonton would or should pass on the opportunity to add a potential Calder Trophy candidate.
The #Oilers have signed 2016 fourth-overall #NHLDraft pick Jesse Puljujärvi to a three-year entry-level contract. pic.twitter.com/Bu0Tvy9K2d

— Edmonton Oilers (@EdmontonOilers) July 13, 2016

What's most impressive about Puljujarvi is that he's projected to be the kind of player who doesn't need the likes of a Connor McDavid to play with in order the be successful. Puljujarvi is considered an offensive driver of play, meaning he'll make those around him better and be the leader of his own line. He's incredibly fast, has his head up and moving in the right direction all the time and he's big at his age, so his frame should be able to withstand the rigors of getting into NHL action immediately.
There has been some debate as to whether or not slowing rolling out Puljujarvi's entry to the NHL is the best course of action, but all signs point to him being too strong a player not to get immediate consideration on the second line right wing spot in Edmonton to start the season.
Tyler Benson
For a long time, Benson was considered a top-round selection — some had him going as high as the top-ten. In 2014, Craig Button had compared him to Jamie Benn of the Dallas Stars and scouting services had him pegged as a difference maker in the NHL.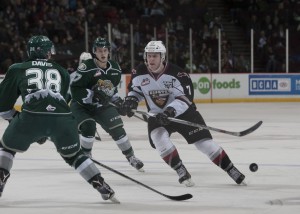 A series of freak injuries in his draft year struck and derailed his playing time and ultimately his position in the draft. Benson dropped to the second selection in the second round but Edmonton was elated that he was still available at the number 32 spot. Then-director of amateur free agent scouting, Bob Green, commented he was hard to scout because you could tell he wasn't 100%.
Benson is going to be a homerun or a strikeout. He's a two-way forward with a high hockey IQ, great hands and determination to succeed. If injuries have hampered his career to the point he can't rebound he'll be considered a failed gamble. If he's able to bounce back, he could wind up being one of the best players taken in the 2016 NHL Draft.
Benson is a player who can make plays and score. He's tenacious with the puck and without it. Due to the time he's missed, his conditioning is likely also a knock on his current status for NHL employment and with that, Benson is more a longer-term prospect for the Oilers. Benson will need time in the system to get that conditioning back. It's more likely he returns to the WHL with the Vancouver Giants where he can get significant minutes before being called up, but he projects to have tremendous NHL caliber talent and hockey sense.
Drake Caggiula
I wrote at length about Caggiula earlier this month and the biggest take from Caggiula is that he was a sought-after college free agent that other teams coveted, but the Oilers landed. He's gritty, fast, highly-skilled and can play both wing and center. He's not big, but he plays a bigger game and if Puljujarvi starts in Edmonton, Caggiula is immediately the top forward prospect on Edmonton's AHL club.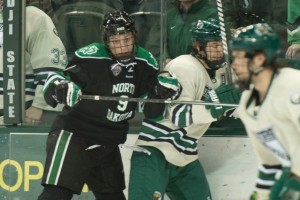 There is a chance he starts in the NHL, but more likely, Caggiula receives top minutes on the first line in Bakersfield and is one of, if not the first forward Oiler call-up in 2016-17. All signs point to him dominating in the AHL and upon his showcase with the Oilers, getting some soft minutes on a third or fourth line. That said, he has the potential ability to be a complimentary linemate in a top-six role. Caggiula has also played significant time in college on special teams, notably as a penalty-killer. This will make him a valuable asset even if his offensive time is limited in the first part of his NHL career.
Two things may affect how long it takes to see him in an Oiler uniform on a regular basis. First, how quickly he transitions from college to the AHL and eventually to the NHL, will determine when Oiler fans will really get familiar with him as a regular face of the team. Second, he was signed to a two-year contract that includes bonuses. The Oilers are a bonus-heavy contract team and it may take some creative cap work to get everyone in with bonus structures, while not exceeding the cap limitations.
Matthew Benning
The Oilers have gone down the college free agent road with defensemen before. Justin Schultz was their first crack at moving a highly-touted college defensive wonder into the NHL and it didn't go well, eventually moving Schultz to Pittsburgh and washing their hands of his underachieving production. Trying to learn from their mistakes, the Oilers hope the second time around goes a bit differently.
Benning signs with hometown #Oilers after three-year @NCAAIceHockey stint at Northeastern: https://t.co/dR0mjAgeLV pic.twitter.com/4DzuFWNQKo

— Edmonton Oilers (@EdmontonOilers) August 28, 2016
Benning comes from the NCAA Northeastern Huskies, where over his career as a college player has scored 56 points in 110 games. While he successfully made a quick jump into college hockey, he isn't going to be moved into the NHL right away. He'll get a chance to show that he can adjust to the pros and instead of being handed a spot in the top-four of the Oilers blue line, he'll need to work his way into the lineup.
The 5-foot-11, 200-pound defenseman is now Edmonton's only real right-handed prospect even close to NHL ready and will be the only right-handed defenseman in the Oilers Bakersfield AHL system; he'll move right to the top of the depth chart in terms of playing time at a professional level. Benning is a defense first type defender, but he's also a capable puck-mover. He's considered cerebral in the way he thinks the game, isn't shy when it comes to the tough style of play and can start the transition with a good first past.
The Oilers have high hopes for Benning, the icing on the cake being if he compares to a player like Colton Parayko in St. Louis, who last season made the jump to the NHL and wildly exceeded expectations. That said, the Parayko comparisons won't be an expectation, only a welcome surprise.
If you consider that Edmonton has only Adam Larsson and Mark Fayne as right-handed defensemen on the Oilers current roster, one has to wonder how long it will take, should Benning make a smooth transition into the AHL, before he gets a look at the NHL level. An injury or some lackluster play by a player like Fayne could be the opening Benning needs.
Who Fans See First
It stands to reason that three of the four prospects will see some time in the NHL this season. If I were a betting man, I'd say it goes Puljujarvi, Caggiula and Benning. To see Puljujarvi get a full season in the NHL wouldn't be a surprise, but he'll need to impress out of the gate in order for Edmonton to feel comfortable about burning a year of his entry-level eligibility.
The opportunities exist for all four players. Each one fills a different need and brings a valuable skill set. How long before the make their debut and how impactful they become could vary, but I think in all four cases, we'll see them wearing Oiler uniforms sooner than later.