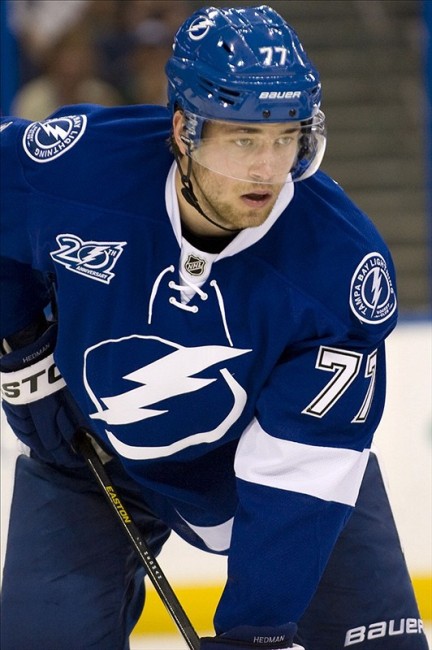 Without a doubt there will be free agent targets on defense for the Tampa Bay Lightning. The Lighting ranked 26th in the NHL allowing 150 goals against. This number is made worse by the fact that they ranked 29th in the NHL in terms of strength of schedule.
While the Tampa Bay Lightning's offensive exploits are well documented, 5th in the NHL with 148 goals for) the back end is clearly an area of weakness. Their defense had a total of a 15.2 point share in 2012-13. Therefore they contributed only 38% of Tampa's total points. In order to be more successful this will need to be increased.
The Tampa Bay Lightning's top defensive point share was Sami Salo with 1.9. He was followed by Matt Carle (1.8), Eric Brewer (1.7) and Victor Hedman (1.6) to round out the top four.
Who should the Lightning target in free agency to improve this area? The top two players I would look at, with an eye towards next season and beyond, are Mark Fistric and Ryan O'Byrne.
Others considered were Toni Lydman, Rob Scuderi, Michal Rozsival. However due to their advancing age (all 34 years old or more) and potential salary demands they may not fit into Tampa Bay's plans.
Mark Fistric, Edmonton Oilers
A good player to target that will help in the short term and potentially be a long term solution is Mark Fistric. He spent the 2012-13 season with the Edmonton Oilers and his $1,475,000 contract is expiring at the end of the season. He is just entering the prime of his career as an NHL defenseman at the age of 26.
He has been a solid defender posting an average defensive point share of 1.8 through his six NHL seasons. He is also a tough defender to play against for the opposition. In 25 games this year he averaged 15 minutes and 20 seconds of ice time per game. In that time he contributed 88 hits and 53 blocked shots.
Over the course of 60 games played with the Dallas Stars in 2011-12 he contributed 235 hits and 105 blocked shots, with 16 minutes and 30 seconds of ice time per game.
In terms of blocked shots and hits Mark Fistric has been consistently among the league leaders. He is just coming into his prime at the age of 26 and could be a solid third pairing defender alongside Radko Gudas in the years to come.
Ryan O'Byrne, Toronto Maple Leafs
Ryan O'Byrne is another defenseman in the mold of Mark Fistric. He is in the prime of his career at the age of 28. His $1.8 million cap hit will expire this summer as well and he may find himself on the outside looking in with the numbers game on the Leafs back end.
He has averaged a defensive point share of 1.4 through his seven NHL seasons. He too has a knack for using his body to wear down opponents.
In 42 games this season between Colorado and Toronto O'Byrne averaged 18:31 in ice time per game. He also nailed down 104 hits and 69 blocked shots.
This is the norm for Ryan, last season he averaged 18:51 in ice time per game with 180 hits and 141 blocked shots over the course of 74 games played.
He would also make an excellent third pairing defender that would help improve the Tampa Bay Lightning defense.
Can Tampa Bay afford them under the cap?
For arguments sake let's assume that you will have to pay the same salary as both Fistric and O'Byrne were paid last season. This is operating under the assumption that you will have to overpay in free agency to acquire talent.
That would leave the two of them at a combined cap hit of $3.275 million. I am assuming that Matthias Ohlund's knees will prohibit him from playing again and he will be bought out of placed on injured reserve again.
In looking at Tampa's current cap situation this would create $3,607,143 in cap space and would be plenty to acquire these two players. Granted you may end up very close to the cap (within $1 million) once you fill out the rest of the roster.
The question that then comes in to play is, do you buyout the last year of Sami Salo's $3.75 million cap hit via compliance buyout?
How would the Lightning defense look next season with O'Byrne and Fistric? 
The way I see it you would have eight NHL ready defenseman including (cap hits in brackets): Matt Carle ($5.5 million), Victor Hedman ($4 million), Eric Brewer ($3.875 million), Mark Barberio ($605,000), Ryan O'Byrne ($1.8 million), Mark Fistric ($1.475 million),Keith Aulie ($635,250),  and Radko Gudas ($605,000).
Overall this would be a more physical defense. My belief is that Mark Barberio is ready for NHL duty and could replace the offense provided by Sami Salo. In this scenario your top four would be pairings of Carle/Hedman and Brewer/Barberio.
You could then rotate through O'Byrne, Fistric, Aulie and Gudas depending on whom was playing well at the time.
This would also afford more depth at the AHL level to call up with Andrej Sustr, Dmirty Korobov, Artem Sergeev, Brian Lee, Nikita Nesterov and Matt Taormina (possible resign) all fit for spot duty, to varying degrees, in the NHL.
Are Fistric and O'Byrne enough to fix the defense?
Simply put no, however Victor Hedman continues to grow and mature as a player and he may finally be ready to break out next season.
As well, the addition of Mark Barberio to the NHL roster adds a very good puck moving, offensive defenseman. This will assist in moving the puck quicker the the Lightning's potent attacking players and Tampa will in turn spend less time in their own zone.
Matt Carle's $5.5 million contract through 2017-18 (he will be 33 years old) will prove to be good value in the long run. Expect him to return to the 35-45 point range (mostly assists) next season.
As well, the presumed improved goaltending situation with Anders Lindback and Ben Bishop competing for the starters position will help in this area.
Next season Bring the Thunder
When you look at the Tampa Bay Lightning's new division next season (Boston, Buffalo, Detroit, Florida, Montreal, Ottawa and Toronto) it is between Tampa Bay and Montreal in terms of who has the best offense.
With an improved defense and a full training camp under their new coach (whether it be John Cooper or someone else, perhaps Dave Tippett if he does not stay in Phoenix), I expect the Lightning will surprise next season and make the playoffs.
Special thanks to NHL.com, BoltProspect.com, CapGeek.com and Hockey-Reference.com.