Did you work late last night? Did your significant other make you run errands while the game was on? Did your dog chew off your TV cable wires?
Have no fear – THW's Monica McAlister has your back, covering everything in the hockey world from From Abdelkader to Zuccarello every morning. Check in daily to quickly get up to speed on all things hockey – recaps, storylines, videos and great links.
While You Were Sleeping
Toronto Maple Leafs 2 Carolina Hurricanes 3
It would be a low key first period as far as notes on a score sheet as Maple Leafs captain Dion Phaneuf took the only penalty in the first; just shy of the nine minute mark. It would take until the final 29 seconds in the first for Jay Harrison to put the puck past Ben Scrivens to make it 1-0 for the Hurricanes.
Second period would see an early hooking penalty to Toronto's Matt Frattin that would lead to a power play goal by Jussi Jokinen to make it 2-0 for the home team.
Shortly after Jokinen gave the Hurricanes a 2-0 lead there would be a roughing penalty to teammate Brandon Sutter that coincided with a hooking penalty to Toronto's Phil Kessel for hooking.
The third period would see Kessel put the Leafs on the scoreboard, with a power play goal, as he put a wrist shot past Cam Ward.
It would take nearly ten more minutes before another goal would be scored. Carolina's Jeff Skinner would net this eighth of the season to give the Hurricanes a 3-1 lead before Kessel would score his second of the night to make it 3-2 with a minute left in the game.
Three Stars:
Jeff Skinner (CAR) 1 goal 2 points
Eric Staal (CAR) 2 points, plus/minus of 2
Justin Faulk (CAR) 1 assist, 2 shots on goal
San Jose Sharks 4 Colorado Avalanche 1
Eighteen shots on goal.
That is all it took for the Sharks to defeat the Avalanche; whom had 37 shots on goal.
Colorado's Matt Duchene would open the scoring just over seven minutes into the game as he put a wrist shot past Thomas Greiss. With an early lead over the Sharks it would be San Jose to gain momentum as Patrick Marleau would tie the game.
Marleau would score again to give the Sharks the lead just over seven minutes into the second when he tipped-in a shot from Marc-Edouard Vlasic.
Joe Pavelski would score his 11th of the season when he out a snap shot past Jean-Sebastien Giguere to give San Jose the 3-1 lead.
Third period would see penalty problems for the Avalanche snowball as Brandon Yip would take a hi-sticking call before Erik Johnson would get called for interference and Shane O'Brien get a 10 minute misconduct.
Marleau would score an empty net power play goal in the final minute of the third for the hat trick.
Three Stars:
Patrick Marleau (SJS) 3 goals, 6 shots on goal
Marc-Edouard Vlasic (SJS) 3 assist, plus/minus 2
Matt Duchene (COL) 1 goal, 2 shots on goal
Detroit Red Wings 4 Anaheim Ducks 2
Henrik Zetterberg would get things started early – which ends up to be a good thing as shortly after the Red Wings goal the Ducks took a delay of game penalty. During the Detroit power play there would be a 28 minute game delay as the power went out in Honda Center.
How Swede it would be as Johan Franzen would make it 2-0 for the Red Wings before defenseman Brad Stuart would give Detroit the hardest lead to keep with the third goal of the game.
With the visiting team up 3-0 Saku Koivu would get the Ducks on the scoreboard and fellow Finn Teemu Selanne would make it a one goal game before heading to the second intermission.
With less than a minute left in the third period it would be a short handed goal by Brad Stuart to give the Red Wings the game clinching goal, making his 5th two goal game of his career.
Three Stars:
Saku Koivu (ANA) 1 goal
Jimmy Howard (DET) save percentage 0.941
Andrew Cogliano (ANA)
Ottawa Senators 1 Vancouver Canucks 2 (OT)
After a scoreless first period in Vancouver it would be a power play goal by Henrik Sedin after Senators Sergei Gonchar was called for tripping just 44 seconds after the start of the new period.
The Canucks held onto the 1-0 lead through three penalty kills in the second period before Colin Greening was able to get a shot past Cory Schneider to tie the game up in the third and force overtime.
It would take Canucks Chris Higgins 2:18 into overtime to earn the extra point for Vancouver.
The Stars:
Cory Schneider (VAN) save percentage 0.966
Alex Auld (OTT) save percentage 0.926
Chris Higgins (VAN) 1 goal, 4 shots on goal
Up into the Netting
THW's own Jim Neveau took a look at what's wrong with the New York Islanders yesterday; and now Crosby returns against them tonight.
Sticking with the teams out east NBC's Pro Hockey Talk's Joe Yerdon has this to say "Don't worry Caps fans. Dmitry Orlov will fix everything."
Players like Lidstrom, Jagr, and Selanne continue to defy age. Last night Selanne and Lidstrom went head to head and saw Selanne score while Lidstrom walked away with the win… no while we are speaking of the 41 year-old Red Wings captain the Detroit Free Press was nice enough to run a story about his appearance on a Swedish Magazine cover – shirtless. Kyle Wellwood may have been fat; but there are players in their 20's that are not built like this: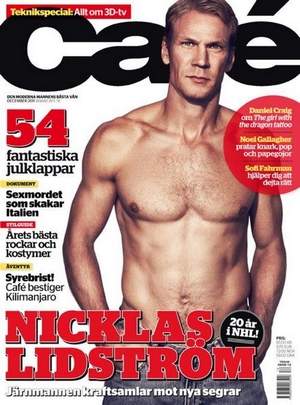 Going from those in the Golden Age to those that are still green… Max Domi is a different chip off the old block as the London Knights (OHL) forward is a different type of threat than his father Tie Domi was.
Have the Minnesota Wild Arrived? No, they've returned according to Puck Daddy's Harrison Mooney. Currently sitting atop of the NHL for the first time since 2006.
Top Spots:
Points: Phil Kessel – Toronto (29)
Goals: Phil Kessel – Toronto (16)
Assist: Daniel Sedin – Vancouver (18)
Plus-Minus: Shea Weber – Nashville (19)
GAA: Brian Elliott – St. Louis (1.43)
Save Percentage: Brian Elliott – St. Louis (0.947)
Wins: Kari Lehtonen – Dallas (11)
Shutouts: Jimmy Howard – Detroit (3)
Northwest: Minnesota Wild
Pacific: San Jose Sharks
Central: Chicago Blackhawks
Atlantic: Philadelphia Flyers
Northeast: Buffalo Sabres
Southeast: Florida Panthers
Face-Off
The Return of Sidney Crosby
HNIC and http://prohockeytalk.nbcsports.com/2011/11/20/want-to-watch-sidney-crosbys-return-versus-has-you-covered/ Versus
7:00 p.m. EST as the Pittsburgh Penguins host the New York Islanders
Everything else…
7:00 p.m. EST
Carolina Hurricanes at Philadelphia Flyers
Phoenix Coyotes at Washington Capitals
Calgary Flames at Columbus Blue Jackets
7:30 p.m. EST
Boston Bruins at Montreal Canadiens
New Jersey Devils at Florida Panthers
8:30 p.m. EST
Edmonton Oilers at Dallas Stars