Did you work late last night? Did your significant other make you run errands while the game was on? Did your dog chew off your TV cable wires?
Have no fear – THW's Monica McAlister has your back, covering everything in the hockey world from From Abdelkader to Zuccarello every morning. Check in daily to quickly get up to speed on all things hockey – recaps, storylines, videos and great links.
While You Were Sleeping
Phoenix Coyotes 5 Anaheim Ducks 4
In a high scoring tit-for-tat game it would be Coyotes Martin Hanzal with his first of the season just 4:41 into the game to get the offense sparked for both teams.
Less than four minutes after Hanzel's goal for Phoenix it would be a first of the season goal for Ducks Lubomir Visnovsky as he put a slapshot past Mike Smith to tie the game.
Phoenix would have the first power play as Maxime Macenauer would go to the penalty box for holding; however, Anaheim would kill off the penalty and then see captain Ryan Getzlaf score his first of the season to give the Ducks the lead over the Coyotes.
It would take a mere 42 seconds for Hanzal to score a second goal of the night and send the game to the first intermission tied up at two.
Just 4:47 into the second period and Boyd Gordon would be the fourth player to score his first of the season as he put the Coyotes up by one with a wrist shot past Jonas Hiller. Less than two minutes later Lauri Korpikoski would make it a two goal lead for the Coyotes to be followed up with a first of the season goal from Keith Yandle to give Phoenix a 5-2 lead over Anaheim.
Anaheim would pull Hiller from net and send in Dan Ellis whom would go without letting in a goal for the remainder of the game.
Shortly after a fight would break out between Coyotes Raffi Torres and Ducks Luca Sbisa that would see the momentum swing to Anaheim's favor.
Kurtis Foster would net his first of the season as he cut the Coyotes lead down to two goals before heading to the second intermission.
Anaheim would see two power plays in the third that they were unable to take advantage off. It would be a late goal by Getzlaf to bring the game within one; but it would not be enough to force the game into overtime.
Three Stars:
1st Martin Hanzal (Phoenix) – 2 goals, 5 shots on goal, plus/minus1
2nd Mike Smith (Phoenix) – Save Percentage 0.879
3rd Ryan Getzlaf (Anaheim) – 2 goals, 4 shots on goal, plus/minus3
Up into the Netting
Jason Brough over at NBC's Pro Hockey Talk takes a look at how GM's have "no desire" to ban fighting. .
Deputy commissioner Bill Daly confirms the lack of interest among team bosses in taking scraps out of the game.
"I don't think it's on the front-burner with GMs in terms of issues we need to discuss," said Daly. "It's obviously something we look at and are always monitoring and maybe at some point it will be raised in a GM meeting."
The Vancouver Canucks have traded away veteran presence to the Florida Panthers in return for David Booth.
This time around, the Canucks have sent 30-something forwards Mikael Samuelsson and Marco Sturm to the Sunshine State in return for left winger David Booth, centre Steve Reinprecht and a third round pick in the 2013 draft. The turnkey in this trade for the Canucks is Booth, who at just 26 years old offers long-term upside. Samuelsson will be a UFA at the end of this season after a streaky stint in Vancouver. Sturm was signed to a one-year deal during the off-season, but had yet to score in 8 games as a Canuck.
Taking a look at what is going on in Texas sports other than that baseball thing.
The Toronto Maple leaves are on a role this season. Currently they lead the Northeast Division and are winning despite not having any homegrown stars.
The winnless Columbus Blue Jackets just may be needing the debut of defenseman James Wisniewski as they welcome him to the line up now that his suspension from the preseason is finally over.
It was an overtime goal by Vancouver's Sami Salo that edged them over the Minnesota Wild over the weekend but why was Alex Burrows skating to get the puck? Ends up it was veteran defenseman Sami Salo's 700th career game and according to Burrows the team "loves him so much."
Salo's more oft-used nickname is The Fragile Fin. It's fitting. Salo broke into the league only one year after Joe Thornton(notes), who recently celebrated his 1000th game, and if the Finnish defenseman hadn't missed nearly 300 with over 40 separate injuries, he'd be nearing the millennium mark in games played as well.
The Production Line takes a look at the Detroit Red Wings loss over the weekend to the Washington Capitals as the only two undefeated teams met with a 7-1 result. You can't win them all.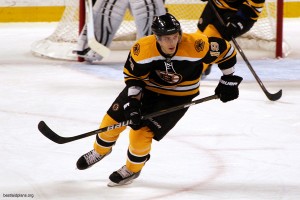 Top Spots:
Points: Phil Kessel – Toronto (14)
Goals: Phil Kessel – Toronto (8)
Assist: Daniel Sedin – Vancouver (8)
Plus-Minus: Tyler Seguin – Boston (7)
GAA: Nikolai Khabibulin – Edmonton (0.72)
Save Percentage: Jonathan Quick – Los Angeles (0.972)
Wins: Kari Lehtonen – Dallas (6)
Shutouts: Jonathan Quick – Los Angeles (3)
Northwest: Colorado Avalanche
Pacific: Dallas Stars
Central: Detroit Red Wings
Atlantic: Pittsburgh Penguins
Northeast: Toronto Maple Leafs
Southeast: Washington Capitals
Face-Off
7:00 p.m. EST
Toronto Maple Leafs at Philadelphia Flyers
7:30 p.m. EST
Florida Panthers at Montreal Canadiens
8:30 p.m. EST
New York Rangers at Winnipeg Jets