This article has been promoted from our Press Box section. Our Press Box is open to up and coming writers. More detail can be found here.
Another Sunday, another week of the NHL season to digest and pick winners and losers from. We are now about three weeks in and teams are starting to really have an identity. Of course there is still plenty of hockey to be played, so if your team is sitting near the bottom of the league don't panic yet (looking at you Rangers fans).
Winners: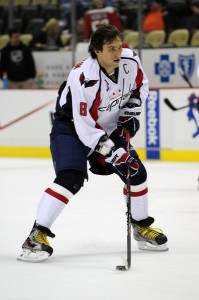 Washington Capitals- I don't think there is any argument against the fact the Caps are playing like the best team in the NHL right now, starting off 7-0-0 with a goal differential of +16. Their most dominating win came Saturday, when they welcomed the undefeated Detroit Red Wings to the Verizon Center and put up seven goals on them. We have all seen the Caps look great in the regular season before, so I know a lot of their fans are cautiously optimistic, but more to come on that in another post tomorrow.
Nicklas Lidstrom- Staying in that Caps Wings game, Lidstrom reached the 1,500 games played mark Saturday, an amazing accomplishment for a stellar player. Of course Lidstrom's team didn't do very well, but looking at the bigger picture he has won four Stanley Cups, and been to the All-Star game 11 times.
Tampa Bay Lightning- Many around the league were saying that the Bolts were suffering from an Eastern Conference championship game hangover, as they got off to a slow 1-3-2 start. The Lightning may have found their groove in the second half of this week, with convincing wins over the Islanders and Sabres. Mathieu Garon has only given up a single goal in his last two appearances, and may be stealing Dwayne Roloson's job.
Los Angeles Kings- The Kings are winners of their last four, three of which came in the past week. Jonathan Quick did not allow a goal all week and set a Kings franchise record for longest shutout streak, at 188 minutes and 10 seconds. Quick will look to extend this streak on Tuesday when the Kings welcome the Devils to LA.
Winnipeg Jets- The Jets earned points in three of their four games this week, and have given hockey's newest fan base something to cheer about. Without having a true star player, and having an awful travel schedule, I don't think people are expecting much out of 'The Peg,' but you never know in the NHL.
Losers:
Columbus Blue Jackets- Like the Capitals are an easy pick for the winners list, there is no bigger loser in the NHL right now than the Blue Jackets. They are off to a 0-7-1 start, including a loss to a less-than-talented Ottawa team that scored twice in the last minute to go from one down to one up. James Wisniewski's suspension is over, and Columbus fans have to hope they have been doing bad because they are missing their Peyton Manning.
New York Islanders- The Islanders jumped to sixth in ESPN's Power Rankings this past Monday after a great three win week. They have now followed that up with loses to the two Florida teams, and bad showings against both. John Tavares is the real deal, but the Islanders don't have anyone besides their first line producing.
Montreal Canadiens- The Canadiens started off the season with a 5-1 shellacking of the Jets. Since then they have lost all five of their games, with only two of a possible 10 points. Carey Price has a .878 save percentage, but still is starting every game in Montreal. The Habs can try to get back on track when they take on the Florida Panthers at home Monday night.
Chris has written for various blogs about various teams, including the New York Jets and New York Islanders. He is currently a junior at the University of Maryland, where he is studying the dying field of print journalism.