Red Wings Rewind looks to recap the last 7 days in Red Wings action, both on and off the ice, as well as take a look forward to the challenges the team will face in the week ahead.
Standings: 7th in league,  3rd in conference, 1st in division (10 points, 5-1-0 record)
Oct. 21 VS Columbus Blue Jackets – Final Score 5-2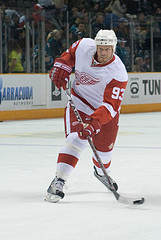 After almost a week off, there was some concern that the Red Wings would struggle when they returned to the ice on Friday night. For the most part though, that was not the case, and Detroit had their way with the 'Jackets in the end.
Any suggestion of possible lack of motivation coming in to face a winless team was quickly dispelled as the 'Wings jumped out to a 2 goal lead with 5 minutes left in the period. Both goals coming from Johan Franzen, on the powerplay, and assisted by Valtteri Filppula. However, just a few seconds after adding the 2nd goal, Columbus struck back and brought themselves to within 1 goal heading into the 2nd.
Just 27 seconds into that 2nd period, Pavel Datsyuk added the 'Wings 3rd goal of the night, and they once again returned to a 2 goal lead, which they would hold for the rest of a mostly uneventful and Red Wings controlled period. The one other major event of the period landed 2 players with majors of the penalty variety, as Jonathan Ericsson and Derek Dorsett went toe-to-toe in a fight that left each breathless. An evenly matched event, the fight ended in mutual agreement between the exhausted players. Gentlemanly even when throwing punches at each other. Only in hockey.
Less than 2 minutes into the 3rd period, the Blue Jackets added their second goal of the game and looked to have some life, but Detroit didn't let up, and a few penalties made their job significantly easier, as the Red Wings potted another powerplay goal before adding a late empty netter that almost saw Johan Franzen getting a hat trick.
It was a well-rounded game that saw Detroit looking every bit like a well-oiled machine from the top to the bottom. Their conversions on 3 powerplay opportunities was a bit of a relief after going 0-18 through the first 4 games, and their overall dominant play kept offensive threat Rick Nash from logging a single shot on goal during the game. Jimmy Howard ended the night with stellar .941 save percentage, but that wasn't the goaltending surprise. The surprise was that Howard was in the net at all, as many would have opted to start backup Ty Conklin against a weaker Columbus team on Friday and Howard against the undefeated Washington Capitals the next night. It makes one wonder if this peculiar decision could have effected the outcome of the next night's game.
Oct. 22 @ Washington Capitals – Final Score 1-7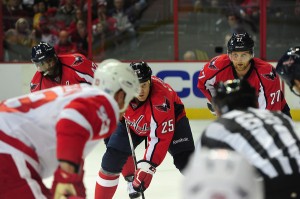 Detroit entered Washington looking to become the first team to beat the Capitals, and be the only remaining undefeated franchise. The result of the highly anticipated battle? A game that Detroit would like to forget.
The game started off looking well, Detroit getting plenty of chances, including an Ian White shot off the post, and a few other marvelous opportunities which resulted in straight robbery by Caps' goaltender Tomas Vokoun. The Captials were getting their fair share of chances as well though, and with 6 minutes left in the period Mike Green blasted one past Ty Conklin on the powerplay. Then just 1:01 later Washington struck again, taking a 2-0 lead into the 1st intermission.
5 minutes into the 2nd and the Red Wings thought they were having déjà vu when Mike Green scored his 2nd powerplay goal of the night to give his team a 3-0 lead. Detroit continued to fight however, and at the 11:05 mark Niklas Kronwall got Detroit on the board. The important goal put the Red Wings within reach of a comeback, but a sloppy goaltending play in the waning seconds of the period put a puck in the back of their net and what felt to be final nail in the coffin.
Detroit came out deflated in the 3rd, and poor play all around resulted in 3 more Capitals' goals. The Red Wings streak would end at 5 games in an embarrassing fashion, leaving many scratching their heads.
The lone bright spot of the game was that Detroit once again converted on a powerplay opportunity.  Otherwise, it looked to be a sad effort after Tomas Vokoun shut down several great chances. Sloppy passing, poor goaltending, slow legs, and frequent turnovers dammed the team to a punishment they can hopefully rub off when they return to action this week. It was unfortunate the Red Wings couldn't deliver their captain Nicklas Lidstrom with a win. Lidstrom was playing in his 1,500th career game, a milestone reached by only 13 other players in the history of the league. This was also newly signed Red Wing Fabian Brunnstrom's regular season debut, though he went largely unnoticed and made little impact on the game.
Star Of The Week: For the 2nd week in a row, Valtteri Filppula earns our top star honors. 3 assists and a goal in 1 evening was impressive for the blossoming forward, and even more encouraging was his shooting of the puck, something he's failed to do enough of in the past.
Statistical Leaders:
Goals: Johan Franzen (4)
Assists: Valtteri Filppula (5)
Points: Valtteri Filppula/Johan Franzen (7)
+/-: Ian White (5)
GAA: Jimmy Howard (1.72)
Sv%: Jimmy Howard (.933)
GP: Jimmy Howard (4)
Wins: Jimmy Howard (4)
Looking Forward:
This week Detroit's schedule gets only slightly busier, with 3 games to play, 2 of which will be against teams they've already played and defeated this season.
Tuesday 10/25: Detroit is headed to Columbus for a rematch of Friday's game, hopefully ending in a similar fashion. The 'Jackets are still winless, but don't count on this being an easy one. They've been close in all of their losses, and the return of James Wisniewski will surely bolster their defense and offense quite a bit. It's a Columbus team that's hungry for a win and looking for revenge on home ice, and they should be treated as such.
Friday 10/28: The San Jose Sharks will be in Detroit, for what should be an interesting bout. San Jose is of course responsible for eliminating Detroit from the playoffs the last 2 seasons, but hasn't gotten off to a wonderful start. Goaltender Antti Niemi has recently returned from injury and may still be looking to find his groove. The only sure thing is that this will be a heated episode in a budding rivalry.
Saturday 10/29: Detroit will head to Minnesota for their 2nd match with the Wild, and after a come-from-behind win in overtime during their first game, there's no question this will be an interesting contest. It will also likely be a very close one just as the first was. Detroit faces the Wild once again just a few days later as well, so it's important that they establish confidence and get as many points as they can.
Andrew is a passionate hockey fan at heart, and has been since a very young age. Residing in Michigan, he grew up with the team he currently covers at THW, the Detroit Red Wings.