Alex Galchenyuk needs to play centre this season.
After inking his name on a new bridge deal with the Montreal Canadiens, Alex Galchenyuk must use these next two seasons to show the organization that he can be the #1 centre that they thought he was when they selected him third overall in the 2012 NHL Entry Draft.
Size matters
The Canadiens lack size down the middle, it's no secret.  David Desharnais – a diminutive five-foot-seven-inches – spends a lot of time on Montreal's top line and logs plenty of powerplay minutes as well.  While there's no question the chemistry he has developed with Max Pacioretty, dating back to their time together in Hamilton, there's not many teams in the NHL where Desharnais would be the number one guy.
In Tomas Plekanec, the Canadiens have a great two-way player who can definitely put up points, having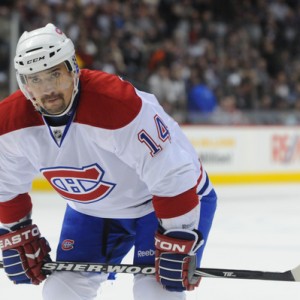 just come off his third-highest point total of his career with 26 goals and 34 assists.  But Plekanec isn't getting any younger, nor can you ignore the fact that he is the team's top defensive centre, logging lots of time in the defensive zone on the penalty kill.
In Galchenyuk, the Canadiens have a tall, point producing playmaker who has improved his play each season.  That's exactly the type of player the team has needed to centre one of their top lines.
Done the right thing for his development
Now, no one faults the coaching staff for not using him as a centre so early in his career, as the position does take time to master.  Playing centre isn't about just winning faceoffs. A player at that position must have great vision and playmaking abilities and has more responsibilities than those of a winger.  Galchenyuk is young, having just blown out the candles on his 21st birthday cake last February.  Over his first three seasons, he has shown his offensive skill in many situations and his 104 points are the highest out of any player that was drafted in 2012 – including first overall pick, Nail Yakupov.  There was no need to rush him, and having him play his first few seasons on the wing, learning and developing, was a great move.
But that time is over now.  Michel Therrien must move Galchenyuk to centre on a full-time basis and allow him the time to show what he's capable of while at the same time, go through the highs and lows of playing that position.  Don't throw him on the top line and expect him to be the team's saviour, but don't give up on him after ten games, which seemed to happen last season.
Bergevin: "I can't tell when or if he'll be a centre"
In his end of season press conference, General Manager Marc Bergevin alluded to the fact that maybe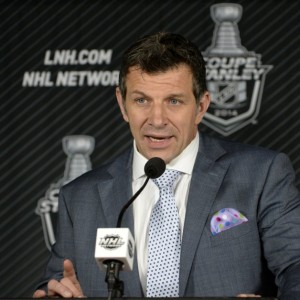 Galchenyuk would never play centre, that maybe he was better off as a winger.  However, it's very likely that those comments were all part of the negotiation process.  If the GM praised the player and talked about how much potential he has and how good he will be as a centre, the player's agent would expect his client to be paid a hefty amount.  Bergevin did the same thing when negotiating PK Subban's bridge deal, talking more to the media about his flaws and not everything that would make him a Norris Trophy winner later that season.
In contrast, it's very possible that Galchenyuk doesn't pan out as a centre. If that happens, it will be reflective in his next contract, that's why these bridge deals are important.  But take the time now to give the player who will be entering his fourth year of professional hockey the chance to become the type of player that the Canadiens need down the middle.
It's getting harder and harder to acquire a #1 centre through trade or free agency, and the Canadiens might just have one within their organization.  They now have the next two years to find out.