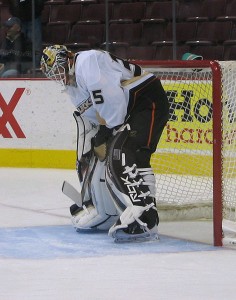 Three seasons ago it would have been hard to imagine that G.S. Giguere would ever leave the city of Anaheim. His Conn Smythe performance during the 2003 playoffs established him as one of the premier netminders in the league. His Stanley Cup championship in '07 immortalized his name. And yet, after nine years, one of the most beloved Ducks in franchise history was sent to Toronto on Sunday for goaltender Vesa Toskala and forward Jason Blake.
The announcement came only a day after Jonas Hiller signed a four-year, $18 million contract extension that will keep him in Anaheim through 2014. After Jiggy had an up and down 2009 season, head coach Randy Carlyle left the starting job wide open at the beginning of this season. Although the Ducks have had a disappointing start, Hiller eventually outperformed J.S. for the job.
"Jonas has deserved to be the number one and we've got him signed," Ducks general manager Bob Murray said. "Jiggy deserved an opportunity. This way they can both be number one."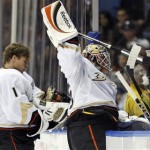 Not content to back up Hiller, Giguere agreed to a list of teams––including the Maple Leafs––for which he would waive his no-trade clause. Now a Maple Leaf, Giguere will not only be reunited with general manager Brian Burke, who signed Giguere to his current contract as GM of the Ducks in 2007, he will once again be under the tutelage of former goaltending coach Francois Allaire.
With the move the Ducks were not only able to save cap room (Giguere was due $7 million next season in the final year of his contract), but they also obtained a solid netminder in his own right in Toskala and a tenacious, hard-working forward in Jason Blake.
"I've been in L.A. and Long Island. The media coverage there – this is where it all is, as far as media. Everything runs through Toronto," said Blake. "I'll be honest, it is stressful. When things aren't going well, it is stressful."
No longer being under the scrutiny of the Toronto media, the Ducks hope that Blake can add some much needed scoring up front. Blake scored a career-high 40 goals for the New York Islanders in 2006-07 but dipped to 15 and 25 goals the past two seasons, respectively, and had just 10 goals and 26 points through 56 games this season.
Although the Maple Leafs are currently out of playoff contention, Giguere has to be excited at the prospect of future with all of the young talent, as well as the other major move that GM Brian Burke made by bringing all-star defenseman Dion Phaneuf to Toronto.
One of the main reasons that J.S. had so much success in Anaheim was because of the defensive talent in front of him. If he hopes to rejuvenate his career as a Maple Leaf, the organization is going to have to continue to surround him with a solid core of talented defensemen.