If I would have told you four years ago that the Vegas Golden Knights would reach the Stanley Cup Finals, capture two first-place finishes in their division and create a band of superstars that would propel them to Stanley Cup contenders for years to come, you would probably have two words for me: you're deranged!
Well, I'm not even sure mystics could have predicted the fate the Golden Knights would meet during their first years in the NHL, but lo and behold, all of it has come true. What's even more impressive is that they did all of this without a captain, that is, until this year. On Jan 13, the Golden Knights announced that Mark Stone would be the man chosen to lead the team into battle for the years to come and would be the one donning the Golden "C".
With so many deserving names to choose from, it was a bit surprising that Stone got the nod, but well deserved nonetheless. In his first full season in gold and silver in 2019-20, he notched 63 points in 65 games. This year, he's gotten off to a torrid start, as he currently has 15 points in 10 games, good for the team lead in points. We all know the contributions he's made since he's been here, but I'd like to delve into the road that led him here. Without further a due, let's jump right into it.
Humble Beginnings
Stone first gained notoriety in the hockey world during the 2006-07 season, when he suited up for the Winnipeg Hawks Bantam AAA squad. That season would prove to be his first step towards NHL fame, as he would go on to record 34 goals and 23 assists in 30 games, good enough to get him drafted by the Brandon Wheat Kings in the 2007 WHL Bantam Draft.
While in Midget, Stone joined the Winnipeg Thrashers Midget AAA team of the MMHL. Stone would prove to be a leader early on in his career, as that season he led his team to a 6-1 record at the Telus Cup, as well as registering a 24 goal, 32 assist season in 40 games. Impressive, but the best was yet to come.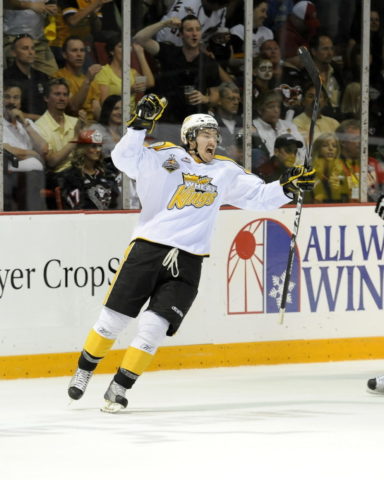 Now at the tender age of 16, the Manitoba native surprised many, as he ended up making the Brandon Wheat Kings that very season. As a rookie during that 2008-09 season, he would prove to make a major impact, contributing 17 goals and 22 assists in 56 regular-season games, as well as producing another goal and three assists during the Wheat Kings improbable playoff run that season that ended in the third round.
Stone would end up playing parts of three more seasons for his beloved Wheat Kings, amassing a spectacular 296 points in 232 games. His most impressive season on black and yellow would prove to be his final one, in which he recorded 123 points in 66 games, good for the leading scorer title in the WHL. To add to his impressive resume that season, Stone would go on to capture the Brad Hornung Trophy, which is awarded to the WHL's most sportsmanlike player.
The contributions Stone made to the Wheat Kings would serve him well in the future, as he would eventually link up with Wheat Kings then-executive and owner Kelly McCrimmon in Vegas. The current general manager of the Golden Knights got a first-hand look at Stone's capabilites and leadership qualities during his playing days for the Wheat Kings, something that would facilitate a captaincy decision he would have to make years later.
Early Years in Ottawa
The dream many hockey players around the world hold became a reality for Stone in the summer of 2010, as he had his name called on by the Ottawa Senators during the sixth round of the NHL Draft. Scooped up with the 178th overall pick, he was very much a steal for the Senators organization. You may be wondering, "how did Mark Stone end up falling to the fifth round when at the beginning of the season he was in the Top 50 for North American Skaters?" Well, that is true, Stone was slated to be picked up a lot earlier in the draft. Due to a concussion and a thumb injury that season with the Wheat Kings, he would be held to 28 points over 39 games. His lack of production hindered his final draft ranking. Nonetheless, the pick was a steal for the Senators, and I don't even think they knew how special of a player they were getting.
Although Stone would attend his first NHL training camp that very summer in 2010, he wouldn't make his NHL debut until two years later, on April 20, 2012. He would make his NHL debut in a playoff game, specifically Game 5 of the Senators series versus the New York Rangers. The former Wheat King made a major impact in his first professional hockey game, assisting on Jason Spezza's game-winning goal. Stone looked primed to become a regular member of the club but would have to wait for another full year until he made his regular-season debut.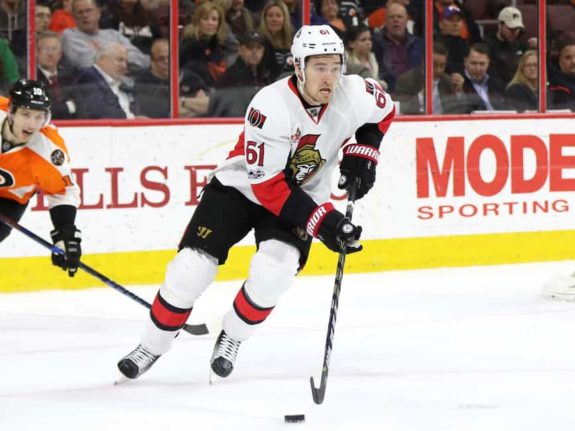 His first full "pro season" is considered the 2012-13 campaign, as he appeared in four regular-season games for Ottawa as well as chipping into one playoff game. That season was one spent mostly in the AHL for Stone, as he played in 54 games, contributing a cool 38 points. What is even more impressive is that he finished the season with a plus-21 plus/minus rating, a feat he would eventually repeat at the NHL level during the 2014-15 season.
That 2014-15 season would be his welcoming party to the NHL, as he made the Senators out of training camp and combined with the likes of fellow rookies Mike Hoffman and Curtis Lazar to form "the Kid Line." In his first season in the NHL, playing more than 18 games, Stone did not disappoint, contributing 26 goals and 38 assists for 64 points in 80 games. On April 23, 2015, he would be nominated for the Calder Trophy but would ultimately end up finishing second, right behind Florida Panthers' defenceman Aaron Ekblad. Although he lost out on the Calder, he ended up winning a new, three-year contract extension, worth an average annual value of $3.5 million.
The next three seasons of his tenure with the Senators, Stone would prove to be a dynamo, recording 128 points in 204 games, even leading them to the Conference Finals in 2016-17, where they lost in overtime in Game 7 to the Pittsburgh Penguins, who would go on to repeat as Stanley Cup champions that season. After that heartbreaking blow, things wouldn't get easier for Stone, as he and the Senators stalled in contract talks, eventually leading to him heading to arbitration. Having been awarded a one-year contract extension, as a result, Stone would become an unrestricted free agent that off-season but wouldn't see himself finishing the year off where he started.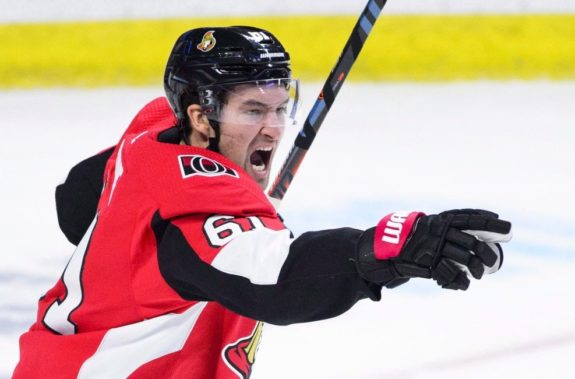 During that 2018-19 season, where he played on his arbitration handed one-year extension, Stone was lights out while playing for the Senators, chipping in 62 points in 59 games. At this point, Ottawa was in the midst of a sudden rebuild and was looking to liquidate their assets for future prospects and picks. This, coupled with the fact that the two parties could just not seem to agree on a contract, signalled the end for the Senators' assistant captain.
Even though Stone seemed to be the cornerstone piece for the Senators' future success, it wasn't enough to keep him around. At the 2019 trade deadline, Stone was dealt to the Golden Knights in exchange for Erik Brannstrom, Oscar Lindberg and a 2020 second-round pick.
Although it'd be hard to picture in a jersey other than the gold and silver of Vegas, we cannot forget that his play was curated and mastered during his playing days in Canada's capital. In 366 games for the Senators, Stone put up 311 points, good for 0.85 points per game pace. I understand the Senators were rebuilding and were trading even bigger names such as Erik Karlsson, but it boggles my mind how they let go of a then 26-year-old who was extremely close to a point-per-game basis. There is a silver lining to this, though, as Ottawa's loss was Vegas' massive gain.
Welcome to the Bright Lights
Immediately upon arriving in Sin City, the Golden Knights signed Stone to an eight-year, $76 million deal, keeping him in Vegas for quite a while. He played in the final 18 games that season for the Golden Knights, registering 11 points. The playoffs were when he seemed to really come alive for the team, as he tallied 12 points in only seven games in a series against the San Jose Sharks. It was in that series that Stone would record his first career hat-trick. That season was filled with other firsts as finished first in the NHL in takeaways with 122, as well as being nominated for the Frank J. Selke Trophy as the league's top defensive forward.
The 2019-20 season would be the first full season for Stone in gold and silver, and it's safe to say he didn't disappoint. In 65 games, he put up 63 points, just two points off recording a point per game basis. His 63 points would put him second in the team lead, just behind Max Pacioretty's 66 points. His hot play would continue into the playoffs, as he would lead the team to a Conference Finals berth versus the Dallas Stars, which they would eventually lose. Stone finished that "bubble" playoff with 17 points in 20 games, coming in second for the team lead, right behind teammate Shea Theodore.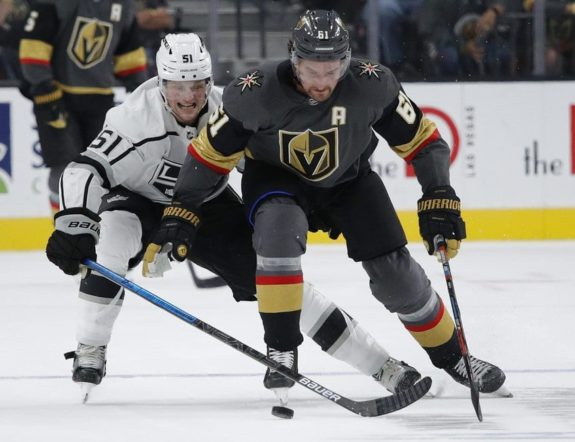 So, heading into the 2020-21 season still without a captain, the Golden Knights had a decision to make. Would they ride out another season "sans capitaine"? Or would they hunker down and appoint a very deserving player of the mega honour? Well, you know the rest of the story.
"C" Looks Good
It seems the "C" has lit an imaginary fire under Stone, who has amassed 15 points in 10 games, good for the team lead. The Golden Knights are now 8-1-1 and sit atop the Honda West Division. If I were a gambling man, I would put my money on them coming out of that division as winners, even going so far as to say they will make it to the Conference Finals in the playoffs. It may be too early to predict that kind of stuff, but with a solid corps of star players and with Stone leading the way, I'm gonna have to channel my inner Kevin Garnett and say that anything is possible.
---
---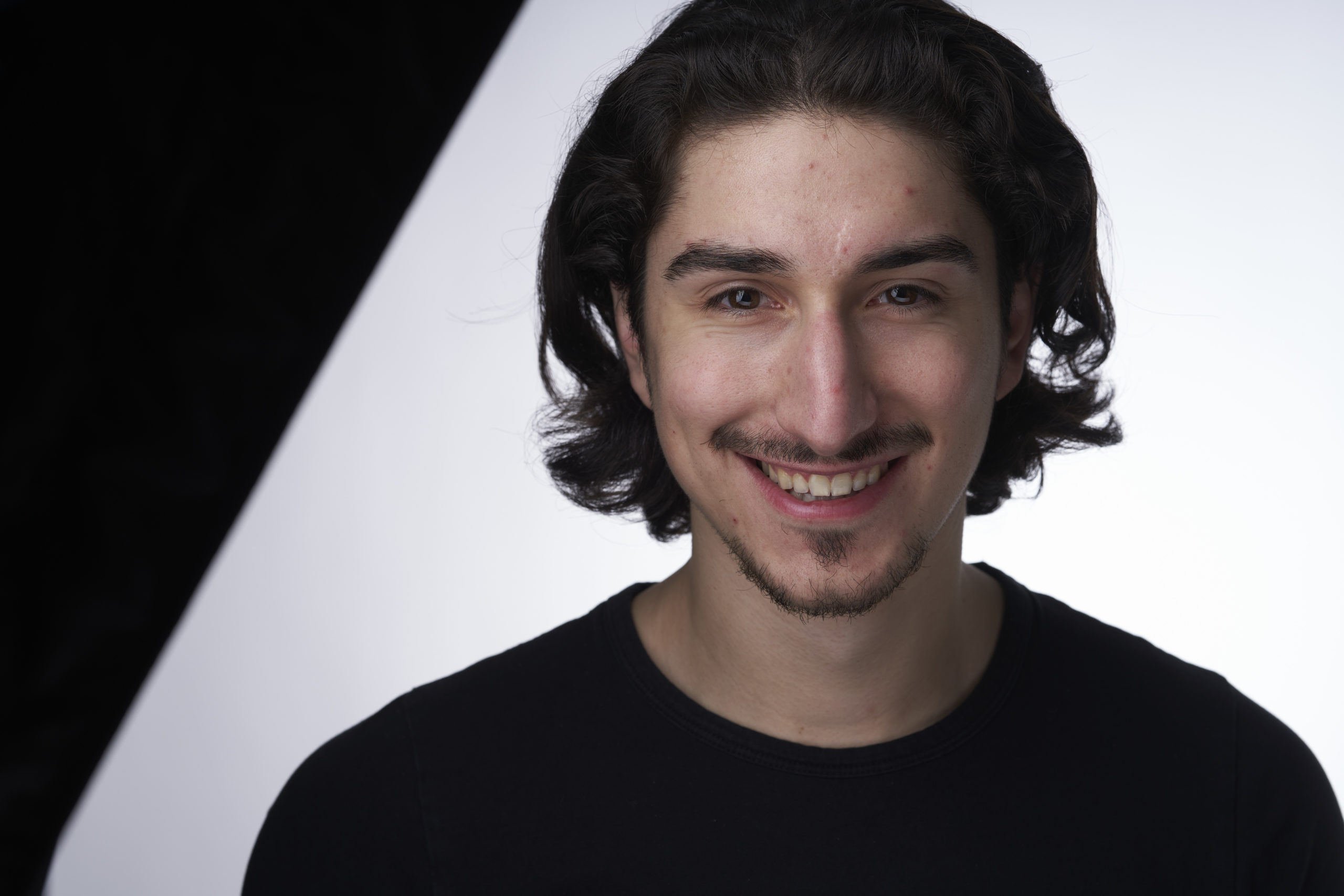 Michael Vidakis is a Montreal native who writes for the Vegas Golden Knights team here at The Hockey Writers. In his spare time, he enjoys the finer things in life such as Jean-Claude Van Damme movies, staring aimlessly outside windows and tangerines.