On Tuesday (Feb. 28), the Toronto Maple Leafs acquired old friend Luke Schenn from the Vancouver Canucks in exchange for a 2023 third-round pick.
We've acquired defenceman Luke Schenn from the Vancouver Canucks in exchange for a third round selection in the 2023 NHL Draft

— Toronto Maple Leafs (@MapleLeafs) February 28, 2023
Schenn was one of the top defenseman trade targets on the market, so several teams were linked to him. Yet, the Maple Leafs are the lucky team to land him, and now he will add more physicality and experience to their blueline. Here are the grades for both teams.
Maple Leafs Bring in Old-Fashioned Shutdown Defenseman
The Maple Leafs have received plenty of criticism for being too easy to play against over the years. Whether that narrative is a true argument or not is up for debate, but the addition of Schenn is going to help stop that. The 6-foot-2 defenseman plays an immensely physical game, and his whopping 258 hits in 55 games this season effectively display this. Yet, he offers more than that, as he chips in offensively and plays a very reliable defensive game. On a bad Canucks team this season, he had three goals, 21 points, and a notable plus-9 rating.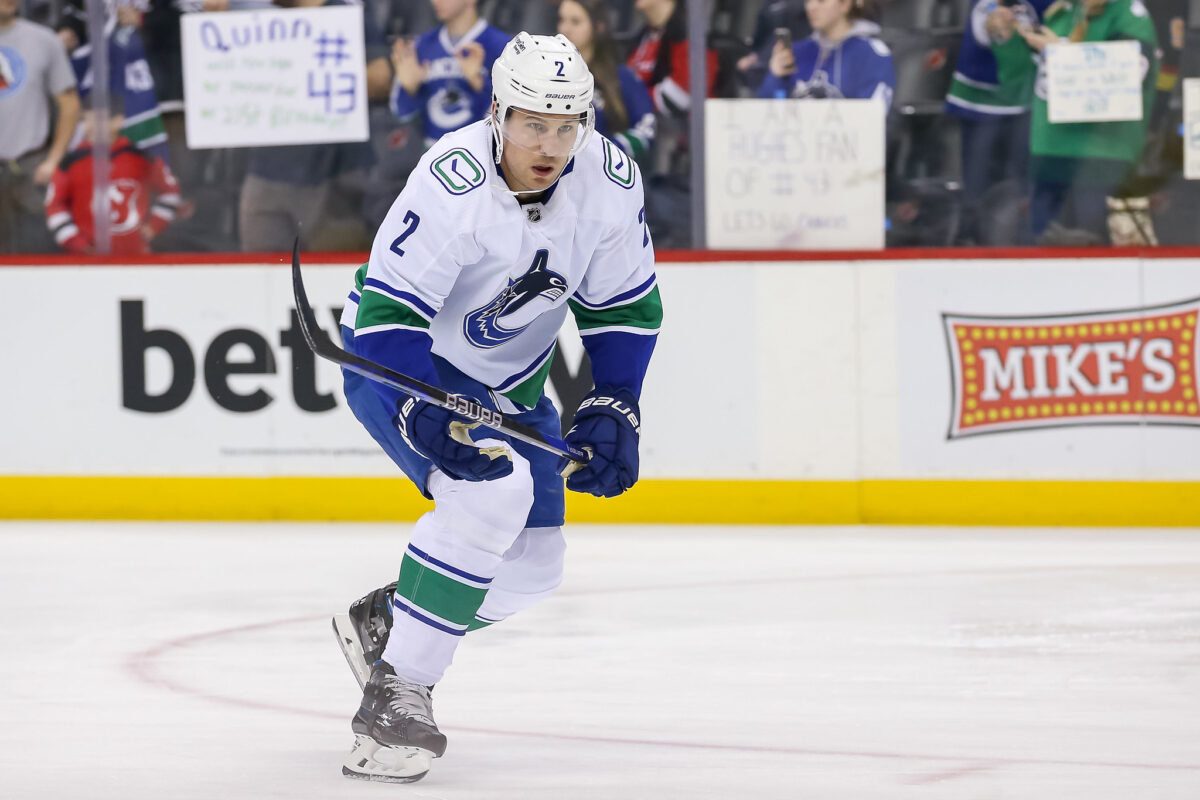 Due to Schenn's strong all-around play this season, he should be a regular in the Maple Leafs' top-six defensive group moving forward. When looking for a specific placement for him, he could serve as a possible upgrade over Justin Holl on the top pairing. However, a better spot for him is likely on the bottom pairing with veteran defenseman Mark Giordano. With that, he should also see plenty of time killing penalties due to his aggressiveness and dependable defensive play.
Related: THW's 2023 Trade Grades
Schenn was receiving a plethora of interest around the league due to his strong season and very cheap cap hit ($850,000). As a result, his trade value increased, but the Maple Leafs did a very good job only parting ways with a third-round pick to get him. When noting that he improves their defensive depth and makes them tougher to play against, it is hard not to like this reunion for the Maple Leafs.
Maple Leafs Grade: A–
Canucks Get Decent Draft Pick for Schenn
When noting that several teams wanted to acquire Schenn, it seemed possible that the Canucks could land a second-round pick for him. However, they had to settle for a third-rounder, and that is a bit underwhelming in my opinion. This is especially so when noting that other rentals have been getting their former teams stronger returns around the league.
Related: 2023 NHL Trade Deadline Tracker
---
Latest News & Highlights
---
However, that does not necessarily make this trade a bad one for the Canucks. They still have added a decent pick for a veteran defenseman who they could have lost for nothing in free agency. However, at the same time, it is fair to assume that many Canucks fans expected more in return for the hard-working and well-respected defenseman.
A second-round pick or third-round pick with a mid-tier prospect would have made this deal better, but alas, it is still an okay move for Vancouver.
Canucks Trade Grade: B-
At the end of the day, it is hard not to pick the Maple Leafs as the winner of this trade right now. They acquired a hard-nosed defenseman with two Stanley Cups on his resume without needing to give up anything significant. However, this deal could end up being a win for the Canucks if they end up finding a gem with their new 2023 third-round pick. We will need to wait and see how this move impacts both teams as time passes by.