In a sport rife with variables that each team must react to on the fly, it seems rather fitting that one of the keys to the Ducks' success can be summed up in a simple algebra equation. The equation speaks for itself.
Hampus Lindholm + G = W
Lindholm has scored in 25 different Ducks contests since entering the league in 2013-14, of which the Ducks have won 20. With Lindholm's game-tying goal in last night's 2-1 victory over the Colorado Avalanche, the Ducks made it 11 straight wins when Hampus scores a goal.
You would have to go way back to their Oct. 29, 2015, loss to the St. Louis Blues to find the last time Lindholm scored a goal in a game the Ducks lost. Though it's worth mentioning that he scored Anaheim's only goal in that game and the Blues won 2-1 on a fluke goal by Colton Parayko.

Underrated Prospect
The Ducks surprised many when they selected Lindholm with the sixth overall pick in the 2012 draft. Critics did not believe Lindholm was the best amongst available defenseman in any area of the game, though his draft value was on the rise as the NHL draft approached. After sharpening his defensive skills in the AHL in 2012-13, Lindholm earned a roster spot for the start of the 2013-14 season.
Rookie Standout
His debut season with the Ducks was largely overshadowed by Nathan MacKinnon's rookie performance. He tallied six goals to go with 24 assists and finished seventh in Calder Trophy voting. While his point totals were on par with expectations, he proved himself to be far better defensively than anticipated. His plus-29 rating was good for 12th in the NHL and was fourth among NHL defenseman behind only Matt Niskanen, Marc Edouard-Vlasic and Johnny Boychuk.
Outpacing His Peers
He did not succumb to a sophomore slump by any stretch of the imagination, posting seven goals and 27 assists for 34 points. He was arguably the Ducks best defenseman in 2014-15. His plus-25 rating was best among the Ducks and his defensive growth had already begun to outpace that of teammate Cam Fowler, who finished the year with an identical number of goals, assists and points, but managed only a plus-4 rating.
Lindholm netted 10 goals in his third year in the NHL, surpassing his career-high of seven from the previous season. He also tallied 18 assists giving him 28 points for the season, which matched Fowler's point total for a second straight season. However, once again Lindholm bested Fowler in the plus/minus department, finishing tied for sixth among his fellow Ducks with a plus-7 rating. Fowler finished 2015-16 with an abysmal minus-8 rating, which was third-worst among the 36 players to appear in at least one game for the Ducks.
Fowler Hits the Trading Block
Hampus Lindholm's entry-level contract was expiring at the end of the 2015-16 season and it was obvious the Ducks were going to be up against the salary cap with several key players needing contracts for 2016-17. With a ton of young talent on the back-end, the Ducks were in a position to shed a puck-moving defenseman if the price was right. Shedding Fowler's $4 million cap hit wouldn't hurt either, so Ducks general manager Bob Murray began shopping Fowler.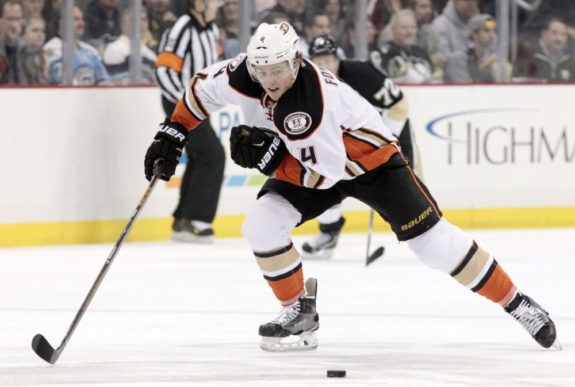 Some Ducks fans were shocked when the news finally broke, but it made complete sense. Lindholm had matched Fowler's offensive upside while being a far more reliable defender. Fowler became expendable, but only if the buyer was willing to part with the right pieces. Murray was right to ask for a lot in return as few can match Fowler's skating ability (which is Niedermayer-like in my opinion) and his best years are still ahead of him.
Fowler and Lindholm matched each other offensively in the Ducks first round loss to the Nashville Predators in seven games, each finishing with three points. But yet again, Lindholm proved to be the more reliable defender, finishing the series with a team-high plus-6 rating while Fowler was a disappointing minus-2. Fowler's playoff performance only further solidified his place on the trading block.
Fowler's Chance for Redemption
Murray ended up avoiding the critical juncture where dealing Fowler became a must, by moving Freddy Andersen to the Maple Leafs. When the Ducks failed to get a deal done with Lindholm before the start of this season, Fowler found himself with new life in the Ducks organization. He responded with his strongest offensive output yet and improved defensive responsibility, earning himself All-Star honors in the process.
An Exercise in Futility?
Unfortunately, Fowler may be on his way out of Anaheim anyway as his All-Star Game appearance will only further justify Bob Murray's asking price. In a perfect world, the Ducks would let both of these young defensemen develop to their full potential in Ducks sweaters. Unfortunately, there are countless obstacles that a general manager must hurdle in the salary cap era. And that's when you don't have to worry about the most wide-open expansion-draft ever held by the NHL looming at season's end.
If Lindholm continues to be as reliable as Old Faithful, don't be surprised if Fowler ends up finishing 2016-17 somewhere other than Anaheim.