Sidney Crosby is the best player in the world.
There's no debating that, especially considering the last calendar year. But Crosby plays on a great team, so great in fact that they just won the Stanley Cup last summer. He also has a teammate in Evgeni Malkin, who is just as big of a threat to win the scoring title. Those factors aren't Crosby's fault, and they don't diminish his greatness (star teammates shouldn't be a reason not to win the Hart, but the voter's often lean that way).
If he continues to lead the league in goals, he'll likely get a nomination for the Hart, and could very well win it. But if we're looking at the definition of what being the league MVP actually means, there's another player who might be even more deserving to take home that specific hardware.
Player Judged Most Valuable to His Team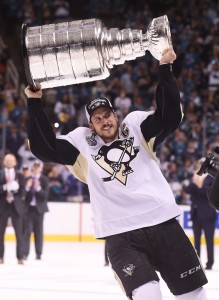 Crosby makes his team better, there's no doubt about it. But if Malkin continues at the clip he's playing, and Kris Letang can stay healthy, the Penguins would still be pretty good without No. 87. The same can't be said for the Edmonton Oilers, whose driving force is Connor McDavid.
The Hart Trophy isn't necessarily awarded to the "best" player in the NHL (though it often is judged that way), but rather to the player who is most valuable to their team. What does that mean exactly? If you remove said player from the roster, what would the team look like? Would they still be a playoff team?
(Hence why qualifying for the postseason is an underlying factor when voting for the MVP).
The Oilers aren't a one-man team. They're good because of Cam Talbot, and an improved blue line. They also have an emerging star in Leon Draisaitl. But McDavid is still steering the ship in Edmonton. Offensive chances increase when he's on the ice, and they decrease when he's off it. Possession stats lean the same way.
McDavid, like Crosby, makes the players around him better. He creates, he controls and he leads. Although Crosby won the Conn Smythe in last year's playoffs, one guy can't win a Stanley Cup on his own. The Penguins collectively (when they want to be), are a great team. In fact minus one player, they are the exact same roster that was crowned champion. The Oilers, while having some really good pieces this year, just wouldn't be the same with McDavid.
Last season, when McDavid got hurt, the Oilers season went south in a hurry. There's a good chance they wouldn't have been a playoff team anyway, but his absence hurt them. The Hart Trophy by definition isn't given to the all-around best player, but rather the player whose team can't live without him.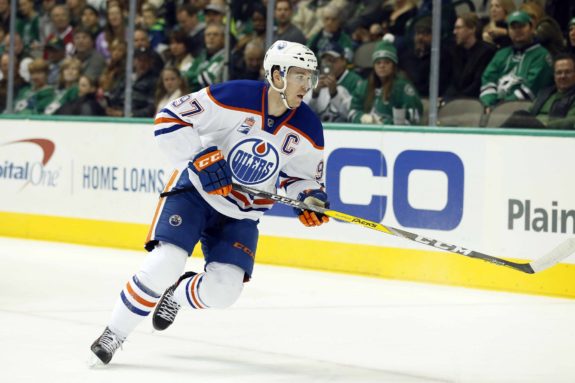 The Case for Connor
We're only halfway through the season, and a lot can still happen. But this article from FanRag sports suggests it should already be a done deal.
Shot differential wise, McDavid is sitting on a 54.94 Corsi For (CF) percentage for the year. Crosby, likely his biggest competition for the award, has a 55.04 CF percentage. That's a barely discernible difference, except one of the two is just twenty years old and playing on a team that's been a high lottery pick for almost as long as he himself can remember. His scoring differential is remarkable, as is his penalty differential. -Cat Silverman.
With few exceptions, the player who wins the Art Ross Trophy wins the Hart Trophy (fairly or not). Therefore it seems as though McDavid would have to continue to fend off Crosby in the points race to all but secure an MVP victory. Crosby missed six games to start the season, yet is nipping at McDavid's heels. Judging by pace and points per game, Crosby would be in the No. 1 spot had he not missed any time.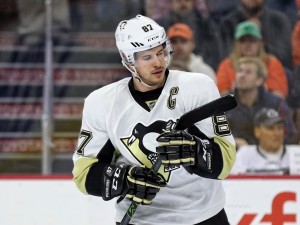 But that's all part of it. Sometimes you have to be lucky, and McDavid took advantage of having played more games. This article released last June already served noticed that a healthy McDavid would easily be the Hart Trophy favourite, no matter what other players did around him. It made the case using Corsi, points per game and his overall value to the Oilers, all of which have proved accurate thus far.
If Crosby finishes the season as the league leader in goals and points, it will be hard not to reward him with the MVP. But thanks to the discrepancy in games played, Connor continues to be one step ahead in terms of points. Crosby is the best and will continue to be best because McDavid hasn't earned that title yet. But when it comes to the Hart, it would be difficult to look past his impact on the Oilers. So long as they make the playoffs, that is.