On Friday night, Vancouver Canucks fans may witness a historic moment.
After scoring the game-winning goal versus the Nashville Predators on Tuesday night, Henrik Sedin is set to become the first Canuck in franchise history to reach 1,000 points. He will be just the 18th player in NHL history to achieve that milestone all with one team.
Henrik Sedin set to become 1st @Canucks player to 1,000 @NHL points. Here are the 17 others who hit 1,000 & played with just 1 organization. pic.twitter.com/497a4dvQau

— Joey Kenward (@kenwardskorner) January 20, 2017
For a franchise that has had its ups and downs throughout 46 years of existence, this milestone is an amazing accomplishment. Henrik and his brother Daniel have guided this Canucks team through one of the most successful runs in franchise history. They have continuously made this Canucks team a fun one to watch, and their success has meant a playoff berth in almost every season since they joined the team.
Everyone wants Sedin to hit this milestone on home ice. It helps that the Canucks are facing a familiar foe on Friday night.
"It would be a big deal for me to hit 1,000 points at home here Friday. Especially against Lu!" – Henrik Sedin

— Vancouver #Canucks (@Canucks) January 18, 2017
Roberto Luongo will try to thwart Sedin's effort to hit 1,000 points tonight, as he tries to achieve a milestone himself. Luongo could become just the fifth goalie in NHL history to reach 450 wins tonight.
"Henrik and Daniel and two of the greatest players I ever played with. Henrik is very deserving of this, just hopefully not tonight" -Luongo

— Vancouver #Canucks (@Canucks) January 20, 2017
The Florida Panthers are 0-2 to begin their Western road swing, and they surely want to spoil Sedin's milestone party at Rogers Arena. Just like the Canucks, the Panthers are one point back of the final Wild Card spot. One of these teams could temporarily sneak into the playoffs with a win tonight.
[irp]
Florida Panthers at Vancouver Canucks
Friday, January 20, 2017, Rogers Arena, 7:00 PM PST
Broadcast Channels: SNP, FS-F
Season Series: Dec. 12 – Vancouver Canucks 2 – Florida Panthers 4
Florida Panthers: 20-18-9, 49 Points,  11th in Eastern Conference
Hot Players: Vincent Trocheck (13 PTS in last 10 GP)
Key Injuries: Nick Bjugstad, Aleksander Barkov, Alex Petrovic, Jonathan Huberdeau
Projected Lines
Forwards
Jared McCann – Vincent Trocheck – Jaromir Jagr
Jonathan Marchessault – Jussi Jokinen – Reilly Smith
Derek Mackenzie – Michael Sgarbossa – Colton Sceviour
Paul Thompson – Greg McKegg – Shawn Thornton
Defence
Keith Yandle – Dylan McIlrath
Michael Matheson – Jason Demers
Mark Pysyk – Aaron Ekblad
Starting Goaltender
Roberto Luongo
Vancouver Canucks: 21-19-6, 48 Points, 10th in Western Conference
Hot Players: Ryan Miller (6-0-2 in last eight GP)
Key Injuries: Jannik Hansen, Derek Dorsett, Anton Rodin, Erik Gudbranson, Ben Hutton, Philip Larsen
Projected Lines
Forwards
Daniel Sedin – Henrik Sedin – Loui Eriksson
Markus Granlund – Brandon Sutter – Jack Skille
Sven Baertschi – Bo Horvat – Alex Burrows
Brendan Gaunce – Michael Chaput – Jayson Megna
Defence
Alex Edler – Troy Stecher
Luca Sbisa – Chris Tanev
Nikita Tryamkin – Alex Biega
Starting Goaltender
Ryan Miller
---
Game Notes
[miptheme_dropcap style="normal" color="#222222″ background=""]1)[/miptheme_dropcap] How do you envision Henrik's 1,000th point happening? Of course, the odds are that it will be an assist, and it would be even sweeter if Daniel was able to bury home the goal that gave Henrik 1,000 points. Henrik has made it clear that it would be special to get this point at home before the team heads out on a three-game road trip. His career numbers against the Panthers are pretty decent, as he has 16 assists and 18 points in 17 career games.
[miptheme_dropcap style="normal" color="#222222″ background=""]2)[/miptheme_dropcap] Lots of other stories are lost in the wake of Henrik on the verge of hitting 1,000 points. Jared McCann will make his return to Vancouver tonight. It is his first matchup against his former team since being traded for Erik Gudbranson last May. He missed the Panthers previous matchup against the Canucks after he was sent down to the AHL in November.
His NHL stats this season aren't superb, but he has seen an increase in ice time since his recall. He has a good chance to put up some points against his former team tonight, playing on the Panthers top line with Vincent Trocheck and Jaromir Jagr. Trocheck has been on fire of late, with 13 points in his last ten games.
Just over a week ago, Jared McCann's linemates were Anthony Greco & Tim Bozon in the AHL…tonight he's with Jagr & Trocheck in the NHL.

— Cats On The Prowl (@Cats0ntheprowl) January 10, 2017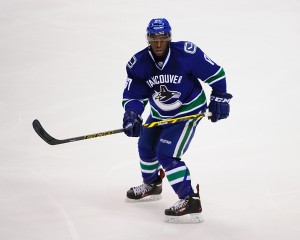 [miptheme_dropcap style="normal" color="#222222″ background=""]3)[/miptheme_dropcap] There's a chance that we might see the debut of Jordan Subban tonight after he was recalled by the Canucks organization yesterday. Troy Stecher battled an illness last game and only played 11:50 against the Predators. It's unclear if he will play tonight.
Although Subban's probably not ready for the NHL yet, his debut has been long-awaited. Subban has played well with the Utica Comets, earning an AHL All-Star Game nod in the process. There's a chance for Subban to show what he can do on a woeful Canucks power play, especially if Stecher misses tonight's contest.
[miptheme_dropcap style="normal" color="#222222″ background=""]4)[/miptheme_dropcap] Speaking of rookie defencemen who are flying under the radar, Michael Matheson has had a solid rookie campaign with the Florida Panthers. He had a solid year in 2016 after being named best defenceman of the tournament in the World Ice Hockey Championships, where he won gold with Canada. He's made a seamless transition to the NHL and has just one less point than Stecher. In the Panthers last game against the Edmonton Oilers, Matheson played a career-high 26:27
[miptheme_dropcap style="normal" color="#222222″ background=""]5)[/miptheme_dropcap] Tonight's matchup features the two oldest goaltenders in the NHL with Ryan Miller and Roberto Luongo. The former Canuck has better numbers on the season, but Miller has been absolutely on fire of late.
Luongo hasn't lost in regulation since before Christmas, posting a 6-0-2 record in the process. He is fresh off of a shutout against the Predators on Tuesday, where he needed to be perfect since the Canucks only gave him one goal of support. Miller is sure doing his best to quiet all the talk about Jacob Markstrom, who should be starting more games as the Canucks look towards the future.
KPU Journalism Graduate. Trevor has been writing for The Hockey Writers since October 2014. He has contributed articles related to the Ottawa Senators, Vancouver Canucks, and other issues/stories regarding the game of hockey. Trevor currently lives in White Rock, B.C.