With no help coming in the form of an addition at this year's trade deadline, it appears the Flyers' quest for the post-season has become a bit steeper. In the midst of being without starting goalie Steve Mason for a few weeks, as well as the demotion of second-line center Scott Laughton, a healthy Michael Raffl could be the counterbalance to pulling off an improbable playoff berth.
Top Line Material
Michael Raffl's speedy development has taken him from an unknown project from Austria, to an established Jack-of-all-trades. The 6-0, 195-pounder's 16 points through 41 games may seem light, even for a team that's 20th in the league with 2.66 goals per game, but that doesn't mean he hasn't been a viable replacement for Scott Hartnell on the team's top line.
Raffl has missed 15 games this season, though, with his latest absence due to suffering an pneumonia. Upon his return on Saturday against Buffalo, the second-year winger scored the game-winning goal despite a reserved time on ice of 11:35.
Raffl's clutch mark in the third period was scored while skating on a line with Ryan White and R.J. Umberger, though. In Raffl's absence, the makeshift top line of Claude Giroux, Jakub Voracek, and Brayden Schenn have struggled to the tune of a combined 11 points in eight games – only three of those points belonging to Schenn.
Berube needs to move Raffl back to left wing on Giroux's line. His goal against the Sabres was pure hard work. He dug a puck out of the boards behind the net then scored a wraparound goal in front.

Berube wants more grunt work from his top line. He can get that if he moves Raffl back up there and puts Schenn at center between Umberger and White. — Tim Panaccio, CSN Philly
When healthy, the 26-year-old forward's energy is infectious, bringing life to the belief that the Flyers are not only a playoff team, but belong there as well.
"I think we've been thinking that the last few months actually," said Raffl. "We need to find a way to find wins. We start with one and then we keep going. Get the wins and see what happens."
Energy isn't the only attribute Raffl brings to the table. The top line combination of Giroux, Voracek, and Raffl have combined for 17 goals, while seeing a 9.98 percent five-on-five deployment frequency.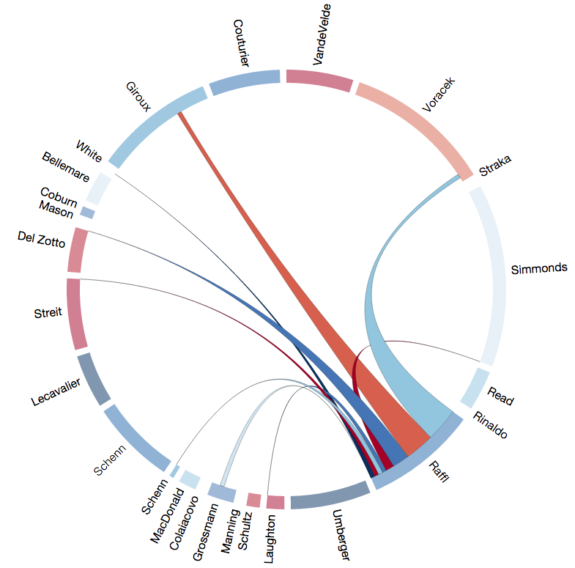 With Schenn on the top line, that number of goals drops to 13. And that's with an 11.75 percent five-on-five deployment frequency, which is due to Schenn beginning the season as the team's top left winger, as well as Raffl's missed time.
With the current top line struggling to string points together, it's only a matter of time before Raffl re-joins Giroux and Voracek. Flyers coach Craig Berube inserted Raffl on a line with White and Umberger for conditioning reasons. Returning from his illness on Saturday, the native of Villach, Austria was held to his lowest number of minutes since a time on ice of 9:19 on Jan. 10 against Boston.
"It's not easy on the conditioning, but there's a way back and I'm going to find it," said Raffl earlier this month after practice.
A healthy Michael Raffl undoubtedly gives the Flyers their best chance to win, when looking at this year's big picture in context that is. The 22-point scorer from a year ago is the team's best supplement for its top two stars, who have already combined for 115 points heading into Tuesday's matchup against Columbus.
But where does Raffl stack up against the top producing left wingers throughout the NHL? Would Philly have been wiser to keep Scott Hartnell, despite the implications of his long-term deal?
A 'Raffl-ection' Against the Best
In the first season of a two-year, $2.2 million bridge contract, comparing Michael Raffl to the league's top scorers at the left wing position is not only disproportionate in offensive scoring, but in price as well.
Philly's European forward is tied for 66th in points among all of the NHL's left wingers with 16. Names like, Tanner Pearson, Jiri Sekac, and Matt Nieto share Raffl's point total, which is certainly not a slap in the face. But does Raffl's limited offensive output suggest the Flyers are still in need of filling the void left behind by Scott Hartnell?
You be the judge.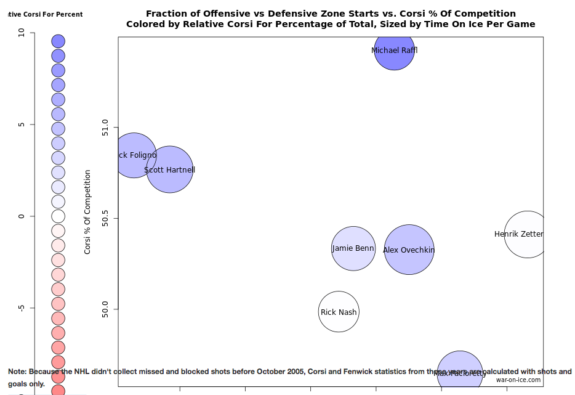 At five-on-five, Raffl's 56.4 percent Corsi-For percentage leads every left winger shown on the chart, including Montreal's Max Pacioretty, who's name is blocked due to the note.
The tandem of Nick Foligno and Scott Hartnell see the harshest zone starts, but still combine for 51 points at even-strength. None of these heavy producers, including Alex Ovechkin and Rick Nash (107 points combined) are even close to Raffl's 9.5 percent Relative Corsi-For percentage, though, nor do they touch his Relative Scoring Chances-For percentage of 11.6 percent.
In fact, the next closest to Raffl in these categories are Scott Hartnell (5.4 percent Relative Corsi-For percentage) and Nick Foligno (8.4 percent Relative Scoring Chances-For percentage). That's a gap of 4.1 percent in Relative Corsi, and 3.2 percent in Relative Scoring Chances.
Trailing both Boston and Florida in the race for a Wild Card spot, however, Raffl's presence in the lineup is no guarantee of a playoff seeding. At 24-22-10, the Flyers are a nine percent shot to capture the Eastern Conference's eighth position, while still clutching to a two percent chance at the seventh slot.
The Flyers are at the mercy of backup goalie Ray Emery, who's .893 save percentage is a career-low to this point. That's in spite of shining in recent relief of the injured Steve Mason. Further, Berube's squad is deploying a defensive unit that is full of castoffs that have shown limited, if any, ability to possess and effectively move the puck.
In spite of those handicaps, GM Ron Hextall looks upon a team that is only six points out of a playoff spot – perhaps even less had his roster demonstrated a better outcome in their eight shootouts (a record of 2-6).
"We're not gonna make a deal to try to put us in the playoffs," Hextall recently said. "I believe we can make the playoffs with this team right now and quite frankly, to add a piece right now that's gonna help us that's gonna be better than what we have is gonna be very costly. We're not going there."
With a healthy Michael Raffl, though, the Flyers may not need to make a deal for a high-risk rental after all.
Andy is a contributor for The Hockey Writers, covering the Philadelphia Flyers. He holds a Bachelor's Degree in Communications from Walsh University. He enjoys spending time with his family, golfing, and reading. He is married with a daughter. You can follow Andy on Twitter @ADudones.