The Winnipeg Jets finished off their season on Saturday night, defeating the Nashville Predators and extending their winning streak to seven. That streak is now the longest in franchise history, breaking a record that dated back to 2010 while the team was still in Atlanta.
While the year didn't end the way the Jets wanted it to, it wasn't a completely awful year. Fans were given plenty to cheer for both on and off the ice. Here are some highlights from the Jets' 2016-17 season.
'Hat-Trick' Laine
Patrik Laine started the season with high expectations. Fans expected him to score. Laine knew he would. But I don't even think he would have predicted how the season ended up going.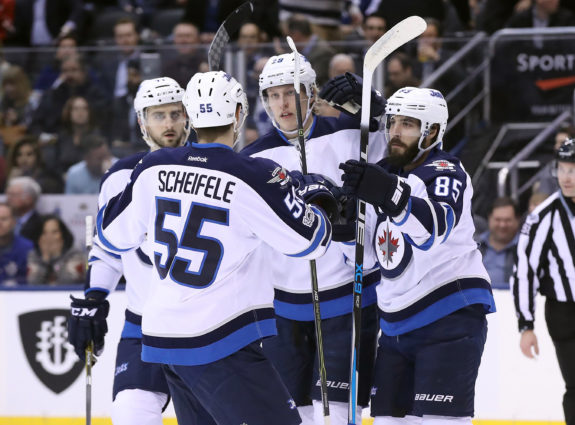 After two hat tricks against the Dallas Stars and one against the No. 1 overall pick (Auston Matthews) and his Toronto Maple Leafs, Laine became the only 18-year-old in NHL history to score three hat tricks before his 19th birthday.
His three hat tricks were also the most of any player in the NHL this season, helping him secure his first ever All-Star nod. He finished the year with 36 goals, which puts him fifth all-time for goals by an 18-year-old, with first place belonging to a former Jets player, Dale Hawerchuk.
The fans always want to see playoff hockey, but take heart knowing that, as a city, you've watched two of the greatest 18-year-old NHL players ever play for your Winnipeg Jets.
Scheifele Becomes Elite
Since Feb. 1, 2016, Mark Scheifele has scored more points than any player in the NHL not named Connor McDavid, Sidney Crosby or Patrick Kane. And since March 1, 2016, Scheifele has more even-strength points than anyone.
In the NHL, you often get your shot when someone else gets hurt. In the last half of the 2015-16 season, Bryan Little got hurt and Scheifele was offered the first-line center spot. He has since taken it and never looked back.
Scheifele finished the 2016-17 season seventh in scoring, posting more than a point-per-game while playing with other young superstars like Laine and Nikolaj Ehlers and wily veterans like Blake Wheeler and Mathieu Perreault. He's already agreed to join Team Canada for the World Championships and seems like a lock for next year's All-Star game.
Did I mention he's signed for another seven years? Enjoy it Winnipeg, because this seventh overall pick is going to be playing like this for many years to come.
Captain Wheeler
Speaking of Scheifele, many fans thought he would be named the next captain after Andrew Ladd was traded. Instead, Kevin Cheveldayoff and Paul Maurice went with the veteran Wheeler, with hopes that he would bring all the young kids together. Making it just a little sweeter was that it was announced on his 30th birthday.
Blake Wheeler is the friend we all need pic.twitter.com/LTB4cHZIOV

— Dylan Nadwodny (@dnadders) December 12, 2016
While they didn't make the playoffs, it wasn't because of any lack of effort on Wheeler's part. Wheeler finished second on the team and 12th in the league in points while playing an average of 20 minutes a night. And most importantly, he made everyone around him better.
The Jets couldn't win enough games this year, but Wheeler has won our hearts.
"Troubassey"
After a stellar year with the Manitoba Moose, Josh Morrissey was ready for the NHL. And though many rookies need to earn their ice time, Morrissey had a bit of help, which came from Dustin Byfuglien. Maurice told the Winnipeg Sun, "It wasn't very long into training camp until [Byfuglien] said I'd like to play with [Morrissey] and we put the two of them together."
It worked out really well for Morrissey, who ended up being the only Jets defender to play all 82 games. But the most exciting part of the campaign came when Jacob Trouba and Josh Morrissey were paired up and 'Troubassey' was created.
Since joining forces, the two young kids have been the Jets most consistent defenders, both posting positive possession numbers in close games. They can both make solid offensive decisions and cover for the other when something goes wrong.
Within three years, this will be one of the best defensive pairings in the league and, considering they are both younger than 24 years of age, Jets fans will get to see a lot more of them over the coming years.
The Future
Since the Jets arrived in 2011, management has preached patience. As a fan, that's hard, especially when you got a taste of the postseason back in 2015.
Like every team that misses the playoffs, the Jets have a lot to work on. Goaltending can be addressed, systems can be fixed. The talent that existed on the Jets this season? Any GM in the league would kill to have it. With a few moves, Jets fans will have a lot more to cheer about in the near future.
What was your favorite memory from the Jets 2016-17 season? Let us know in the comments below, and follow The Hockey Writers for more great stories.