After ten days, four Boston Bruins properties head home after the IIHF 2013 World Junior Championships in Ufa, Russia. Only one future-Bruin earned a medal in the competition – Alex Khokhlahev of Russia – though all four prospects participated in the Bronze-medal game (three for Team Canada came up short).
While each player had his ups and downs, it was a memorable and enlightening tournament. With the good news that the NHL Lockout was over at long last, here's a look at the WJC that was for a quartet of Bruins' youths.
Dougie Hamilton, D – 6 Games; 1-1-2, +3, 15 shots, O PIMs
It was a pretty poor tournament from one of the game's best defensive prospects, especially after (arguably) being the team's best blueliner last winter. Hamilton failed to make a significant impact at the offensive end and was a disappointment defensively.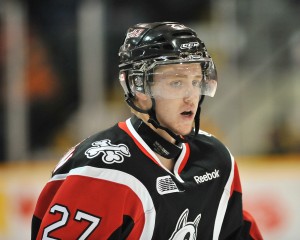 All-in-all, Hamilton's performance doesn't diminish his value moving forward in my eyes. He still needs major work on his defensive decision-making and positioning but there's still no other drafted blueliner outside of the NHL ranks with as much upside as Niagara's #27. Hopefully, the past week's disappointment inspires him to greater heights in Niagara… and perhaps Boston.
High Point: Scoring the opening goal during Canada's round-robin match with Russia. After pressing throughout pool play with just one assist to his name, Dougie finally got of the schneid with a booming slapper to give Canada the initial lead – a lead they would never relinquish on their way to first place in the group.
Low Point: Jumping way out of position and screening his goaltender for the first goal of the Canadians eventual 5-1 loss to the U.S. in the semifinals. While he eventually gave up the breakaway (leading to the back-breaking fifth goal) to the Americans' Johnny Gaudreau, the B's top prospect did not look good there.
Verdict: Coming in, I expected Hamilton to show up big time and (like many) expected him to lead a loaded Canadian squad and team to gold. Neither prognostication came to pass, but as Hockey Prospectus' Corey Pronman points out, six games do not define a player. C-
Malcolm Subban, G – 6 Games; 4-2-0, .901 Sv%, 2.76 GAA
Much-maligned for his 'iffy' performances against inferior clubs in Canada's first two games (and in the camps/exhibitions leading up to the tournament) of the 2013 WJC, Subban came back with a vengeance towards the end of pool play with inspired showings against the Americans and Russians. Unfortunately, the pendulum swung back the other way against the U.S. in the semifinals, where he allowed four goals on sixteen shots in just half the game.
Despite the flak he's received, of the four goals he allowed in Canada's loss one was on a nasty two-on-one rip by the tournament's top goal-scorer Gaudreau, another was through an impossible screen and another was a brilliant rip by Jim Vesey after the American undressed Xavier Oullet on the rush. Only the U.S. second goal, a point-shot through a screen has the feeling of one that should have been stopped – and that may have been deflected in the low slot. In other words, the piling-on we're hearing from some angry Canadian fans is a bit silly.
High Point: Stopping 36 of 37 American shots in Canada's round-robin win over the U.S. by a one-goal margin. Subban was at his best, making clutch save after clutch save with the match on the line and earning the Player of the Game award in the process.
Low Point: What else? Getting pulled midway through Canada's semifinal loss versus the U.S.
Verdict: He sandwiched some mediocre performances around a couple excellent ones. It's a mixed bag that both reaffirms his position as one of the elite goaltending prospects and the fact that he's got a ways to go. C
Alex Khokhlachev, C – 7 Games; 3-2-5, +3, 11 shots, 4 PIMs
Koko continued his stretch of inspired international play with five points in seven games. Frequently the best player on a line that included 2012 first overall pick Nail Yakupov, Khokhlachev performed admirably at both ends of the rink, creating offense and denying opponents for the Bronze Medal winning squad.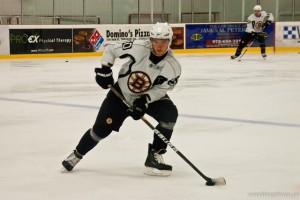 His improved skating on-display, the Bruins' 2011 second-rounder finished fourth on his team in scoring. While many Russian players had an 'up-and-down' tourney, Khokhlachev was a steady presence throughout and (to these eyes) turned-in the most impressive performance of any Bruins' property during the WJC.
High Point: Koko had several. He was named Russia's best player during their semifinal loss to Sweden, he tallied two assists in the team's seven-goal rout of Germany in round-robin play, and added the Russians' critical opening goal in their quarterfinal match versus the Swiss.
Low Point: Losing to Sweden. The Player-of-the-Game selection failed to assuage Khokhlachev. Despite not being a function of his performance, the pain of missing out on a chance to compete for the gold on was written on his face as he accepted the honor.
Verdict: Khokhlachev's struggles with the start of his professional career (in the KHL) didn't follow him to Ufa. If he rides this high to some improved production (or a successful return to the OHL, as has been rumored) he's within striking distance of the mantle as the organization's #2 prospect. B+
Anthony Camara, LW – 6 Games; 0-2-2, +1, 4 shots, 31 PIMs
A surprise selection to the national team – in spite of his outstanding (and unexpected) production with Barrie this season, Camara had a solid tournament playing a complementary role on the fourth line alongside top 2013 prospect Nathan MacKinnon. In limited minutes, Camara performed well on the cycle and engaged physically.
Unfortunately, his devastating hit on Slovakia's Patrik Luza cost him the second-half of that game thanks to a game-misconduct penalty. Luza spent the night in the hospital with a concussion and missed the rest of the WJC. Thankfully, the IIHF saw the hit for what it was – clean, if brutal. As a result, Camara finished with more PIMs than any other player in the tournament.
High Point: Assisting on Canada's game-winning goal versus the U.S. in their pivotal pool-play game. A day after his IIHF reprieve, he helped guarantee his team a spot in the knockout stages against their southern rival.
Low Point: Getting ejected after his massive collision with Luza.
Verdict: Camara's mere presence on the roster is a move in the right direction. His performance (while unspectacular) impressed. B
Follow Bob Mand on Twitter at @HockeyMand