In America, there's a sense that hockey is a niche sport. There's a large following, sure, but the NHL usually does not garner the amount of coverage or respect of the other pro sports in the country. This is why many hockey fans have an inferiority complex and it's the reason #PleaseLikeMySport exists.
It's also why hockey fans get downright giddy when they see a hockey reference in a movie or TV show or when they find out a celebrity is a hockey fan. It gives hockey fans a chance to say, "Look over there! This thing that I like is popular!"
NHL in Pop Culture
Believe it or not, fans have been treated to some nice hockey easter eggs in pop culture over the years. Wayne Gretzky was once in an episode of the popular soap opera The Young and the Restless in 1981 as a member of the mafia and had one line: "I'm Wayne from the Edmonton operation."
Cam Neely has made several TV show appearances in addition to making a famous cameo in the hit comedy Dumb and Dumber.
Film producer and Toronto-native Mike Myers threw in a good amount of Toronto Maple Leafs references in his Austin Powers movies and later made The Love Guru, a hockey movie in which the Maple Leafs won the Stanley Cup (it's also a movie that has a 14% rating on Rotten Tomato).
Full House, Happy Gilmore, 30 Rock, and Swingers also had hockey fans smiling because of their inclusion. And who could ever forget that famous episode in the hit TV sitcom Seinfeld?
That episode, aptly titled "The Face Painter," at one point showed one of the characters wearing a red #30 Martin Brodeur jersey.
In Martin Brodeur's book, Brodeur: Beyond the Crease, Brodeur wrote what it meant to him at that point.
Sports Illustrated published a cover questioning whether the NHL had supplanted the NBA as the hottest pro sport on the North American landscape. Having an NHL sweater featured on one of the most famous episodes of one of the best-loved American sitcoms of all time a year later was evidence, to some degree, of the potential for growth that was available to the NHL at that time.
And that's what it means for hockey fans. They see the potential for their sport and they want to the see the game grow. And pop culture is one way to see that growth occur.
Pixar's Inside Out
Hockey fans, once again, have reason to rejoice.
In Pixar's upcoming film, Inside Out, there appears to be some hockey coming our way.
Here's the trailer.
We see the main character, Riley, playing hockey at different points in the trailer. Clearly she's a young kid in love with the sport and it seems like hockey will play a pretty big role in this movie.
Also, at the :19 mark, the father is shown spacing out, playing over an old hockey game in his head. (At first, I figured it'd be a game from the '70's based on the grainy footage. But upon further examination and based on this article about the history of the NHL ice, it's hard to tell what era this game took place in. The crease is wide and blue and the ice in the net is white which is the style from 1996-1999. But the video also shows that there was a trapezoid behind the net, which we all know was instituted in 2006. I'll have to investigate this further a different time.)
Pixar's Plot Summary:
Growing up can be a bumpy road, and it's no exception for Riley, who is uprooted from her Midwest life when her father starts a new job in San Francisco. Like all of us, Riley is guided by her emotions – Joy, Fear, Anger, Disgust and Sadness. The emotions live in Headquarters, the control center inside Riley's mind, where they help advise her through everyday life. As Riley and her emotions struggle to adjust to a new life in San Francisco, turmoil ensues in Headquarters. Although Joy, Riley's main and most important emotion, tries to keep things positive, the emotions conflict on how best to navigate a new city, house and school.
So I think it's pretty obvious that the "Midwest" state Riley moving from is Minnesota. We're shown a memory of her playing pond hockey with her parents and that's basically Minnesota in a nutshell. Furthermore, the writer and director, Peter Docter, is a Minnesota native and is a graduate of University of Minnesota. He also mentioned that the main character was created in the image of his daughters and their friends.
.@iTunesTrailers For Riley we looked at our daughters & their friends. People think we make this stuff up. Most is real life! #AskInsideOut

— #InsideOut (@PixarInsideOut) December 10, 2014
Docter's previous movies (which include Up, Toy Story, and Monsters Inc.) were all successes and people are expecting another slam dunk out of him. It's a creative movie and it's an idea that's never really been done before. People will/should be flocking to the theatres to see this.
Also, Amy Poehler, Mindy Kaling, and Bill Hader.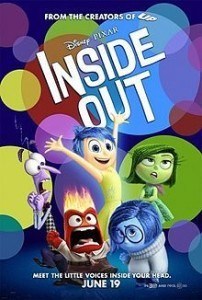 And best of all, there's hockey in it. And, more importantly, a girl playing hockey.
There's been some issues recently with sexism and misogyny in the hockey world (as detailed by Puck Daddy last week). Whether it's fans chanting "Katy Perry," or Morgan Rielly using the expression "You're not here to be a girl about it," girls are constantly being mistreated and thrown aside as an afterthought in the NHL world. Seeing a movie with a girl in love with hockey is certainly a breath of fresh air.
[RELATED: The National Women's Hockey League: Impatience Is a Virtue]
Another subplot which I find interesting is that this hockey player is moving to California. California, as you may have realised, has been having a bit of a hockey resurgence over the past few seasons. With LA winning the Cup twice in the past 3 years and with Anaheim and San Jose (at least until recently) being top teams, California has found its way onto the map. We even had California native Emerson Etem scoring a goal for the Ducks in game 4 in the Winnipeg series.
As hockey fans we should appreciate the attention our sport receives. While the #PleaseLikeMySport campaign comes off as kind of desperate and whiny, we have the right to be proud of the progress of the league and the sport and we should be able to let others know about it.
The movie is set to be released in theatres June 19th. I expect to see you all there.