A collection of the latest news from around the world of hockey:
The Tampa Bay Lightning are headed to the Conference finals for the second year in a row. They did so in impressive fashion, making fairly quick work of both the Red Wings and Islanders, all without their captain Steven Stamkos and one of their top defencemen in Anton Stralman. That makes them unstoppable, right? Well, not so fast. The Red Wings only goal seemingly was to continue their playoff streak, because they didn't offer much in terms of fight. The Islanders had impressive moments, but proved they are still a ways away from being true Cup contenders.
A lot of people may point to New York's goaltending, but Thomas Greiss performed admirably. He did all he could do. But at the end of the day, there's a reason he's been a career back-up goalie, and the Lightning's skill was too much. Awaiting them now is the winner of the Capitals/Penguins series, and one would imagine whoever survives will be the favorite. The Lightning have to yet to face real competition in these playoffs, and will now have to wait a while until their next game.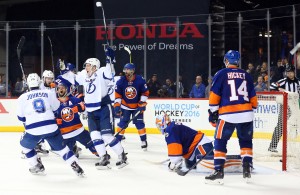 Don't jump all over me, Lightning fans. They have looked very impressive. They have just as good a chance as any to win the Cup, especially with Ben Bishop on top of his game. But favorable match-ups have certainly helped their cause. The interesting storyline is the fact that they've looked this dominant minus Stamkos. He was healthy in their run last season as well, but no one would say he was the reason they made the Final. With his free agent status looming, and the Lightning getting a glimpse of life without him, is the end for number 91 in Tampa?
Obviously, you want a guy like Stamkos on your team. But, he is going to command a lot of money, and the majority of the Lightning's best players are young, and will be getting paid soon. Inferior competition or not, they made the Conference Final without him, and looked fine doing it. If I were Stamkos, I would want to stay. The Lightning look to be contenders for years to come. But, you get the sense that the team won't pay him max dollars, and they are getting a lot more leverage thanks to this playoff run.
If Stamkos is willing to take less money, then it would make more sense to keep him. But what about Jonathan Drouin? He has looked great since returning to the team. Steve Yzerman will get all the credit for that, but he got lucky let's face it. If Stamkos wasn't out, would Drouin have been called up? And Yzerman tried to trade him but didn't get the offer that he wanted. I wouldn't label him as some kind of genius. Things just fell into place. Give credit to Drouin, who worked hard and didn't let the situation affect his play.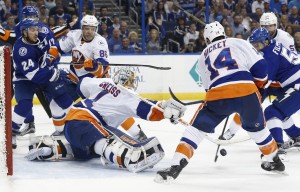 At the end of the day, regardless of what happens in these playoffs, the Lightning have a lot of decisions to make. In the case of Stamkos, I don't believe he's worth the money he is likely to command. I also think they should hang onto Drouin. If they win the Cup, it might make it easier for Stamkos to move on. If they don't, will unfinished business cause him to take a hometown discount? Stay tuned. [Globe and Mail], [Yahoo Sports]
In other news…
What's going to happen with Travis Hamonic? [Cult of Hockey]
Bruce Boudreau has chosen the Minnesota Wild. He won't have the offensive weapons that he's used to, but maybe that was his reasoning. Change things up in hopes of more playoff success. [Star Tribune]
The Ottawa Senators have hired Guy Boucher has their head coach. And claimed he was their first choice. [TSN]. They've also brought in Marc Crawford. [The Hockey News]
There have been some changes in Detroit as well. [Todays Slapshot]
Team Canada is rolling at the World Championships. [Sportsnet]
Can the Sharks move on or will the Predators push it to seven? [Blades of Teal], [The Tennessean]
And finally, Tyler Seguin won't be saving the Stars, and unless the goaltending improves, nothing will. [Defending Big D], [Puck Daddy]