A collection of the latest news from around the world of hockey:
Even the best players have off nights sometimes. Though it always looks a lot worse when it's during the most important game of the year. Shea Weber and Roman Josi, the Predators best defensive duo, had less than an ideal outing in Game 7 vs. the Sharks, and were on the ice for all five San Jose goals. Weber had a number of miscues and poor decisions that led to goals against, somewhat uncharacteristic for the normally reliable blueliner. He's been in high pressure situations before, he has two Olympic Gold Medals. But maybe the magnitude of the moment got to him, he is the captain and leader afterall. [CBS Sports], [Yahoo]
Although the story centers around how Nashville lost the game, it should really focus on how the Sharks won it, and that was in dominant fashion. The Sharks speed was overwhelming. Their powerplay was lethal. They didn't allow the Preds to gain the zone, and if they made it in, they were hemmed to the outside. The Sharks are a fantastic team. They have continued to get better as the playoffs have gone on. Yes, the Preds didn't exactly put up a fight, but that was due in large part to San Jose suffocating them in every sense imaginable. [The Hockey News], [Todays Slapshot]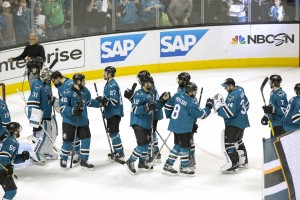 I understand that Marc-Andre Fleury has all the experience. He's won a Stanley Cup, he's healthy and ready to go. But Matt Murray has been outstanding, a big reason why the Penguins have gotten to this point. I understand he's a rookie, and wouldn't be playing if Fleury hadn't gotten hurt. Isn't that the way it works sometimes? Murray has seized his opportunity. He's given no reason for the Pens to doubt him thus far. Fleury hasn't played in a long time. He's not exactly up to game speed. What I can't understand is why there is a goalie "dilemma" or "controversy" in Pittsburgh. [Trib Sports]
There are plenty of interesting storylines, so it can't be that the media is looking for something to talk about. If Murray falters, it's quite a nice luxury to have a guy like Fleury to step in. This is no dilemma. It's a great situation. Perhaps its the fact that Fleury has arguably been the teams MVP this season, or the fact that he's been a good soldier for the Pens for so many years. Maybe there's an emotional attachment. But right now all that matters is that the Pens win games. If Murray gives them the best chance, then he plays. If Fleury does, then play him instead. The only controversy I see is between Fleury's fans, and the current reality. [Post Gazette], [National Post]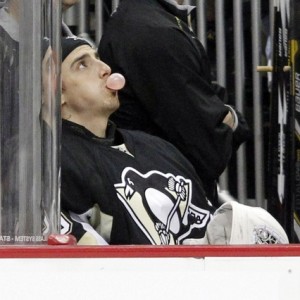 Brooks Orpik doesn't understand that if you high-stick a guy in the face and he bleeds, you get a four minute penalty. [Washington Post]
The Capitals lament their latest playoff exit. [ESPN]
Which defencemen should the Oilers target? [Edmonton Journal]
Its been a tough go for Canucks forward Linden Vey. [Huff Post]
Remember that time the Sabres were really good? [Buffalo News]
And finally, former NHLer Kevin Stevens is in some hot water. [Boston Globe]
Marcy, a former hockey player, is a hockey correspondent on CTV News and TSN radio. She began her career as a Sports Journalist in 2009 and has been part of The Hockey Writers since 2010, where she is currently a senior writer and editor.