Goalie controversy — it's a term that is thrown around between fans like a beach ball at a Los Angeles Dodgers game. However, it's a term that is spoken as much as the word shutout in an NHL locker room.
The term is arising more and more in the NHL nowadays. In the past, teams rode their No. 1 netminders all season long (the record held at an astonishing 79 games in a season, accomplished by none other than Hall of Famer Grant Fuhr in 1995-96). With just two games to go, Washington Capitals starter Braden Holtby is this year's leader in games played, appearing in 71 of 80 games. Only Jonathan Quick (69 games) stands a chance of amassing 70-or-more appearances.
The backup goalie is becoming much more important, thus creating more of a discussion as to which backstop starts on any given night. The team that recognizes this more than anyone is, of course, the Ottawa Senators. With his club far out of the playoffs, regular AHLer Andrew Hammond stepped into a situation that saw the Senators needing some solid starts after top goalie Craig Anderson suffered an injury. His response has catapulted the Senators into sitting two points out of the playoffs with just three games to go. His eye-popping 17-1-2 record has resulted in multiple Hammond jerseys appearing at the Canadian Tire Centre on a nightly basis.
The backup role has been crucial in St. Louis, as well. The Blues went into the season with a somewhat unknown commodity in Brian Elliott as the starter, with long-time prospect Jake Allen serving as the backup. Elliott has risen to the occasion throughout the season, but, lately, has been outplayed by Allen between the pipes. The young phenom was thrust between the pipes on Sunday against the Chicago Blackhawks and responded brilliantly. His 38-save performance included a two-man-breakaway opportunity that was turned aside in impeccable fashion and was a driving force behind a 2-1 Blues victory, helping them leapfrog the Nashville Predators to sit atop the Central Division.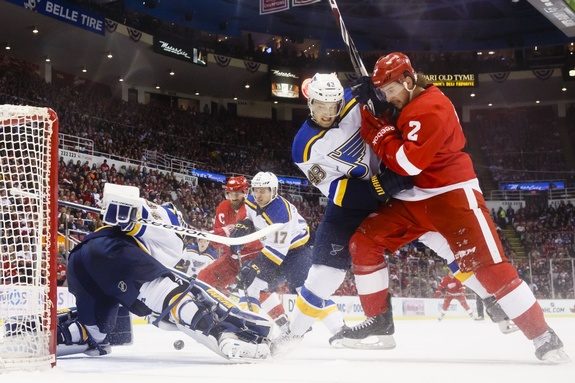 Allen receiving the start brought the conspiracy theorists out of the woodwork; his performance made them vocal across the social media platform. Who does Blues head coach Ken Hitchcock go with in the playoffs — the No. 1 or the hot hand? Who does Senators coach Dave Cameron go with if his team makes the playoffs — the guy who has been there (Anderson) or the talk of the NHL (Hammond)?
It's something to think about as you peruse the hockey news for Monday, April 6.
Details on Allen's game, including video of his 2-on-0 save. [Bleedin' Blue]
Andrew Shaw laid a dangerous hit on Barret Jackman in the Blackhawks' 2-1 loss. [Today's Slapshot]
Ryan Reaves yanked out his own tooth during the game. [The Score]
The Senators lost to the Maple Leafs, making it very tough for them to make the playoffs. [TSN.ca]
Max Pacioretty was injured in Montreal's 4-1 victory over the Panthers. [Sports Illustrated]
The Avalanche and Panthers were officially eliminated from the playoffs this weekend. [Puck Daddy]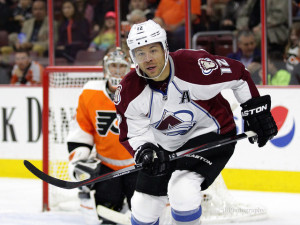 There are still some interesting milestones to watch out for with two key Panthers players. [
NHL Numbers
]
Referee Paul Devorski is retiring from the NHL. [NHL.com]
Elmer Lach, a Canadiens legend, passed away at the age of 97. [New York Times]
David Musil made his first appearance for the Oilers, allowing he and his father, Frank, to be only the third father-son combination to play for the Oilers. [Edmonton Journal]
The narrative in the Crosby vs. Ovechkin debate has evolved over the years. [The Faceoff Circle]
There was a major bench brawl between the Griffins and Marlies of the AHL this weekend. [Hockey Feed]