While hockey is a game, it's also a family. When someone needs help, it's a group effort to lift the person up and fight alongside them. On Saturday afternoon, the hockey world stepped up, came to Windsor, and supported one of their own.
After months of organization, dozens of hockey players and coaches met at the WFCU Centre on Saturday afternoon to support long-time Windsor Spitfires' associate coach and current Ottawa Senators' assistant coach Bob Jones. It's been a difficult year for him, but with some help from his family and friends, he's not alone in this fight.
Jones Diagnosed With ALS
A who's who of the hockey world came together for "All in 4 ALS: Jonesy's Game." While some had a direct connection with him, others were just eager to help.
Jones, 53, has been a staple in hockey for decades. Following a junior career with the Ontario Hockey League's (OHL) Soo Greyhounds in the 1980s, he briefly played pro hockey before getting behind the bench. After a handful of stops in the OHL, he joined the Spitfires as an associate coach from 2007-15 (including head coach in 2010-11) before becoming the Oshawa Generals' head coach until 2018. Now, he just finished his fourth season with the Senators as an assistant to head coach D.J. Smith (Spitfires assistant coach from 2005-11).
Related: Windsor Spitfires' All-Time OHL Roster
---
Latest News & Highlights
---
Unfortunately, life took a turn in 2022. Jones started having speech issues, and in September, the Senators told him to get checked out. Three months later, after getting multiple opinions, he got the life-changing diagnosis — Amyotrophic Lateral Sclerosis (ALS). He made it public through the Senators this past January.
According to the Sunnybrook Research Institute, ALS is a disease that gradually causes paralysis. The brain is connected to the muscles through nerve cells called motor neurons. In ALS, those neurons slowly weaken and die, causing the muscles to break down. The person eventually loses the ability to walk, talk, eat, and, sadly, breathe. It's often referred to as Lou Gehrig's Disease after the Hall of Fame baseball player was diagnosed in 1939. It's also the disease that tragically took the life of Hockey Hall of Famer Borje Salming in 2022.
Sadly, while there are medicines that can slow down the symptoms, there is no cure, and about 80 percent of people will pass away within five years of being diagnosed. Finding a cure is crucial.
A Full House Supports Jones
Not only were the players and coaches eager to support, but so were the fans. Before the gates opened, hundreds stood outside waiting. There was a buzz in the air.
Before the game, Jones came out with Smith and Bob Boughner, who organized the event. They were joined on the carpet by members of the Spitfires' 2009 and 2010 Memorial Cup rosters and numerous NHL/OHL coaches. A video tribute and a standing ovation from 6,149 brought Jones to tears in a moment that nobody will forget.

After the ceremony, the fans were given a treat. They saw an all-star lineup, including Dylan Larkin and Alex DeBrincat (Detroit Red Wings), Adam Henrique (Anaheim Ducks), Wyatt Johnston (Dallas Stars), Michael DiPietro (Boston Bruins), Will Cuylle (New York Rangers), and Matthew Maggio (New York Islanders).
It was pond hockey with former Spitfires Maggio, Cuylle, and Johnston reuniting on the same line, plus DeBrincat joining his new teammate Larkin on a line. There were also highlight reel saves from DiPietro, who was a standout for the Spitfires from 2015-18. Team White beat Team Blue 10-6; a full album of photos is available on Flickr.
While Jones hasn't coached the Spitfires since 2015, his family has called Windsor home for over 15 years. Stars head coach Pete DeBoer said the town is one that comes together in a time of need.
"I don't think there's a better town in Canada for taking care of their own," said DeBoer, who also played for the Spitfires from 1985-89 and has family in the area. "You could see and feel the emotion in the building. Jonesy's been an adopted Windsorite, like all of us who moved to Windsor to coach or play. The community accepts you and you become one of them."
It's All About the Cause
With such a great response from the City of Windsor and the players and coaches, it's no surprise that significant funds were raised. According to the Windsor Star, before the puck dropped, over $200,000 had already been raised for the Sunnybrook Foundation (per Jones' request). Another $11,000 was added thanks to the 50/50 draw, and a post-game auction had the final total going near $250,000. It's a powerful number. After, Jones told the Star that it was all about the cause.
"It's a good feeling," he said. "We're trying to find a cure but it's not about me. It's about (the cause)." (from 'ALS charity event for former Spits' head coach Jones once again shows hockey is more than just a game', Windsor Star – 8/12/23)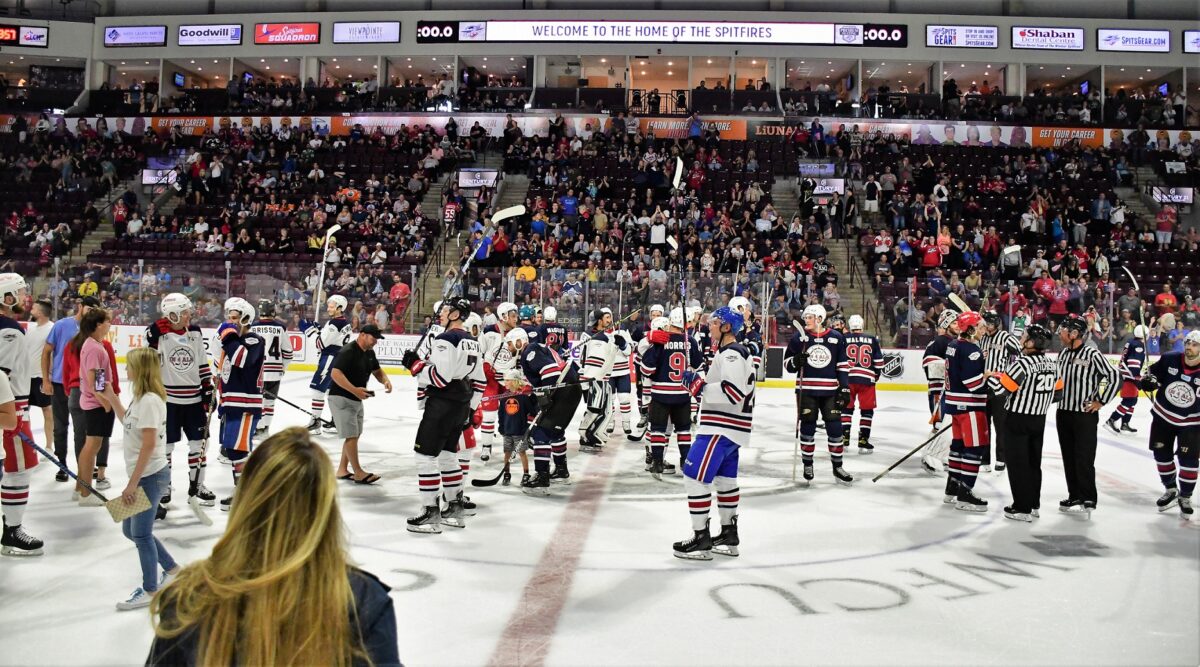 What's next for Jones? Despite his symptoms, he told CBC in February that until "my body says no," he will be on the ice and traveling with the Senators. After the game, Senators captain Brady Tkachuk said they wanted to show how much he meant to the organization.
"He's definitely meant a lot to our group," he said. "We wanted to show support to him and represent our team and organization and give back to Jonesy for everything he's done."
The hockey community is a family, and when one of their own is in need, it's a call to action. The support Jones received, not only from the players and coaches, but the thousands of Windsorites that came out on this hot August afternoon shows how incredible the impact was. Jones touched many lives, and this was a giant "we're here for you." Thank you, "Jonesy" for everything you've done.