Back in April, THW published a two-part series (East and West) outlining some positive predictions regarding non-playoff teams. The idea was to give fans of those teams a reason to look forward to the future, with the promise that the predictions themselves would be re-evaluated near the beginning of the regular season.
That time has now come. The preseason is well underway, and we have a pretty good idea what we can expect from most of the teams in the NHL, at least personnel-wise. We will break down each one of my predictions as they were originally made and render a final decision on whether they will hold up in 2017-18.
This will be a four-part series, with each edition focusing on one NHL division. First up: the Atlantic Division.
Tampa Bay Lightning
"Steven Stamkos will play a full season."
Steven Stamkos returned to action Friday night in a preseason game against the Nasvhille Predators. Whether the game counted for anything or not, the sight of Stamkos back in action was one for sore eyes. The Lightning captain recorded two first-period assists, and by all accounts, he felt and looked great.
Stamkos also recorded just over 19 minutes of ice time in the exhibition contest, which is a pretty good indication of where he is physically. One might think that the coaching staff would ease him back into game shape considering he hasn't played since last November, so the fact that he was on the ice for nearly a full period is encouraging.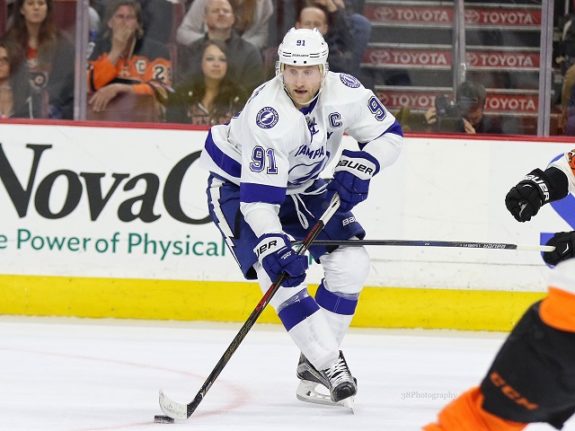 Of course, one preseason game doesn't provide us with enough evidence to make guesses about his health over the next seven months, but all signs point to Stamkos being fully ready for the start of the NHL season. And if that's the case, the East is already significantly more competitive in 2017-18 than it was when the Lightning captain went down last year.
In my original prediction, I mentioned an over-under of 74.5 games for Stamkos in 2017-18. Stamkos has played 82 games four times in his career, and if you remove the two seasons in which he suffered catastrophic injuries (2013-14, 2016-17), he has only missed eight regular-season games since he entered the league in 2008.
The top brass within the Lightning organization will be careful with Stamkos this season, so he may not reach the 82-game summit once again. But I am sticking to my guns here. Stamkos will play more than 75 games and the Lightning will be the top seed in the Atlantic Division in 2017-18.
Buffalo Sabres
"Jack Eichel will score 85 points."
Jack Eichel was nearly a point-per-game player in 2016-17 despite battling an ankle injury in the early part of the season that cost him 21 games. The easy thing for me to do here would be to rely on statistics, extrapolate them over an 82-game season, bank on more improvement in the third year of his career, and settle on the idea that I'll be correct in predicting 85 points for Eichel.
But there's no fun in that, and in the case of Eichel, there is so much more to the story than stats.
The poor play of Eichel's supporting cast has rendered him something of an afterthought among the NHL's elite young talents. His outstanding individual efforts have not yet been enough to compensate for the fact that the Buffalo Sabres simply haven't been a good hockey team in his first two seasons. Meanwhile, peers like Connor McDavid, Leon Draisaitl, Auston Matthews and David Pastrnak have all been able to combine individual success with playoff appearances, and they're all held in high regard as a result.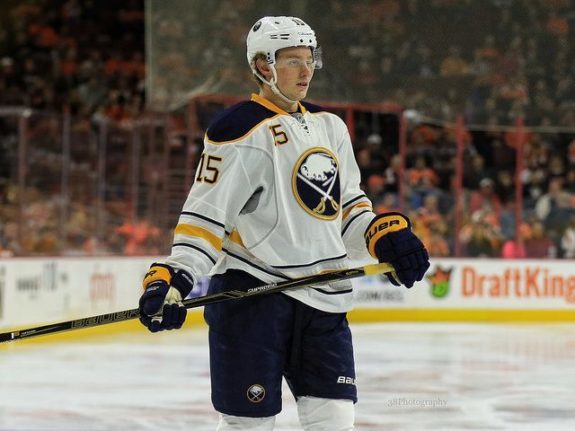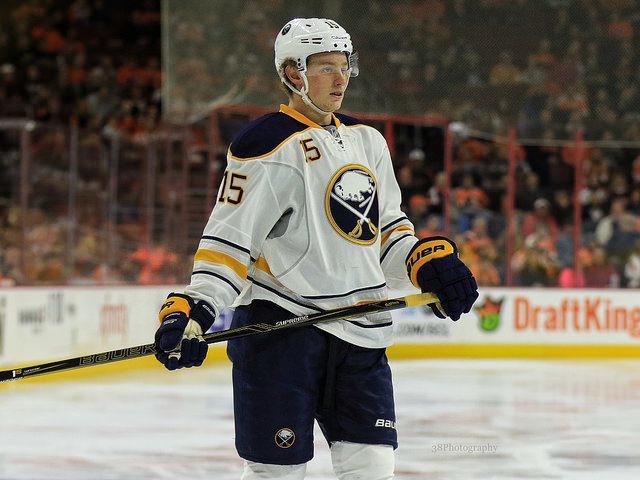 Also, as a result, Eichel finished the 2016-17 season as one of the most visibly upset players in the NHL. The great thing about his frustration, though, is that it seemed to be directed inward. He lamented his own performance as well as that of his team as a whole. If he's upset about posting 57 points in 61 games, believing somehow that's not good enough, the rest of the league had better watch out.
Eichel will enter 2017-18 with a lot to prove. The thing is, any sound-minded person in the hockey community already believes in him. That means the only person to whom he actually has anything to prove is himself, and that should absolutely not be taken lightly.
As for me, I'm all-in on an angry young superstar with an ax to grind. Eichel will eclipse the 85-point mark and then some, and the Sabres will finish fourth in the division. Whether or not that results in a wild-card berth is up to the Metropolitan Division.
Detroit Red Wings
"Dylan Larkin will have his breakout season."
The first question I ask myself as I reflect on this prediction is this: is it possible to have a "breakout season" on a team with a pretty good chance of finishing dead last in the conference? The answer, I suppose, lies in whether or not there is more than one way to break out.
Typically, a breakout season puts a player on the map. He becomes a relatively well-known name outside of his own fan base, and his opponents make him a focal point of their game plan. I'll be honest, I have a difficult time imagining anyone on this Red Wings team putting up the kind of numbers that will warrant national recognition among fans. But Larkin can become the guy other teams focus on when they play Detroit.
It all comes down to the team's acknowledgment of two things: they are not going to make the playoffs in 2017-18, and they need someone to replace the aging Henrik Zetterberg. Ideally, Detroit would like to know if they can accomplish the latter in-house before heading into next offseason, when Larkin will become a restricted free agent.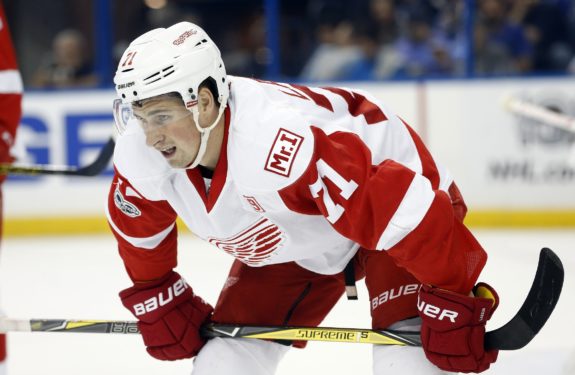 For this reason, Larkin should get a ton of opportunities in the high-leverage roles Zetterberg has filled for so long, even though he will not start the season as the team's top-line center. Moreover, the lack of a postseason pipe dream means the Red Wings can endure some growing pains along the way.
Not to be overlooked on this matter, however, is the aforementioned free-agent status awaiting Larkin. After totaling just 32 points in 80 games in 2016-17, the young American will need to bounce back in a big way this season if he wants any negotiating leverage next summer. Should he establish himself as a long-term option on Detroit's first line, the team would be wise to lock him down.
I'll leave it up to the individual reader to define "breakout season," and re-word my prediction as follows: Larkin will prove himself as the Red Wings' first-line center, he will score more than 60 points, and he will earn himself a lucrative long-term extension next summer.
Florida Panthers
"The Panthers will finish second in the Atlantic."
The only Atlantic Division team I believe to be a no-doubt playoff lock is Tampa Bay. The only Atlantic Division team I feel confident will not reach the postseason is Detroit. For the other six teams in the division, including the Panthers, 2017-18 is going to be one wild and crazy race.
Earlier this month, fellow THW teammate Peter Ferrell did an outstanding job discussing where the Panthers stand among their divisional counterparts. A common theme throughout his comparisons is Florida's youth. The results are mixed in regard to how that youth stacks up against the Panthers' rivals, but there is no denying that Florida's success hinges on whether or not their young players take a step forward in 2017-18.
Two players who fell into that category at the time I originally predicted a second-place finish for the Panthers were Reilly Smith and Jonathan Marchessault. Both are now members of the Vegas Golden Knights, and both (even with Smith's excessive $5 million cap hit) leave a bit of uncertainty in their wake.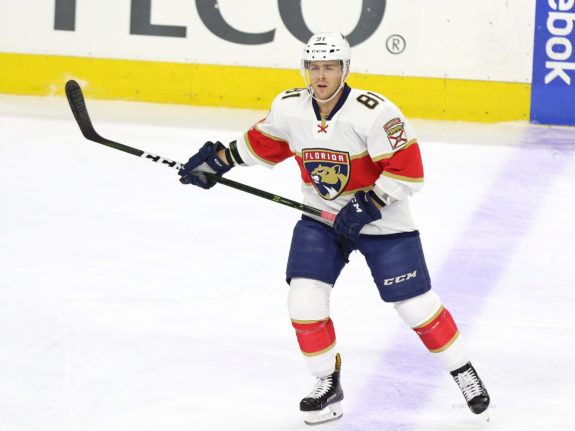 The remaining young core is comprised of Jonathan Huberdeau, Vincent Trocheck, Aleksander Barkov and Aaron Ekblad. Among them, only Trocheck played a full season last year, as the other three were held back by injuries. Above all else, the Panthers need all four of them to play all or most of the team's games in 2017-18. The Panthers simply don't have the depth to survive extended stretches without their key players, and it showed last year.
Had the Panthers been able to maneuver their way out of losing Marchessault in the expansion draft, I might have higher hopes for this core, and I might be inclined to stand fast on my prediction that they'll finish second in the division. But this roster had more notable subtractions than additions throughout the summer, and barring an explosive campaign out of someone like Trocheck or Huberdeau, the Panthers remain a middle-of-the-pack team for me. I'm stepping back from this prediction.
Stay tuned as we discuss the other three NHL divisions in the coming days. Next up will be the Metropolitan.