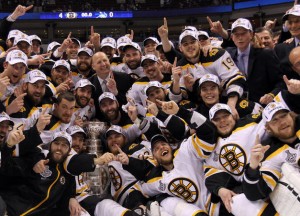 (Part 2 of a two-part series)
On Tuesday, we examined five events that saddened the hockey world. Today, we will look at the five best moments of 2011. Thankfully for hockey fans, there were far more things to smile about than there were that saddened us, so in addition to the Top 5, we will include a few honorable mentions.
5. Russia's comeback to win 2011 World Juniors: In front of a wildly pro-Canadian crowd in Buffalo, the Russians stormed back from a 3-0 deficit by scoring five third-period goals, stunning the Canadian players and fans. It will impressive to watch, as Russia built momentum with each shift in the third period.
4. The Eric Naughton story: Naughton was 40 when he beat Stage 2 Hodgkin's Lymphoma. After winning that battle, he set a new goal: to learn how to skate and play hockey. The Erie, Pa native filmed a documentary (entitled, "Life, Cancer and the Pursuit of Hockey" ) that followed him from his first days learning to skate to his ultimate goal – playing at the Pittsburgh Penguins Fantasy Camp this past October. The film is in its final stages and should be released in early 2012.
3. NHL's return to Winnipeg: The NHL did the right thing by returning a team this central Canadian city. The fans have showed why the NHL probably should have never left, as they have sold out the new arena for years to come. The Jets have been competitive in their first season back, and players (both Jets' players and visiting players) have raved about the atmosphere in Winnipeg.
2. HBO's 24/7 series: I know the series started in 2010 with Capitals-Penguins, but it has continued its great first season with a superb second season with Flyers-Rangers. The human side is incredible, but so is the on-ice video work and the inside look on the bench, in the locker room, at practice, and while traveling. It is must-watch TV – even for a non hockey fan.
1. Boston Bruins win Stanley Cup: You may think because I live in Massachusetts, I might be slightly biased, and I am, but not as much as you may think. Even as a Red Wings fan (since 1983), it was hard not to enjoy and admire the way the Bruins won: with tough, gritty, two-way hockey. Not to mention all the drama of three Game 7 wins and the heart they showed throughout the playoffs. Plus, Tim Thomas is one of the nicest guys on the planet!
Honorable mentions: Winter Classic 2011; Finland winning 2011 IIHF men's world championship; Tim Thomas winning second Vezina; Tampa Bay's playoff run; Jonathan Quick's amazing 2010-11 season; Nicklas Lidstrom and Teemu Selanne still going strong at 41; Minnesota-Duluth knocking off Michigan in OT to win NCAA hockey title; US women beating Canada in OT to win 2011 IIHF women's world championship; NHL realignment, the strong play of Ryan Nugent-Hopkins.
(Steve Kendall has covered hockey at all levels for nearly 20 years. He has worked for such publications as the Boston Herald, New England Hockey Journal, Worcester Telegram & Gazette and The Hockey Writers. You can find Steve on Facebook, follow him on Twitter @skendallhockey or email him at stevekendall17@comcast.net).
Steve has been a writer for 20 years, and has covered the NHL, NCAA, and amateur hockey for the likes of the Worcester Telegram & Gazette, the Boston Herald, and New England Hockey Journal. Follow me on twitter @stevekendallthw