If there was any doubt that the Maple Leafs were in the midst of a long-term, burn it down rebuild, those doubts were squashed with the Dion Phaneuf trade. They have a load of one-year deals remaining on the roster and the fire sale is imminent. Teams vying for a playoff spot or looking for another piece to help them contend for a Stanley Cup will have their eyes on Toronto for the next two weeks.
The Dallas Stars are a team in which almost everyone agrees they can contend but they don't say it with a ton of confidence. They can be a little volatile at times and could probably use a piece or two to solidify their contention.
The Maple Leafs will be shedding players in the coming weeks and potentially taking on contracts as well. How can Dallas take advantage of it?
Stars Could Add Depth
There are a few depth options on Toronto that could be of some interest to general manager Jim Nill and the Stars. We'll start with the most obvious needs on the team and that is some depth on the right side of the blue-line. Jason Demers and John Klingberg are the only two regular defensemen that naturally play on the right side. Demers has missed a few games this season and Dallas has given up a ton of goals when he's out of the lineup. They have a load of lefties up and around the NHL, it couldn't hurt to add a physical right-handed defenseman to the mix for a playoff run.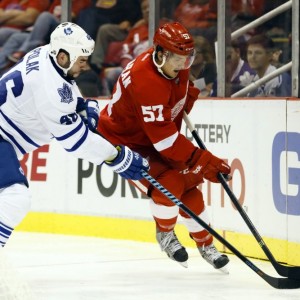 Enter Roman Polak.
Polak is currently in the final year of his deal that comes with a cap hit of $2.75M. He plays the right side and while his possession numbers haven't been all that great (49.6 Corsi-for-% at even strength this season), his physicality could be appealing to the Dallas Stars. His 163 hits at even strength is almost double any other Leafs' defenseman. That would also be good for first on the Stars right now with Jordie Benn coming in second with just 70 hits on the season. The Stars would benefit from some of that roughness down the lineup in the playoffs.
Another struggling area for the Stars this season has been their penalty kill and players like Michael Grabner and Nick Spaling would be intriguing options for Dallas. Grabner's speed would fit right in with a Stars team that loves to rush up and down the ice and his penalty killing could give a guy like Jamie Benn some much-needed rest. Once again, both players are on expiring deals and shouldn't be overly expensive options to pursue.
Maybe even a depth-scorer like Brad Boyes would intrigue Dallas. They don't get a ton of scoring from the bottom-six and could potentially use a back up option should some of their top players get shut down.
Stars Could Shed Salary, Too
As evident by the Phaneuf trade, the Maple Leafs look willing to take on some salary for this season and next season as well, as long as they get something good out of it. They are in the middle of a long-term rebuild and will need some players to actually play for the Leafs this season and next.
With the salary cap potentially even going down next season, the Stars will be right up against it with some key players to sign. Dallas would love to bring back Alex Goligoski and Jason Demers but both will be due for solid raises headed into unrestricted free agency. They are going to need some flexibility.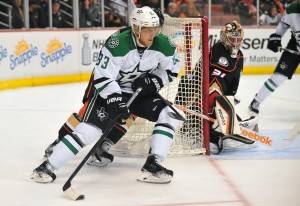 There's Ales Hemsky, a guy making $4M per season against the cap signed through the 2016-17 season. Not a terribly expensive deal and while he's hasn't lived up to some expectations, he could be an entertaining player on the Leafs roster. He's a guy that could really use a full-time top-six role and Toronto may be able to give him that.
Would the Leafs consider taking on Hemsky if Dallas throws in a pick or two? Toronto has shown they will so far this season if the price is right and they get some benefits out of the deal.
The Maple Leafs rebuild will likely benefit several contenders at the trade deadline. Will Dallas be one of them?