When Tampa Bay Lightning general manager Steve Yzerman announced defenseman Dan Girardi's two-year, $6 million deal on July 1, some people questioned the deal.
The Lightning were just more than a couple of weeks removed from trading Jonathan Drouin to the Montreal Canadiens for one of the top blue line prospects in the game, Mikhail Sergachev. They'd re-signed Andrej Sustr to a one-year deal days before free agency began. And after engineering a deal with the Las Vegas Golden Knights at the expansion draft to hold onto Slater Koekkoek and Jake Dotchin, they both appeared primed to ink extension with the Lightning too.
With Victor Hedman, Anton Stralman and Braydon Coburn on the back-end, acquiring Girardi gave the Lightning eight options at the position heading into the 2017-18 season.
But despite the sudden abundance of talent on the blue line, there are compelling reasons for bringing the 33-year-old Girardi to Tampa Bay.
Playing Style
Girardi is a good fit for the Lightning because his playing style immediately helps improve weak areas for the club.
Some have harkened that he's lost a step at this stage in his career but regardless of what others may make of that, he plays a smart game that will add to what the Lightning are missing.
"I can't say what I want to say," Girardi said to some good-hearted laughter from the media on July 17 when asked about what would say to those that believe he has slowed down on the ice. "I think I play a smart game on the ice. I'm not always the fastest but I'm going to block shots. I'm going to eat hits, I'm going to give hits. I'm going to do everything I can to help the team win. That's the type person I am.
"I really don't care what anyone else says around the rink except for I know the GM, coaches want me here and the players want me here — that's all that matters to me. I might have to win a few people over but, you know, I'm just hoping to prove myself to everybody and just have a good time here."
Girardi blocks shots in bunches, and in today's NHL, this matters a lot.
In the 2017-18 season where he was limited to just 63 games with injury, he managed to block 166 shots. Girardi has averaged just over 184 blocked shots each season, playing in an average of 79 games, from 2013-14 through 2015-16.
The Lightning struggled with this at times last season — especially without an injured Ryan Callahan and with the trade of Brian Boyle at the NHL's trade deadline.
Hedman paced the club with 132 blocks in 79 games, while Sustr was second with 102 in 80 contests. Rounding out the top five in this category were Stralman (96), Jason Garrison (91) and Coburn (76). Ondrej Palat, who was limited to 75 games, lead all forwards with 66 blocks.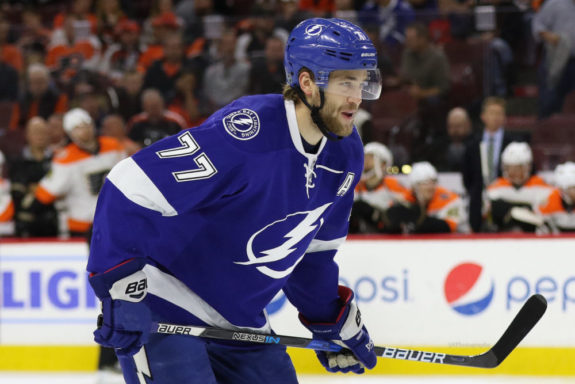 Remember when the Lightning blocked just six shots as a team during a crucial 5-3 loss at home to the Arizona Coyotes on March 21 during their push for the playoffs? Over the course of last season, Giradi was blocking more than two and a half shots (2.63) each game. It's this sort of effort that helps turn zero and one point efforts into wins.
Besides blocking shots, Girardi also plays the body — something the Lightning have also lacked at times from the back-end and the sort of thing that's a must to take the next step. He logged 107 hits in his injury-shortened 2016-17 season but averaged just over 194 the previous three years.
On the blue line last season, the Lightning were led by Coburn with 109 hits in 80 games. Stralman (106), Hedman and Garrison (93) and Dotchin (85) rounded out the top five. Sustr had just 45 hits in 80 games.
Over the course of a full season, Girardi is more than capable of leading the Lightning in both hits and blocks — something that bodes well for the defensive side of their game and can help ignite his teammates.
Character On and Off The Ice
Besides a unique playing style, Girardi brings a tremendous amount of character to the Lightning in the locker room and off the ice. This is a trait owner Jeff Vinik, Yzerman and head coach Jon Cooper are looking for when they are adding pieces to the puzzle. It also bodes well for providing leadership to the younger forwards and defensemen on the team.
Girardi is from Welland, Ontario, and has kept his small-town roots despite playing 11 seasons with the New York Rangers in the Big Apple. After playing well with the Barrie Colts and Guelph Storm during his first three seasons in the Ontario Hockey League, he went undrafted in the 2003 NHL Entry Draft. He played two more years in the OHL before capturing the 2005 Memorial Cup with the London Knights.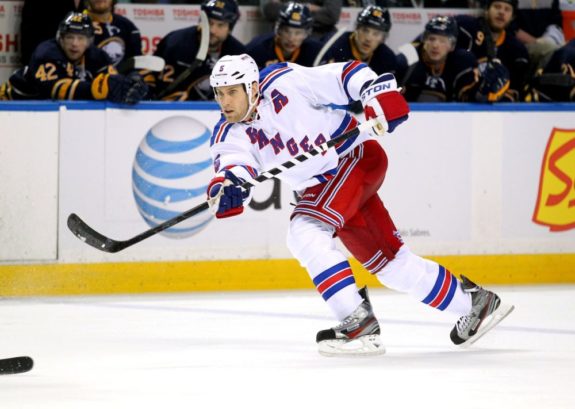 When he began playing professionally, he didn't make an immediate jump to the Rangers. He played two seasons for the Hartford Wolf Pack in the American Hockey League, including seven games in the ECHL. Cooper is a coach that has an appreciation for guys who take the path less traveled. (Undrafted forwards Tyler Johnson and Yanni Gourde are good examples of this.)
After making his debut with the Rangers during the 2006-07 season, he would soon establish himself as a major piece of their blue line. He was also a vocal leader — something he expects to bring to the Lightning right away.
"I think it's something that I need to just jump in right away. I can't be kind of sitting back and waiting and see," Girardi said during his introduction to the media in Tampa. "I think, you know, they want me to come in and be a leader. Obviously not be shy around the guys. I like to mix it up a little bit with the guys so that's kind of hopefully what I can do. Maybe provide a little spark in there. I'm just going to be myself. I'm not going to change anything. I'm just going to lead with my play on the ice and go from there."
Girardi is also a guy primed to represent the Lightning well in the community — something Vinik has worked hard to do since he purchased the team in 2010 and relocated to the area shortly after. During his first interview with the media after the trade, Girardi called himself a "family man" and shared a personal story about how his young son was excited to meet captain Steven Stamkos and get his autograph when he learned about the new contract his father had signed.
Playoff Experience
Girardi also bring a lot of postseason experience and established friendships with players in the Lightning locker room.
He's played in 122 playoff games and was a member of the Rangers team that went to the 2014 Stanley Cup Final — a roster that included Stralman.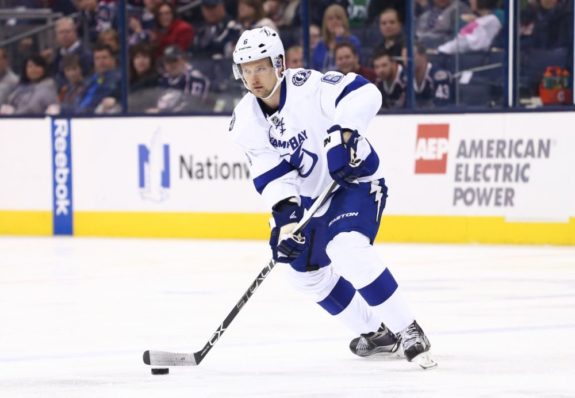 He's also friends with former Rangers captain and current Lightning forward Ryan Callahan. The two grew into NHL players with the Rangers and also were teammates on the Storm in the OHL. Callahan, who also helped bring Stralman and Brian Boyle to the Lightning in the 2014 offseason, spoke to Girardi before he opted to sign with the Lightning.
"We had a couple talks. Obviously he was selling hard, and obviously I bought it at the end," Girardi said with a smile, as he spoke about Callahan's pitch. "I think I knew kind of where I wanted to be and this was one of the places for sure and everyone's called me — the coaches, the GM and I just feel really welcomed here and that really meant a lot to me to be able to come to a place where they want me to come play, they want me to help out. I can't say enough about what they've done for me so far."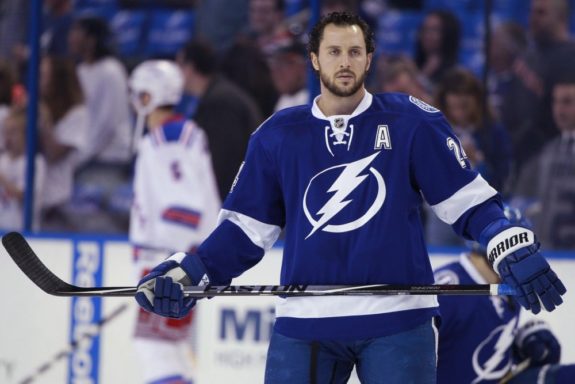 Dan Girardi Fits With Lightning
Girardi is a fit for the Lightning because he brings a unique combination of playing style, unquestionable character and valuable playoff experience.
He is also ready to prove that he's still got what it takes to play at a high level in the NHL, despite being bought out of the last three years of a contract set to pay him $5.5 million annually. That decision came after he missed 19 games in 2016-17 to injury despite only missing 13 games the previous 10 years total. The move came as the Rangers looked to free up money to re-sign other free agents and stay competitive within the confines of the salary cap — not necessarily because they thought his career was over at age 33.
When Girardi was asked about bouncing back from injury and the buyout, he gave a confident response.
"I feel 100 percent, great. I feel hungrier than I've ever been in a year. I feel like maybe you've been in one place so long you kind of get on cruise control and that might not be good for your career," he said.

"I think what happened to me is really going to jump start it. I have been working out at the gym really hard and Im going to start skating here very shortly. This is the most excited I have been for a year in a long time."
His current contract takes him to age 35 and he's undoubtedly on the back nine of his NHL career, while still chasing his first Stanley Cup — which helped play into his decision to sign with the Lightning.
"That's why I wanted to come here and help this team win. Obviously this team has been close two out of the last three years … that's obviously the ultimate goal but first you have to get that check mark beside your name for the playoffs and then anything can happen from there."
When you take a closer look at what Girardi brings to the Lightning and what they have been missing the last few seasons without him, it becomes clear why Yzerman was willing to add him to the blue line for the next two years.