The Pittsburgh Penguins locked up their last remaining restricted free agent, wing Conor Sheary, on Sunday. Pittsburgh and Sheary agreed to a three-year, $9-million deal, giving him an annual cap hit of $3 million.
With this signing, the Penguins will bring back 12 guys that played in both of the last two Stanley Cup Finals, and of course, that doesn't include superstar defenseman Kris Letang or budding superstar forward Jake Guentzel. The structure of Pittsburgh's current roster appears poised to seriously challenge for a three-peat.
But that doesn't mean Penguins general manager Jim Rutherford still doesn't have items to address this summer. Here are three remaining questions for Pittsburgh as we enter August:
Will Matt Cullen Return to Pittsburgh?
The 40-year-old remains the only unsigned player from the Penguins 2016-17 roster. While it might seem unusual that Cullen still hasn't made a decision whether or not he's returning for next season, it's not the least bit curious. Last year, Cullen didn't officially make up his mind and re-sign until Aug. 17.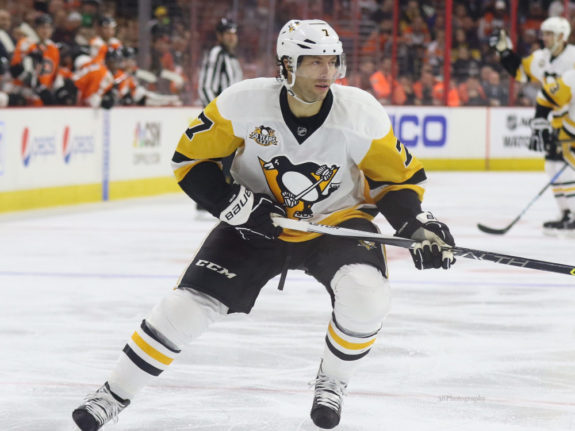 Pittsburgh possesses $3.28 million in salary cap space and with everyone else already signed and no obvious free agent signings on the horizon for Rutherford, Cullen can take all the time he needs. Last year, he signed a one-year, $1 million deal, and the 40-year-old will likely receive the same should he return.
Cullen tallied 13 goals and 31 points in 72 games last season and then added two goals with nine points in 25 playoff games. In 154 regular-season games, Cullen has 29 goals and 63 points with Pittsburgh.
Who Becomes the Third-Line Center for Penguins?
The biggest hole remaining on the champions' roster is at third-line center. Rutherford could fill it in multiple ways.
First, Pittsburgh could ask Cullen to take on a bigger role. He averaged 0.78 goals and 1.86 points per 60 minutes last season. Departed third-line center Nick Bonino posted 0.81 goals and 1.67 points per 60 minutes. An argument can be made that Cullen has been the superior offensive player the last two seasons, and that he should have the first crack at the third-line center spot.
The numbers sound good on paper, but asking a 40-year-old to take on more minutes is probably not a good idea. DkPittsburghSports reported Cullen was actually pleased he had to miss a few weeks around the all-star break because he needed to rest his legs. He might not be able to take much more playing time.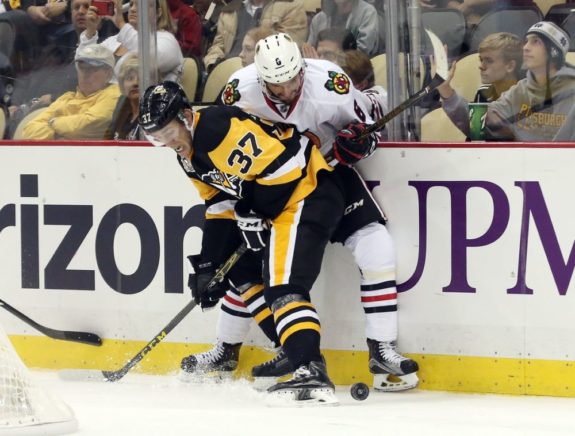 Pittsburgh has a few other internal options for third-line center. Carter Rowney played some center in the spring and could potentially play more. Scott Wilson and Guentzel played center at the AHL level, but they were moved to wing upon their NHL debuts. Neither are ideal for multiple reasons but could receive a look.
More than likely, though, Rutherford is going to make a trade. There were reports he was in heated trade talks in July, but nothing came to fruition. Matt Duchene, Jordan Staal, Tyler Bozak and potentially others have been rumored to be on his wish list.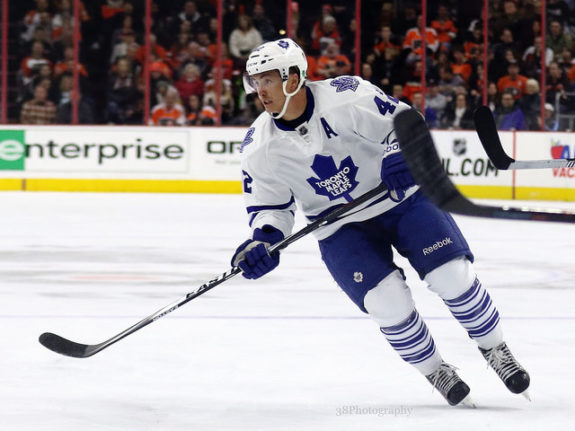 The problem with all of those centers, though, is – whether or not they re-sign Cullen – they would push the Penguins over the salary cap. That leads us to our final question.
Which Penguins Players are Expendable?
If Pittsburgh wants to make a "splash," then Rutherford will have to give up a player, who owns a significant cap hit, on his current roster.
The most obvious choice is probably Carl Hagelin. He is signed for two more years at $4 million per season, and Pittsburgh would probably prefer to get that contract off the books heading into next summer. Would any team, though, want to take on Hagelin's full deal?
Per @CapFriendly, Penguins down to $3.28 million in cap space. Figure some buffer, Cullen $$$ … ain't much left for a third-line center.

— Jason Mackey (@JMackeyPG) July 30, 2017
Defenseman Olli Maatta is another candidate. Colorado wants young players, so they probably wouldn't trade for Hagelin. But Maatta would immediately become part of their rebuild. He carries a $4.083-million cap hit.
Maatta definitely has more trade value than Hagelin, but it would also create a hole on defense. In an ideal world, the Penguins would trade a wing for a third-line center.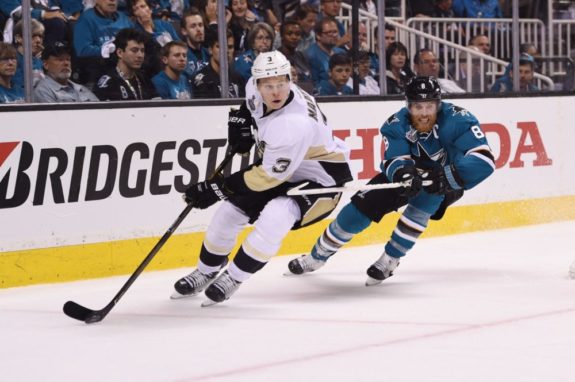 But the only Pittsburgh wings that make more than $1 million other than Hagelin are Sheary, Phil Kessel, Patric Hornqvist, and Ryan Reaves. It doesn't seem likely Pittsburgh would sign and trade Sheary and Reaves, respectively, only to use them to acquire a center. And contrary to what others might say, Kessel and Hornqvist are too important to the three-peat bid to trade away.
There's no obvious answer to this final question. That means Rutherford is going to have to get creative to find a solution to our second question.
Dave Holcomb is excited to join The Hockey Writers team, covering the Pittsburgh Penguins. Holcomb began his NHL work as a fantasy columnist at The Sports Network. In 2015, Holcomb joined the fantasy NHL team at FanRag Sports, where he eventually worked into a beat writer position, covering both the New York Islanders and Pittsburgh Penguins. He continues to cover the Metropolitan division, along with the NFL and Syracuse basketball, for FanRag Sports. To find more of his work, follow Holcomb on Twitter at @dmholcomb.