We're nearly through the first month of the National Hockey League and fantasy hockey seasons, but the thankless job of the league commissioner is a never-ending one. There's trying to approve trades, settling disputes and maintaining the smooth running of the league.
Leagues are usually between buddies or friends of friends, and someone has to be the enforcer of the rules. You don't want your buddies at each other's throats for something that's just a game at the end of the day.
It can be a frustrating experience if things get out of hand, but it can be a lot of fun when things go right. Fantasy leagues are a chance to keep up with your favorite teams and players. You can earn bragging rights over your buddies and even earn some cash in money leagues.
I've been the head of leagues in a few different sports, so I have some experience. This handy guide will hopefully give you some basics on how to be an effective fantasy hockey league commissioner.
Communication is Key
The main building block of any good league is communication. You want to make sure you lay out the rules as quickly as possible. How many and what positions are available? What's the scoring system? Is it a head-to-head or roto league? These are things that should be sorted out very early in the setup process of the league. Many of the top sites like Yahoo, ESPN, CBSSports.com and others have tons of options that you can tweak to have the scoring categories you want counted. (I've played in leagues where penalty minutes and faceoff wins were counted.)
The communication process is a constant one and a commissioner always should be keeping the other owners up-to-date. The commissioner's note tool on some sites like Yahoo have been a wonderful invention because it's always the main notice on the league's front page. I've posted on both the regular message board and on the note tool, and the posts on the message board can sometimes get lost in the shuffle.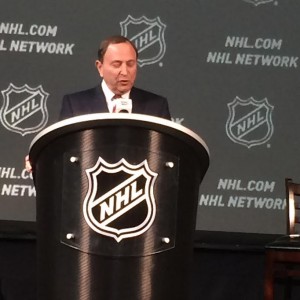 You always want to sometimes check in on some of the owners that have been a little slow at setting lineups. They may just be busy, but there are other owners that just want a level playing field. One of the biggest complaints is playing against teams that don't bother filling out their lineups.
Be Prompt
League members rarely have the same work and life schedules, so things like waiver claims and trades happen at all hours. The key is to respond to these trades at the earliest convenience. Fantasy hockey is a daily game, so owners want transactions done in an expedient fashion.
You don't have to be tethered to your phone or computer. A lot of email apps on your phone can instantly alert you to when a trade goes down, and you can push through the trade in a short amount of time. The fantasy sports apps have also gotten better, so that makes a commish's job a heck of a lot easier. Thank goodness we're not in the old days where leagues had to be done over the phone or via email. (Yes, those leagues actually existed a long time ago.)
Be Firm, But Fair
Most leagues I've been in have been fairly cordial and respectful. However, there are times when things can get a little heated. Whether it's over a trade or some trash talk that got out of hand, a league head will have to sometimes make a ruling.
A commish will want to listen to both sides of the argument and make a ruling that will be equitable and the most palpable for both sides. There are also online resources like Sports Judge and others that settle online fantasy sports disputes for a small fee if you need some professional expertise. If you don't want to shell out the money, you can always search message boards for help.
Take Care of Money Quickly
One of the biggest pet peeves, which I'll get to next week, is people being late with payments. I've only played a couple of leagues for cash, and never been in a league where I handled the funds. However, I've always made sure that my dues were handed out on time.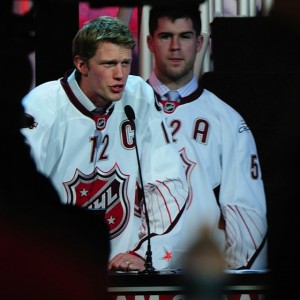 I've heard the complaints of many fantasy hockey commissioners trying to chase down someone who "is just a little short" or wants you to "give him a couple of weeks." Stuff does happen, but you want to make sure the people in the winners get the money they earned. There are due-collecting websites like LeagueSafe that are secure and can pay out winnings without even having to handle the money. You can even use PayPal if everyone has an account that you can transfer money into.
A person handling the money will also want to pay out promptly as well. It makes the owners happy when the turnaround time is fairly quick. Happy owners make for a happy league.
Have Fun
The biggest thing of all when playing fantasy hockey is to have fun. It's a game at the end of the day, so treat it as such. Lots of leagues throw a good draft party at a person's house or local establishment. (Just be careful if you have it at home or you might end up in the scene like the movie Knocked Up where Leslie Mann's character busted in on Paul Rudd's auction baseball draft when she thought he was having an affair.)
Also there are leagues that have themes like a Seinfeld and The Simpsons themes to them. I've also done things like rivalry week or winner picks the loser's name and/or avatar.
Being a fantasy hockey commissioner is sometimes an unpopular job that's time-consuming, but it can be rewarding and fun.
Dan Mount is a Nashville Predators staff writer for The Hockey Writers. You can follow him on Twitter, @DanMountSports. He can be reached via email at drm7191980@yahoo.com.