The Oilers suck.
They have no goalie, they have no defense. They do have a ton of prospects and a young team that will eventually find its way, but for now, they suck.
In response to their terrible record, the team floated a story saying that David Perron is available in trade. This is dumb because David Perron is one of their grittier players and he isn't going to get them a franchise defenseman or centre.
So, they should scrap that idea. The way to fix the Oilers is not to trade David Perron. It's to do this:
Fire everyone from Lowe on down.
Kevin Lowe has been a player, a coach, a GM and is now the President of the Oilers. Craig McTavish has been a player, coach and now GM of the Oilers. The rumour was that if the Oilers fired inexperienced head coach Dallas Eakins, they would replace him with former player Mark Messier, which borders upon being the dumbest thing I've ever heard.
The pattern is quite obvious: the Oilers are in love with the past. The Oilers have let their team be run by ex-Oilers players for too long. In what world does being a good hockey player automatically makes you a good manager? I don't know, but it sure as hell ain't this one.
So, the first move the Oilers must make is to clean house from Lowe on down and remove every single person from the organization who used to play for it. Whoever they hire, as long as it isn't an ex-Oiler, will be an improvement.
What follows now is a fantasy involving them hiring me as their new GM. Or maybe it's my job application. Either way, here's what I'd do: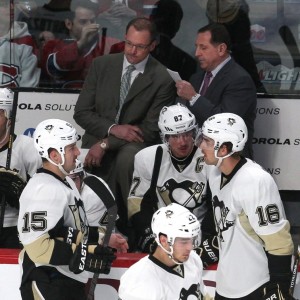 #1. Hire Dan Bylsma 
When I watched HBO's 24/7 I came away impressed with Dan Bylsma. I believe he is young enough to adapt and learn from his  mistakes in Pittsburgh, and what I really like about him is his charisma – he seems like the kind of guy that players want to play for and listen to.
#2. Tank one last time. 
The season is a quarter over. The team is in last place and the FRANCHISE player of the decade is available next summer. Don't screw it up. In order to ensure this, the team must move out Purcell, Arcobello, Gorden, Hendricks, Nikitin, Shultz and basically anyone who is useful, has a tradeable contract and who might accidentally help you win games the rest of the way.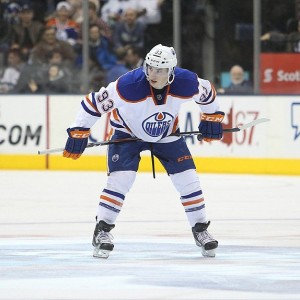 #3 Trade Ryan Nugent Hopkins to Toronto 
The Leafs are in desperate need of a centre, the Oilers won't need RNH anymore because they have Draisaitl and are positioning themselves to acquire McDavid or Eichel.  The great thing about this plan is that it's fool-proof. The team is virtually guaranteed a top five pick, which at worst gets you Dylan Strome. If they do finish last, but lose the lottery, they can always trade down and select  Strome, or Pavel Zacha, either way, the 2015 draft is potentially loaded with potential front line centres.
In exchange for RNH, the Oilers could extract Morgan Rielly (giving them a potential franchise defenseman) and Tyler Bozak who could fill in the rest of this year and then slot in nicely on the third line going forward.
#4 Trade Eberle to Anaheim
The Oilers need a goalie, the Ducks could use Eberle to pair with Kesler to make a pretty dynamic second line.  This just fits. John Gibson is currently considered by many to be the best non-starting goalie in the world. The Ducks have Anderson and he is nearly as young as Gibson, so eventually they will have to move one of them anyways.
The last move of the re-rebuilding Oilers is to: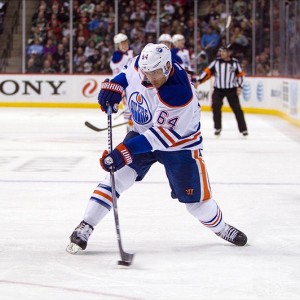 #5 Trade Yakupov for a defenseman
As I've said before in this column, I believe in Tyler Myers. The guy is 6'8 and 24 years old. He's the perfect guy for the Oilers – he's available, he has #1 potential, and he is massive. One I had him, I would make him watch tape after tape of Chara's greatest hits.
My final Oilers roster would eventually look like this:
Forwards: 
Hall- McDavid – ____
Perron – Draisaitl – ____
Pouliot – Bozak – ____
Obviously at a later date we'd have to explore getting some right wingers and a fourth line (and see who's left over after the sell-off we'd do to ensure the tank). Not important. What is important is that you have the makings of two of the eventual best lines in hockey, despite selling off three star forwards in exchange for defense and goaltending.
Defense:
Rielly – Myers
Nurse –  Marincin
Klefbom – Fayne
Goalie
John Gibson
I think that's a defense that can win in the NHL. It does a little hope that all the players hit their potential, but I think potential is extremely high and worth the risk.
This iteration of the Oilers would require trading 2 former #1 overall picks and Jordan Eberle, so it's pretty risky, but I think the trades are fairly realistic. The Ducks probably would take Eberle for Gibson – it's a trade that makes perfect sense. The Leafs would be loathe to trade Rielly, but really, they're so desperate for a top-flight centre and they have Franson, Gardiner and Percy who leave them in fairly good shape going forward at that position anyway.  Finally, how can Buffalo not get excited at the prospect of adding Yakupov to a group that already includes Girgensons, Grigorenko and Reinhart.
In the end, the team couldn't possibly be worse than it is now. I think it's clear that the combination of Hall/Eberle/Yakupov/RNH – while individually talented – cannot remain together with the hopes that eventually they'll just somehow become great. The team needs to make some proactive moves.
If you're reading this Darryl Katz, I know it might sound crazy to hire me, but you know who else never played, coached or managed in the NHL before starting his Hall of Fame career? Lou Lamoriello.
Think about it.
Covering the Leafs for the Hockey Writers.