The Carolina Hurricanes have shored up their goaltending platoon by signing unrestricted free agent Antti Raanta to a two-year deal worth $4 million. His contract carries an annual average value of $2 million. The Hurricanes have invested $13 million in their goalies after signing Frederick Andersen to a contract ($9 million) earlier in the day. 
Raanta comes back to the East Coast after spending the last four seasons with the Arizona Coyotes. The native of Rauma, Finland, played in 104 games as a starter and backup, earning a 46-42-11 record in the process. He had a goals-against average (GAA) of 2.57 and a save percentage of .921. 
Have Pads, Will Travel
Raanta's recent signing with the Hurricanes will be his fourth NHL team in eight seasons. He broke into the league with the Chicago Blackhawks, where he suited up for 39 games with a record of 20-9-5. His GAA was 2.41 with a .912 save percentage. 
Related: 2021 NHL Free Agent Signing Tracker
In July 2015, Raanta found himself on the move for the first time when the Blackhawks sent him to the New York Rangers in exchange for Ryan Haggerty. While a member of the Rangers, Raanta served as Henrik Lundqvist's backup, seeing action in 55 games over two seasons. His record on Broadway was 27-14-4 with a 2.25 GAA and .921 save percentage.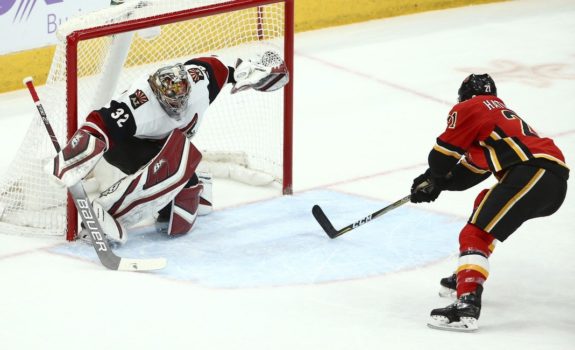 The Rangers made a deal with the Coyotes in June 2017, sending Raanta and Derek Stepan west in exchange for a first-round pick in the 2017 Entry Draft and Tony DeAngelo. Raanta used this opportunity to showcase his skills and prove he was a reliable choice between the pipes. 
In 2017-18, he played in a career-high 47 games with a 21-17-6 record, a 2.24 GAA and a .930 save percentage. The Coyotes then brought in Darcy Kuemper as their starter, relegating Raanta to backup duties again. 
A Chance to Shine in a New Market
The Hurricanes deployed three goalies during the 2020-21 season. Alex Nedeljkovic played in 23 games, James Reimer played in 22 games, and Petr Mrazek played in 12 games. The playoff assignments went to Nedeljkovic and Mrazek as Carolina fell to the Tampa Bay Lightning in the second round of the Stanley Cup playoffs.  
Related: NHL Teams Realize Backup Goaltender Is Important Position
As soon as the season ended, the Hurricanes traded Nedeljkovic to the Detroit Red Wings, with Mrazek and Reimer leaving in free agency. These vacancies allowed the team to restructure their netminders. Their first move was signing Andersen to a two-year deal and then signing his partner Raanta. 
Many experts wondered if Andersen got overworked in his tenure with the Toronto Maple Leafs. He shouldn't have that issue with Raanta backing him up. As a reliable 1B option, Raanta should split the duties, which will allow both to be fresh for a deep playoff run. 
Ryan Gagne is one of the newest members of The Hockey Writers, covering the New York Islanders. He grew up in a small town in northern New Hampshire, where he idolized the Boston Bruins. Before moving to Canada in 2008, he was the equipment manager for his high school varsity hockey team and a sports journalist for the local newspapers. Ryan has been active in the hockey community, whether coaching, officiating, instructing, or playing. He is the ultimate rink rat with 19 years of experience making ice and driving the Zamboni. An avid fantasy sports player, Ryan created a blog, Keeping the Stats, where he dissects his teams and brags about his 2020 fantasy football championship. Outside of hockey, his life revolves around the New York Yankees, much to his wife's chagrin.