Despite Blue Jackets' General Manager Jarmo Kekalainen's boisterous optimism with the club's current defensive line-up, make no mistake: Columbus' defensive blue line will need to be revamped to make a playoff run. Columbus ranked 26th out of 30 teams in team defense last season. An even more disconcerting trend was the rate at which the Jackets were out-possessed by the opposition. Despite management's worn-out excuse of injuries, Ryan Murray was the only defenseman, who began the season on the roster, to miss more than 15 games. One would have to think, especially being a lottery team, that management is obligated to make significant changes to the blue line.
The Columbus Dispatch's Aaron Portzline has reported talks between the Blue Jackets and free agent defenseman Christian Ehrhoff have been ongoing. While Ehrhoff is a solid player and would be a big contributor on the power play, if he recovers some of his form from his days with the Vancouver Canucks. Especially if the Jackets are able to sign him cheaply, he would at least solve some of their depth issues. However, it would be wrong to think of Ehrhoff as the solution to the team's inconsistent defensive play under Todd Richards. Ehrhoff is on the wrong side of 30, and has only played more than 66 regular season games once in the past four seasons. During his last season in Buffalo, he was -27, and although he was much better in Pittsburgh, his track record does not exactly inspire confidence among Columbus' fanbase, who have seen shaky play at the back in recent years.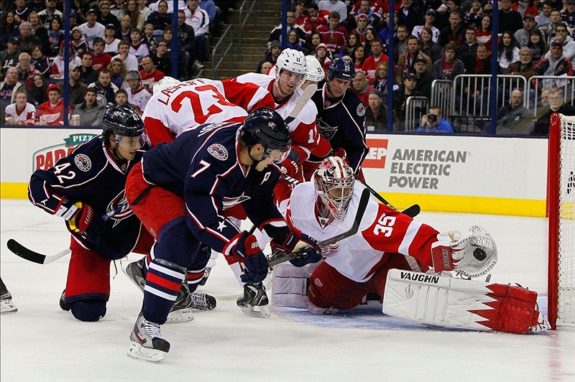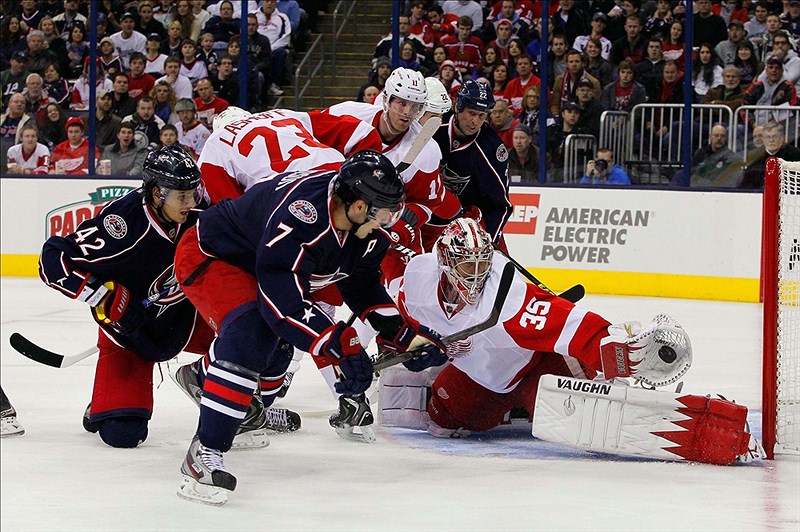 Columbus had two big winning streaks last season, which was enough to get them above the .500 mark. Without their seven-game winning streak in December and 15-1-1 stretch in the spring (when they were already out of the playoff hunt), the Jackets basically possessed a similar winning percentage to that of Buffalo or Arizona. In order to save face with their lack of offseason moves on the defensive side, management could also sell the belief that some of the team's more important forwards being out had severely impacted their ability to defend. However, even when the team was close to being completely healthy, they were still being out-possessed and heavily outshot most nights.
Until Kekalainen goes "big-game hunting" in defense, this blue line will only be slightly above average. Jack Johnson, who currently occupies a spot on the no. 1 pairing, hasn't posted numbers comparable to the NHL's best defensemen, in spite of him averaging the highest ice time on the team. It is absolutely imperative that Columbus preserves enough cap space to allow at least one more major trade. Kevin Shattenkirk has been mooted as a possibility, which would give the Jackets the first pair defenseman the franchise has been missing since its inception. Much to Jarmo's dread, the Jackets might very well have to part with some pieces that management absolutely does not want to part with to pull it off. Especially with bright prospects Oliver Bjrorkstrand and Sonny Milano pushing their way up the ranks, Columbus will soon have another logjam of forwards. Needless to say, recent acquisitions of Rene Boroque ($3.3 million cap hit) and David Clarkson ($5.25 million) have made this task considerably more difficult.
While it's hard to get excited about largely the same defense that was one of the worst in the league, there are some good talent to work with. Ryan Murray, if he can stay healthy, which is up in the air at the moment, has the tools to be the top pair defenseman this franchise has craved for so long. David Savard and Fedor Tyutin are both solid stay-at-home d-men. Columbus also has a surplus of quality defensemen towards the back-end of the defense with Dalton Prout, Cody Golobeuf, Justin Falk, and Kevin Connaughton. Especially after the Brandon Saad acquisition, this team should be primed and ready for another playoff experience, but how much will Jarmo be willing to gamble for the chance to go deeper into the postseason?