Buffalo Sabres owner and Penn State alumni Terry Pegula changed the foundation of the Penn State hockey program forever. A university changing financial contribution gave PSU a remarkable hockey arena, along with a great weight room and other countless amenities. The donation was a driving force to what the Penn State hockey could become.
"They mean everything," Penn State head coach Gadowksy said of the Pegula's impact on their program. "There's not one of us right now in this program that would be here if it wasn't for the Pegula family. We're grateful every single day and I can't tell you how cool Terry has been with myself and the team. He's been a really great supportive person."
#PSU Assoc. AD Joe Battista on Terry Pegula: "There is no greater ambassador for the growth of hockey in Pennsylvania and Western New York."

— Pete Jensen 🏒 (@NHLJensen) October 5, 2012
Terry Pegula and his wife gave Penn State the largest private gift in University history,donating $88 millon on September 17th, 2010. In 2012, the donation was later increased to $102 million. The Pegula Ice Arena was founded and led to two varsity programs, a men's and women's varsity hockey team. There are two ice sheets in the arena, along with a top notch weight room and other necessities required for Division one hockey.
"He does mean everything to this program, because he's the reason we do have this program. Every single second of our interaction with the Pegula's has been tremendous."
Penn State's next goal is to grow as a program. The Nittany Lions enter their second season in the Big Ten this year, following a 3-16-1 campaign in their first year in the conference. There will be challenges ahead for PSU, but Gadowsky liked what he saw from his team last year.
"I thought it was awesome," Gadowsky told The Hockey Writers in an interview prior to the season. "The improvement we made on the ice was phenomenal; from our performances in October to our performances in March, the improvement was tremendous and the result was wins against some great teams."
"The atmosphere at the Pegula Ice Arena was the best I've ever seen," Gadowsky said. "Everybody had a great time, it was a tremendous atmosphere. I think it speaks volumes when your student section sells out in three minutes."
The road to building a conference contender is a long and tedious one. The trek will take Gadowsky and his staff numerous years to build a formidable recruiting class. With their facilities, atmosphere and school, Penn State will be an attractive place for prospective players over time.
"You can listen to everybody's expectations," the former Princeton bench boss explained. "We heard everything from they're not going to win a game until their third year in the Big Ten to should you guys been competing against Minnesota now? We heard the whole spectrum; we're not focused on results to determine to see how we do and how we improve. It's strictly process driven."
Gadowsky spent seven seasons as Princeton's head coach before coming to Penn State, where 20 players who played for him earned professional contracts. During his first five years with the Tigers, Princeton increased their win total. He orchestrated a second straight NCAA tournament appearance during the 2008-09 season at Princeton, including a program-record 22 win year.
"At Princeton we had a lot of success and the main reason was we had extremely high quality student athletes. We are absolutely maintaining that same philosophy (at Penn State). I think at Princeton we played a very exciting, high tempo type of brand of hockey and that is certainly not going to change. The difference the spotlight is on how much support the student body, alumni and university give us athletes and the atmosphere you compete in is extremely exciting."
Defenseman Patrick Koudys will Captain the Nittany Lions in his final year with the team. He's property of the Washington Capitals and could be in line for a pro contract following his senior season at PSU. Nittany Lions have had four players drafted by NHL clubs in their program history.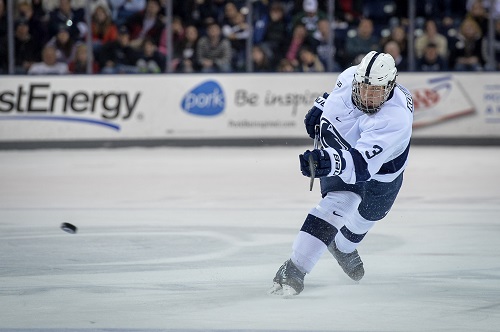 "The decision was entirely the team's, he was a unanimous choice," Gadowsky said of Koudys' being named captain. "If you know Patrick you can see the confidence he brings to a team. In the classroom he's a great student, an engineering major. He works extremely hard because of his transfer situation. He took five classes this summer, he's an incredibly committed student. He's an incredibly committed athlete."
Koudys played in 36 games last season, compiling two goals and six assists. He blocked 79 shots on the year, developing his abrasive style on the blue line. Koudys plays a simple game, not flashy offensively, but is trusted in his own end.
"He's tremendous in the weight room and he's an incredibly committed hockey player and teammate. The choice was easy, it was a unanimous decision by the team."
Koudys attended Washington's development camp this season, along with teammate Zach Saar. First-year Capitals head coach Barry Trotz and his staff were impressed by what they saw from the PSU blue liner.
"The feedback we received about him was tremendous," Gadowsky said of what the Washington Capitals told their staff. "I think if you asked him you would see how he's really taken another step. Not only his skating, but his overall play is so confident right now."
Sophomore Zach Saar is expected to be held out of action until January at the earliest according to the PSU head coach. Saar contributed 11 points in 33 games for the Nittany Lions last season, becoming an intregal part of the Penn State hockey team for the coming seasons.
"Zach came a long way, especially his play without the puck. He put himself in a situation to get really good ice time and he scored the game winning goal in the Big Ten tournament for us and that's huge. I'm very disappointed he'll have to miss some time early in the season, because he put himself in a position to play a big role."
"When he does come back, he brings a big body who has excellent skills and can put the puck in the net. We're really looking forward to getting him back."
Penn State will utilize three different net minders in the upcoming year: Matt Skoff, P.J. Musico and Eamon McAdam. Skoff, a junior, is expected to earn the bulk of the starts.  He totaled an 8-13-2 record between the pipes last season, posting a 2.95 goals against average and .906 save percentage. McAdam is a New York Islanders draftee and could play a bigger role as he develops.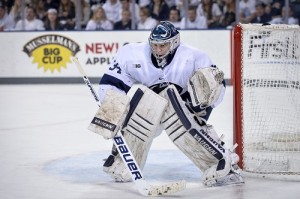 "I think last year we gave all three of them plenty of opportunity," Gadowsky stated about the plan for PSU's three net minders in the upcoming season. "I think it's very fair to say that Matt Skoff deserves to be our starter. He certainly in terms of his work ethic on and off the ice and his respect as a teammate is second to none, he had all of our wins. Every (win) came from Matt Skoff, he certainly had the lowest goals against the highest save percentage."
"It's very hard to argue with that. He absolutely earned the title right now of starter, that certainly doesn't mean it's going to stay, but to start the season off he's definitely earned that and we're going to give him that opportunity."
Penn State entered the international scene, recruiting defenseman Erik Autio. He comes over to the states from Finland, after spending time on their national team.
"He wore a letter for the Finnish national team," said Gadowsky of Autio. "His numbers are not overwhelming offensively and he's not a big bruiser. You can certainly read between the lines that he's a reliable, steady person. That's really what we're looking forward to this season. He has an incredibly high hockey IQ. Anytime you can wear a letter for your national team I think it speaks volumes."
Penn State makes a few marquee trips this season, including an early season road trip to Alaska. The Nittany Lions will play in a few NHL rinks including MSG, Consol Energy Center and the Wells Fargo Center. You can view PSU's schedule, here.
"Personally I'm excited because I coached there for five years, it's going to be great to get back," he said of the trip to Alaska in the opening month of the season. "I wanted that experience for Casey Bailey, he's a great Alaskan. For him to be able to come back and play there, I think it's going to be really exciting for him."
"It's going to be a great experience for everybody, I'm sure that the majority of the players on our team have not been to Alaska. My experience there was so positive, the people there are just great people that love hockey. It's a great tournament to be in."
Guy: "The credit goes to Penn State. ..The student body is excited to support anything." Selling PSU hockey hasn't been tough.

— Collegian Hockey (@CollegianHockey) September 24, 2014
Penn State will continue to attempt to improve their growing program as a process. There are parts in place that can make the University an attractive place for prospect student-athletes. PSU plays in a competitive conference and the Pegula Ice Arena provides a great atmosphere. Gadowksy sees no reason why his program can't become something great.
"The emergence of the Big Ten conference has been great for promoting our product and exposing it especially north of the border, with the Big Ten Network being on in Canada. Now Canadian hockey players that previously just thought about just choosing junior hockey are seeing a game at Pegula Ice Arena and the incredible atmosphere that we have here and also around the great Big Ten arenas and going 'man, that's something I'd like to be a part of."
Matthew Speck covers the Washington Capitals organization for The Hockey Writers. He provides coverage of both Washington at the NHL level and prospect related content. Matthew also covers local sports for the Lebanon Daily News in Central Pennsylvania. You can email him at mspeck21@yahoo.com with any questions or comments.