Rankings:
Minnesota
Boston College
Boston University
Harvard
Wisconsin
North Dakota
Clarkson
Cornell
Northeastern
Minnesota Duluth
Game of the Week:
#2 Boston College (1-0-0) at St. Lawrence (1-1-0), Fri. 10/10 at 7 p.m. EST & Sat. 10/11 at 3 p.m. EST
The Saints welcome one of the country's elites just one week after knocking off Clarkson at home to open the season. Boston College boasts a much more prolific offense than the Golden Knights, and St. Lawrence's defense will be tasked with slowing a host of dynamic players. The Saints have always been mindful of defensive responsibilities as a team, but they'll need to make sure they are attacking the Eagles' defense as well. Trying to create offense while being pressured in the defensive zone was a problem at times for BC last year, so exposing that this weekend would give St. Lawrence an advantage. Carmen MacDonald is more than capable of outdueling whoever's in net at the other end, so that should help give the Saints' defense some breathing room.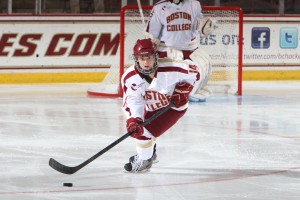 This should be an excellent early-season road test for Boston College. We saw the damage that the Eagles' offense can do last week against Syracuse in a 10-2 victory, but they'll be facing some very good goaltending from MacDonald in this series. One area that impressed for Boston College last week was the play of the defense. Emily Pfalzer had a six-point night and Lexi Bender scored a hat trick to lead the way offensively. But the Saints should be much more organized than Syracuse, which will make it tougher for the Eagles to break out of the zone. If they can be successful doing that, however, they'll be in very good shape both this weekend and for the rest of the season.
Top-10 Teams in Action
#1 Minnesota at #10 Minnesota Duluth, Fri. 10/10 @ 6 p.m. CST & Sat. 10/11 @ 6 p.m. CST
Ohio State at #5 Wisconsin, Fri. 10/10 @ 7 p.m. CST & Sun. 10/12 @ 1 p.m. CST
#6 North Dakota at Minnesota State, Fri. 10/10 @ 7 p.m. CST & Sat. 10/11 @ 3 p.m. CST
#7 Clarkson at Providence, Sat. 10/11 @ 7 p.m. EST & Sun. 10/12 @ 3 p.m. EST
#9 Northeastern at Syracuse, Fri. 10/10 @ 7 p.m. EST; #9 Northeastern at RIT, Sat. 10/11 @ 3 p.m. EST
What to Watch For
The Gophers took care of business last weekend in a big non-conference tilt against Boston University. Though it was pretty evenly matched, Minnesota pulled away from the Terriers in the second period and never really looked back. Minnesota Duluth, despite featuring a wealth of talent on paper, have not gotten off to the start they were hoping for this year after series against Connecticut and Wisconsin. The Bulldogs are looking at potentially falling to 1-5-1 after their first six games if they don't put together some better performances against the Gophers.
Robert Morris took a lot of people by surprise last season and nearly earned a bid into the NCAA Tournament. They were hoping to build off of that success, and still are, but a shaky 1-3-0 start this year has set them back a bit. This non-conference series against Colgate is an important one for Robert Morris, as they'll be looking to make a statement and turn things around before they start looking too drastic. So will the Raiders, who were hoping to see some immediate improvements after adding a couple of blue-chip players. They couldn't pull out the win against Syracuse last week, though, and will likely need a much stronger effort against the Colonials.
Though they were upset by the Saints last week and had to settle for a series split, the Golden Knights started to answer some important questions about their scoring capabilities. Shannon MacAulay proved she can be a go-to player up front, but whether or not she can keep that up consistently still remains to be seen. Clarkson will be facing a Providence team that's recovering from some fairly notable losses, but who's still aiming for bigger things this year. The match-up in net will be one to watch for: can the Friars find some consistency in net and is Shea Tiley capable of taking over between the pipes for the Golden Knights?
North Dakota was upset at home last week by Vermont, and now heads to Mankato for their first conference action of the season against the Mavericks. UND had exploded for seven goals against Rensselaer just before playing the Catamounts, and generating offensive pressure didn't seem to be a problem against UVM, either. Whether or not they can do it consistently and find ways to convert on their chances is the real question for North Dakota. This is Minnesota State's first action of the year and they've got nothing to lose, so they can't be overlooked.
#UNDBeyondTheIce pic.twitter.com/d54ucunolZ

— North Dakota WHockey (@UNDwhockey) October 10, 2014
Gabriella Fundaro also provides coverage of the women's game over at At Even Strength.